Bill H. wins a copy of Excel Outside the Box for his question: "Is there a way to add the sum button to the mini tool bar that pops up by right clicking the mouse? That's for MS Windows 7, MS Office 2007,…and for that matter. Can anything else from the top tool bar(s) be added?"
Microsoft made it nearly impossible for customizations to be done to the Mini Toolbar or to the Context Menu (see Figure 1) starting in Excel 2007. You can customize the Quick Access Toolbar, but even if you move the Quick Access Toolbar below the ribbon, it is never as convenient as the floating Mini Toolbar.
Fig. 1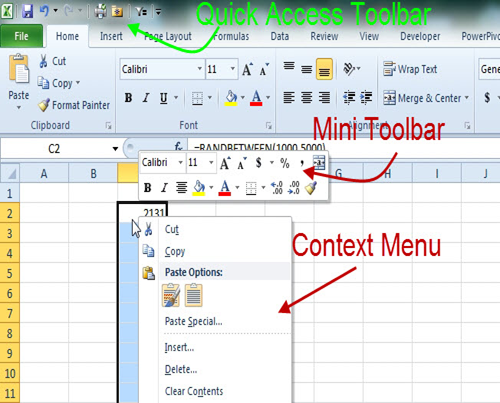 It is still possible for programmers to customize the Context Menu. In Figure 2, the Easy-XL program, which is written in Visual Studio Tools for Office, adds a number of custom statistics to the Context Menu.
Fig. 2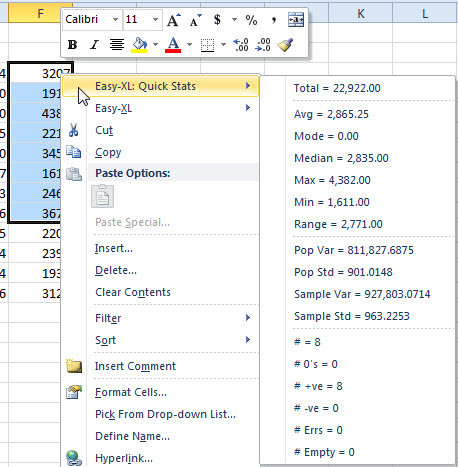 This is great if you just need the statistics for the range. But what if you want to add other icons to the Context Menu? Most people with Excel do not own a copy of Visual Studio Tools for Office. If you want to venture into customizations without owning Visual Studio, Excel MVP Ron DeBruin offers some samples at this page.
Bill Jelen is the author of 33 books about Microsoft Excel. Send questions for future articles by using the link in the byline of this article or writing directly to [email protected]. If Bill uses your question in one of his columns, you'll receive a book as a thank-you.