M&A volume likely will be robust this year, driven in part by deals that can be transacted with richly valued equity or cheap debt, say economists and analysts. But at the height of the market, experts advise taking risk mitigation steps during due diligence and deal structuring.
The deal market may be frothy, but according to EY, more than 60% of U.S. CFOs' bosses (CEOs) plan to pursue mergers and acquisitions in 2022. Deals reached $5.9 trillion globally last year, according to Refinitiv, and the momentum will likely be sustained by startling amounts of capital, relatively low interest rates, and digital catch-up strategies.
 Nearly 70% of the 156 dealmakers Grant Thornton surveyed said they expected deal volume to continue to rise over the next six months. Respondents most frequently pointed to technology (53%), healthcare and life sciences (43%), and services (33%) as sectors for consolidation.
No slowing down
"Based on the volume of new pitches in November and December [2021] — transactions that would come to market in Q1 and Q2 of 2022 — there are no signs of a slowing deal market," said Philip J. Isom, global head of M&A at KPMG in the firm's year-end M&A report. "Certainly, some buyers have resisted moving up at the same pace as multiples have risen."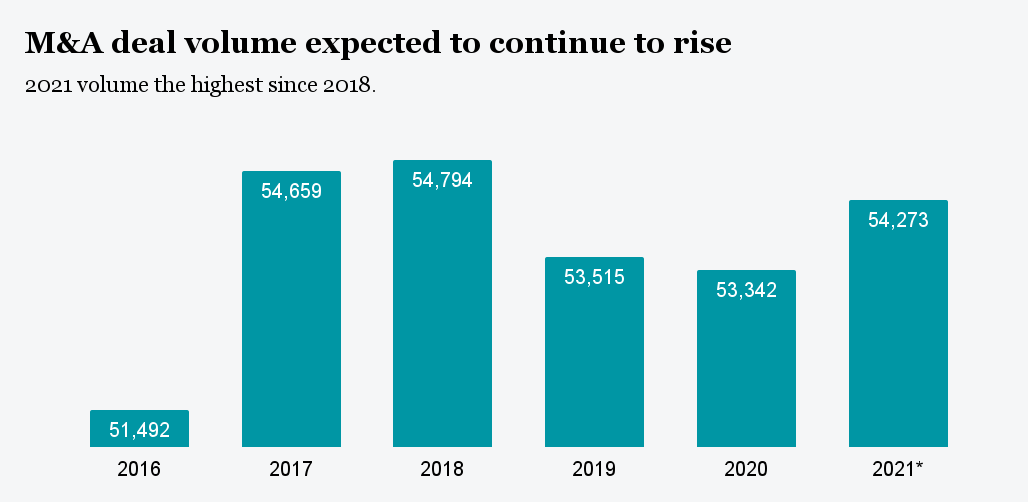 * Data YTD through Nov. 15, 2021. Data from KPMG.
According to Willis Towers Watson, several factors will drive 2022 M&A. Digital acceleration will encourage tie-ups as companies scramble to acquire new products and high-end talent in fields like cybersecurity and software engineering.
CFOs should strongly consider "acqui-hires" — buying a company for its employees, said Kathy Wagner, CFO of IT management software firm Kaseya. "In the current labor market, it could be a shortcut to meet hiring needs."
In addition, supply chain disruptions will have companies aiming for "more self-sufficiency" in their products and services, with buyers employing strategies like "vertically integrating upstream links to improve the certainty of delivery," according to WTW.
Finally, assets that can accelerate a sustainability strategy will also be attractive to potential acquirers. Environmental, social and governance (ESG) initiatives have a more prominent place in the boardroom, including in the context of acquisitions, said Paul Davies, partner and co-chair of the ESG task force at Latham & Watkins. The task for buyers will be to apply implied prices to metrics such as greenhouse gas emissions, increased insurance costs from operations in climate-sensitive areas, and enhanced demand for goods with positive environmental or social characteristics, according to a study by SS&C Intralinks and Transaction Advisors.
'Towering' valuations
Richly valued targets may have an adverse impact on M&A pace in 2022. Of the 350 U.S. executives KPMG surveyed, 61% said high valuations could have the greatest impact on deal activity, followed by economic variables such as overall liquidity (56%) and fierce competition for a limited number of highly valued targets (55%).
To achieve returns during a time of "towering" valuations, said KPMG, buyers will need to pursue "extraordinary" synergies — moving far beyond the [post-deal] routine cost-cutting." That synergy includes finding new ways to grow revenue and transform business operations.
"Valuations are very high … buy things that fit your strategy and have the return opportunity to recover the higher price," said Kaseya's Wagner. "Look for bargains, especially in smaller companies that may not have raised capital."
To reduce uncertainty in deal structures, more buyers and sellers will, as in 2021, use earnouts, especially when they differ on how to account for COVID-19's impact on a business's value, according to Grant Thornton. 
Supply chain shortages, in particular, will drive acquirers' desire for earnouts, said Eric Burgess, a partner in Grant Thornton's strategy and transactions practice. "Sellers want to forecast what their results will be when they get their supply chains sorted out, but buyers aren't taking that on faith."
For mega-deals, a great source of uncertainty may come from the Federal Trade Commission and Justice Department's announcement on Tuesday, launching a joint public inquiry to strengthen antitrust enforcement. 
Said Assistant Attorney General Jonathan Kanter of Justice's antitrust division, "We need to understand why so many industries have too few competitors and to think carefully about how to ensure our merger enforcement tools are fit for purpose in the modern economy."
The Department of Justice also said it intends to review guidelines for vertical mergers — referring to acquisitions between suppliers and customers like AT&T/Time Warner and the Illumina/Grail deal the EU is contesting — as well as  horizontal deals that eliminate competitors.