The prospect of a new lease accounting standard is keeping finance executives off-balance. Under the proposed standard, companies will have to record all leases longer than 12 months in term on the balance sheet, as nondebt liabilities. Currently, companies can simply expense operating leases for equipment and other assets. Whether negotiating new leases or renegotiating existing ones, finance executives need to prepare for the potential impact of the new requirement.
But there's a limit to what CFOs can do, given how poorly informed many of them feel about the accounting change. In a survey conducted by CFO Research, in collaboration with financing firm CIT Group, 43% of respondents say either that they are not very well informed or that they feel that it's too early to tell what the impacts of the new accounting standard will be. (See Figure 1, below.) The survey results were based on 158 responses from finance executives at U.S. companies with between $25 million and $1 billion in revenue. Two-thirds of responses came from employees at companies with annual revenues of $25 million to $249 million. (The full report, "Impacts of a New Lease Accounting Standard for the Mid-Sized Business," can be downloaded here.)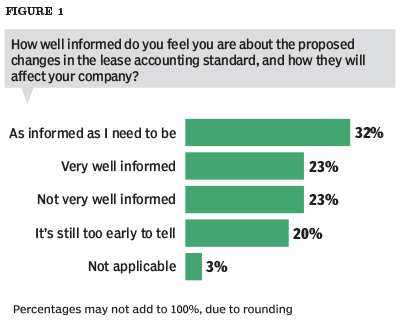 Survey takers' concerns about the revised rules extend beyond the mechanics of reworking their audited financial statements. There's concern about how lease accounting changes will affect their reporting of liabilities, and whether the final form of the proposal will alter such key financial measures as return on assets, debt to equity, and cash flow. Others have questions about the new rule's impact on operating decisions and on a company's ability to meet the terms of its existing bank covenants. Under existing rules, lenders looking at financial statements see only rent expense, with future rent obligations acknowledged in footnotes. But some CFOs worry that by adding the present value of rents to their liabilities, the new rule could end up hindering company growth.
"The cost, both monetarily as well as structurally, of renegotiating our banking covenants to accommodate this standard will likely be significant enough to slow our forward momentum," predicts the head of finance for a midsize private company in the retail/wholesale sector.
Owning Up to Leasing as a Strategy
Such concerns reflect the fact that companies make leasing decisions not only to achieve financial objectives but also to fulfill operating needs. As part of an asset-management program, leasing can both improve financial performance and provide strategic benefits, such as guarding against obsolescence.
In the survey, almost two-thirds (65%) of respondents rank leasing as either critical to or an important part of their company's growth over the next two years. Some respondents fear that the new accounting standard would upend their rationale for leasing. "We employ leasing now due to the ability to carry less debt on our balance sheet, so as to free up financing for other capital improvements," says the head of finance for a financial services firm.
Leasing gives companies operating flexibility as well, serving as a buffer against technological obsolescence. "Large capital equipment incorporates the latest technologies and these improve our operating efficiencies," says the head of a company in the natural resources/mining sector, "so we want to be using the latest equipment."
By leasing rather than buying, companies not only avoid the large cash expenditure but also preserve the agility to upgrade or change equipment to accommodate technological advances. As the head of finance for a company in the wholesale/retail sector puts it: "My company prefers to lease long-term assets and have the flexibility to upgrade when technological upgrades warrant it."
The financial advantage, he might have added, is that the company's capital isn't tied up in rapidly depreciating equipment.
Labor Pains
Despite the fact that very few respondents (6%) believe that the new standard will make leasing a more attractive financing option, a majority (65%) say they are unlikely to change their leasing portfolios solely as a consequence of the accounting change.
But many respondents say they are dissatisfied with the prospect of absorbing the cost or disruption involved in changing their companies' financial statements. One survey taker, the head of finance for a publicly traded company in the field of pharmaceuticals/biotechnology/life sciences, says the additional effort required for any such change makes leasing less appealing. "The new standard makes leasing less attractive than it is today due to the complexity and work required by the new standard," he says.
Building on that sentiment, the head of finance for a small construction company says that that the new standard reduces leases to "a more costly option without any positive balance sheet impact." As a result, the company will alter its strategy: "We'll finance, own, then sell the asset down the road" — essentially trading the flexibility of leasing for the challenges and risks of ownership.
As drastic as that sounds, most companies expect the leasing standard to be a bother rather than a game-changer. Companies with lease portfolios will all feel some degree of fallout. "Leases will be renegotiated to comply with acceptable lease standards," says the head of a transportation company.
Running in Place
The wide range and depth of concern among respondents concerning the consequences of the lease accounting change reflects the fact that it has yet to take final form. Expectations are that FASB will finalize the proposal in early 2016, with an effective date of 2019.
Most respondents indicate that they aren't in any rush to figure out what they need to do before then. In the survey, nearly 8 out of 10 respondents (78%) report that they have yet to evaluate the potential impact of the proposed changes on the financial statements. When do they expect to conduct that analysis? "At the appropriate time," according to 41%, which may be vague but is an improvement over the 37% who say they have no plans to evaluate the new standard's impact at all. (Need a place to start? See "Reply All," above.)
While they wait, 73% of respondents say their companies will "continue with business as usual" — presumably until they feel sufficient certainty about the standard to begin to assess its impact. Not that they have simply put it out of their minds in the interim. In fact, 45% of respondents say they either don't think that their companies are well prepared to adapt to the proposed change (34%) or simply don't know if their companies are prepared (11%). "We are growing so quickly but are really uncomfortable with the current U.S. regulatory environment," says the corporate head of a publicly held financial services firm. "We can't plan our leasing activity too far in advance."
For CFOs, living — and leasing — with that level of uncertainty may turn out to be the biggest negative economic consequence of the new accounting standard for leasing.
---
Reply All
Five key questions to help you anticipate the impact of the impending lease accounting changes.
1. What are the key metrics underlying your financing decisions? How will the accounting change affect those factors?
2. Will your company need to trade off operational and strategic benefits of leasing with the cost of implementing the accounting change?
3. How ready is your company to act when it needs to? Do you have a good idea of how much time and effort it will take your company to adapt to the new standard?
4. Do those responsible for setting the direction for your company — the C-suite, board, owners, and shareholders — understand what will change for your business, and what won't?
5. What can you and your finance team do now to prepare yourselves, and others in your company, for making the transition with the least disruption to your business?