A majority of executives surveyed by the American Institute of Certified Public Accountants in the second quarter said their companies have enough cash or have increased their cash this year, but they remain reluctant to deploy it.
Forty-three percent of the 1,250 senior executives in the AICPA Business and Industry Outlook Survey said their companies have "about the right amount" of cash currently, while 36% said cash assets have increased from the first quarter to the second quarter of 2012. Almost half of those surveyed were CFOs, while 22% were controllers. Sixty-nine percent represented privately owned firms.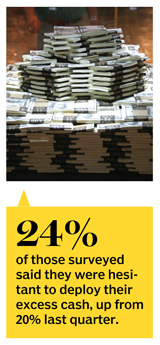 But 24% of the total respondent base said they were hesitant to deploy their excess cash, an increase from 20% who felt that way last quarter. Only 12% said they would actually use it.
The reluctance to spend cash may stem from an overall negative take on the economy. The AICPA's CPA Outlook Index dropped two points, to 67 from 69, from the first quarter of 2012 to the second. Similarly, expectations for revenue, profit, and employment growth slid this quarter, though they were essentially unchanged from last year.
But not all is doom and gloom, according to Jim Morrison, CFO of plastics compounding firm Teknor Apex and chair of the AICPA's Business Industry Executive Committee. Morrison does not consider the 2-point drop that dire, considering the index has dropped 9 to 10 points in some years. "We might have been in a holding pattern for a while, but we are going to resume growth," Morrison says. "It may not happen right away. There's still optimism that over the next year, we will be on a growth pattern rather than a downward spiral."