Corporate hotlines buzzed with a record-high percentage of fraud-related tips during the most recent quarter, according to a March report.
The Network and BDO Consulting said that 21.6% of incidents reported during the fourth quarter in organizations' hotlines and other reporting mechanisms were related to fraud, including possible corruption, misuse of corporate assets, and accounting irregularities. That is the highest such number since the companies began their quarterly index in 2005, according to Jimmy Lin, a vice president at The Network, a governance, risk, and compliance consultancy.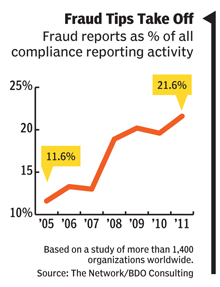 For the fourth quarter of 2011, 6,816 tips made to more than 1,400 organizations concerned fraud-related incidents, a 15.2% increase over the total for Q4 2010. The organizations in the study comprise public and private companies, nonprofits, and municipalities.
Part of the reason for the uptick may be the delay between when a fraud first occurs and when it is first uncovered. Most fraud takes two or three years to be detected, Lin notes. Thus, incidents that took place during the financial crisis may have only recently begun to surface.
Moreover, Lin says, employees are getting more training on how to spot fraud and may feel more compelled to report problems. "The increasing number of fraud reports may actually be a good thing — that means everyone is more aware of the potential for fraud and more aware of what fraud looks like," says Lin.
The increase doesn't necessarily mean that fraud is on the rise. For one thing, the tally doesn't distinguish between real tips and suspicions that turn out to be false leads.
Also, the increase could be attributed partly to new whistle-blower rules that have made companies eager to get employees to report internally instead of going to the Securities and Exchange Commission in hopes of collecting a sizable reward.