The Treasury Department today released a framework for corporate tax reform that would lower the corporate rate to 28% and remove many tax incentives, including subsidies for oil and gas companies. Treasury also proposed simplifying and making permanent the research-and-development tax credit and providing incentives for clean energy and manufacturing.
A key goal of the proposal is to "cut taxes on investment in and by small businesses,
and . . . to simplify the tax system, so they can devote more of their earnings to investment in job creation and less to tax compliance," said Treasury Secretary Timothy Geithner.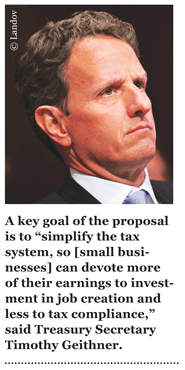 Some observers have expressed concerns that such a plan could actually hurt smaller companies. They argue that lowering the corporate tax rate and removing tax incentives without also cutting the individual tax rate would favor large C corporations over "pass-through entities" (typically small and medium-sized businesses organized as limited liability companies or S corporations) that pay the individual tax rate rather than the corporate rate. The plan would effectively raise those entities' taxes by removing their incentives while keeping their rates the same.
"A corporate-only proposal does not address the needs of . . . small businesses," said Dave Camp, chairman of the House Committee on Ways and Means, in a statement. Last year Camp proposed reducing both the corporate and individual tax rates and implementing a territorial tax system that would exempt companies from paying taxes on most profits earned abroad.
In response to that concern, the Treasury Department proposed four provisions to lighten the tax burden on smaller businesses. For one, companies with up to $10 million in gross receipts could use cash accounting instead of accrual accounting. That would "simplif(y) taxes for many more of America's small businesses, since cash accounting can be much easier than accrual accounting — which requires businesses to immediately recognize for income tax purposes their future cash receipts and costs," Treasury wrote in its plan. The ceiling for cash accounting is currently $5 million.
As of 2007, when the last Economic Census was released, about 174,000 more companies would have been able to use cash accounting, if that change were made then. How big of a change that represents is open to interpretation; according to the same census, 5.6 million companies took in less than $5 million. For reference, there were about 156,000 employers that took in between $10 million and $50 million, according to that census.
But the proposal offers no consolation for companies larger than $10 million that nonetheless have the disadvantages that come with being small. "What a small or medium business is in the real world is very different from how policymakers like to think of it in D.C.," says Dean Zerbe, national managing director at alliantgroup and former tax counsel to the U.S. Senate Committee on Finance. "They're really talking about mom-and-pop shops. Less than $10 million in sales is a pretty small business. I think Congress is going to be very uncomfortable with saying, 'Let's raise taxes on these small and medium businesses and then use that money to effectively lower taxes for the Fortune 500.'"
The Treasury Department also proposed a permanent credit that would allow small businesses to claim a tax deduction for up to $1 million in certain investments. Before last year, when a measure was passed allowing small companies to temporarily expense 100% of qualified investments, that threshold was $500,000.
Treasury's tax-reform framework also advanced two provisions President Obama included in his budget proposal to lift the tax burden on smaller businesses. One would double the amount of start-up expenses that new companies could deduct from their taxes to $10,000; the other would allow businesses with up to 50 workers to qualify for a health-insurance tax credit. That threshold is currently 25 workers.
Zerbe did applaud other aspects of the proposal, including its focus on reducing debt financing and on incentivizing manufacturing. Secretary Geithner said he planned to discuss the proposal further with Camp and other key stakeholders next week.