With Mark Zuckerberg enduring another day of grilling by members of Congress on Wednesday, it's difficult to escape the conclusion that a watershed moment in the annals of consumer data privacy is at hand.
But even before the Cambridge Analytica scandal came to light, consumers were up in arms over how their personal online shopping histories, banking data, social-media posts, and other information were being used.
That's apparent from the results of a survey of more than 7,000 U.S. consumers with bank accounts, conducted in December 2017 by management consulting firm A.T. Kearney.
About a third of the participants said that the way payment providers use their payment and purchase data is "an invasion of privacy that should be prohibited." Another third characterized such usage as "a necessary evil" with only occasional benefits for consumers. (See chart.)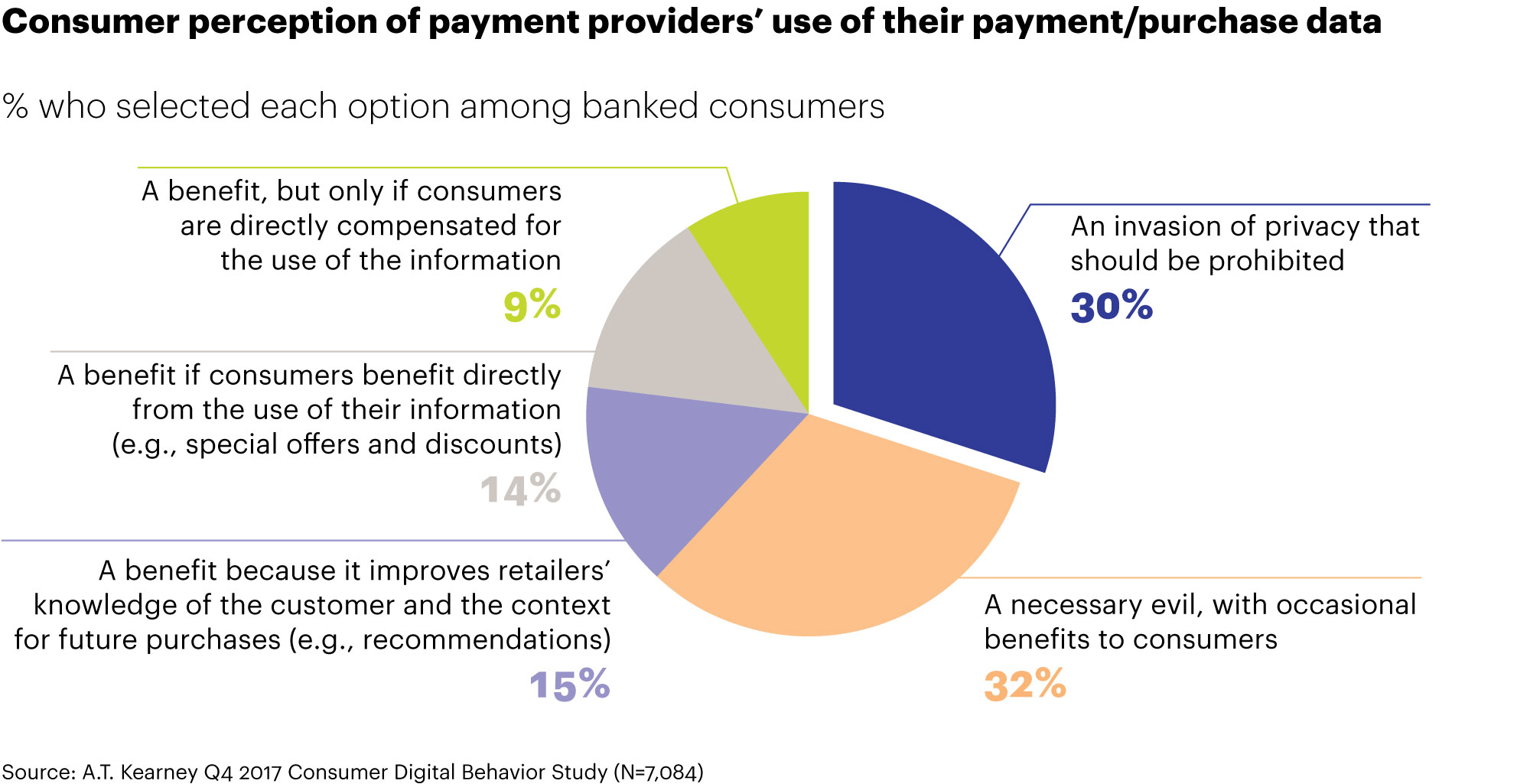 Only 20% of respondents said they trusted Facebook's ability to safeguard their personal information. Twitter fared even worse than that (15%). Even banks — identified as the most trusted organizations for privacy protection among a list that also included payment providers, mobile carriers, retailers, Google, and financial information aggregators — were characterized as trustworthy by just 62% of those surveyed.
If the survey were performed now, consumer skepticism and distrust surely would show up in even greater proportions, suggests Rajesh John, an A.T. Kearney principal.
To try to earn back consumers' trust, some organizations are building tools to let customers control what data can be seen and by whom. That's a key point, according to John. It's not the primary collectors of data — the companies consumers voluntarily provide their information to — that concerns most people. "The question is, is it being used by third parties that you don't even know about? And if it is, are you informed? In the Facebook example, that didn't occur," says John.
Indeed, companies that aggregate and resell customer data to third parties have seen their stocks hammered in recent weeks as the hoopla over the Facebook-Cambridge Analytica affair has played out. "The data brokers have a real problem," John notes. "They have to prove themselves able to gather data in a transparent way or figure out a new business model."
But while concern over data peddling grows, ignorance remains the norm. "Everybody today is [performing more tasks digitally] and downloading more apps, and every time they do they're signing a consent agreement about data exchange," says John. "But most consumers today don't know how their data is being used."
Even Mark Zuckerberg admitted to Congress on Wednesday that his own personal data was sold to "malicious third parties."
Other survey findings:
The proportion of respondents saying they primarily access payment information held on file by retailers when making digital purchases was 25%. That was eight percentage points higher than in a similar study A.T. Kearney conducted two years earlier.
Among those in the newer survey who gave that response, 23% said a belief that the practice is more secure than entering their information again for every purchase was a driver of their decision. A majority (56%) cited "faster checkout process" as a decision driver.
Only 16% of respondents said they were very or extremely confident in U.S. regulations for protecting personal data privacy. Twice as many (33%) said they were "not at all confident" in such regulations.
Responses to that question were heavily skewed by age. Whereas 36% of participants ages 18 to 24 were extremely or very confident in such regulations, only 5% of those aged 65 and older said the same.
More than half of respondents (56%) said banks should exercise leadership to address issues related to consumer data privacy. Next in the pecking order were regulatory agencies (47%), government/Congress (38%), retailers (24%), and digital services providers such as Facebook and Twitter (18%).