Companies are planning a major boost in spending on digital transformation over the next year, according to a survey of senior finance executives by Grant Thornton in partnership with CFO Research.
Among 304 executives surveyed, more than two-thirds (69%) said they plan to make greater investments in digital technologies. For 39% of those, the planned increase is greater than 10%.
Many organizations admitted that the planned spending boost is designed to enable them to catch up to their competition or match competitive offerings. But 41% of respondents indicated that their digital transformation efforts are directed at overtaking their competition through differentiation.
Until now, a majority of investment strategies for digital transformation have been influenced by the desire to improve operational performance and reduce costs, Grant Thornton said in its research report.
However, future strategies will zoom in on more strategic opportunities, such as improving the customer experience and developing new products.
Such goals "point to an existing tension in terms of the distribution of funds at the enterprise level," Grant Thornton said. "The tension exists between current needs for maintenance and system updates, in contrast to the desire to invest in new automation technologies."
The surveyed executives indicated that their companies' top IT challenges are systems complexity, which includes enterprise-wide systems integration, upkeep of legacy systems, and attracting and retaining IT talent.
These foundational, urgent realities require significant investments that could stall the pace of new-technology adoption at a functional level, such as in finance, the report says.
Investment decisions are made even more complex by the difficulty of determining precise key performance indicators that measure the financial success of new technologies. Only 12% of the surveyed financial executives strongly agreed that they have an effective system for doing that. Still, the survey results show that companies will be adding a steady stream of new technologies over the next five years. (See chart.)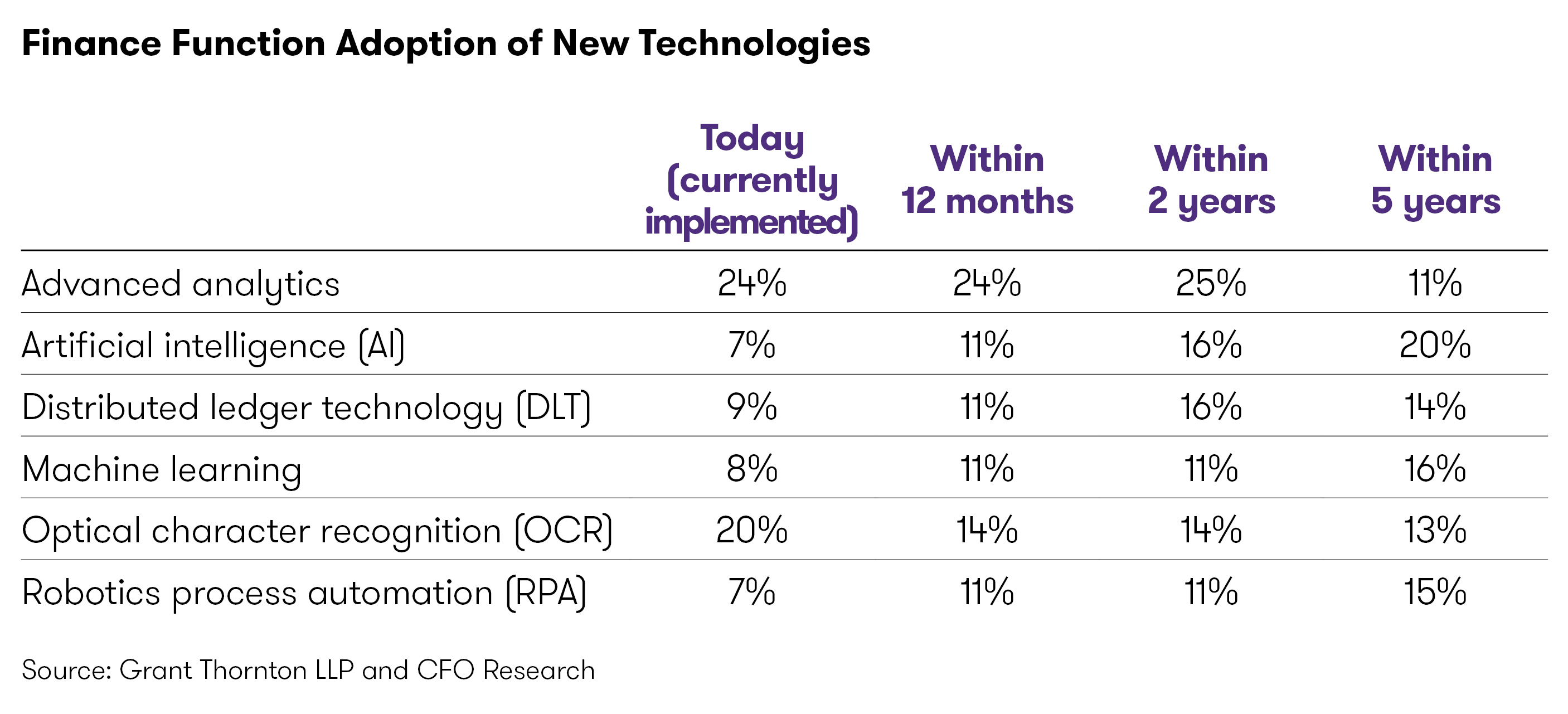 As these new technologies come online and infiltrate the finance function, the role of CFO is shifting to require an updated set of technical skills and increasing technology-related responsibilities, Grant Thornton says. "The role will require a person with a strong understanding of responsibilities that today might fall within the realm of a data scientist/CTO/CIO," according to the report.
Yet the big skills-gap questions of the future don't just relate to securing leadership talent that can drive enterprise growth in the digital age. Equally important will be staffing finance, and other functions, as new automation technologies become more widespread.
More than half (52%) of the surveyed finance executives said their preferred method for accomplishing that goal is to retrain existing staff. Only 20% of them indicated a preference for recruiting new staff, while 17% favored outsourcing to a third party.
"There is no quick solution for implementing digital transformation," Grant Thornton writes in its conclusion to the report. "It is rather a journey with several phases, where each phase enables another. When achieved at a manageable pace, digital transformation can give executives the confidence that they can balance today's operational needs with taking strides towards future innovation."