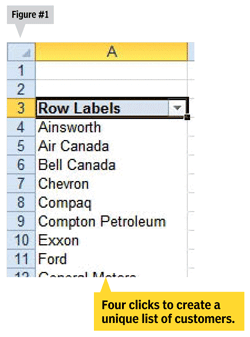 Q: I need to create a unique list of customers from a large list. How do I do it?
A: You can build a pivot table report with customers in the row area of the layout. Because the pivot table creates a summary report, the first column of the table will include the unique list of customers.
Here's what you do:
• Select Insert, Pivot Table.
• Click OK in the Create PivotTable dialog.
• Click the Customer field in the PivotTable Field List dialog.
That's it. You can now copy the customers from column A of the new sheet and use Paste Values to put the unique list of customers wherever you need it.
If you would like to submit a question to Bill "MrExcel" Jelen, e-mail him at [email protected].