It's no secret: companies large and small are scrambling for growth. And as businesspeople turn over every last stone in that quest, they can't afford to spend all their time chasing down information. They need their information to catch up to them. Operational agility is key, and it's rooted in the ability to communicate and collaborate with anyone, anytime, anywhere.
That requires mobile technology — smartphones, tablets, laptops — and companies are busy supplying it. In a research report published this past March, titled "Uncrossing the Wires: Starting — and Sustaining — the Conversation on Technology Value," CFO Research asked both CFOs and IT executives what technologies would be most important for their companies' success within the next three years. Nine out of 10 (89%) answered mobility, the use of mobile devices.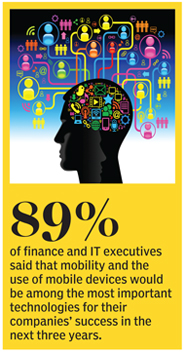 Almost as many of those surveyed, 75%, cited cloud computing as key to success. In fact, finance executives are increasingly saying that the path to mobility goes through the cloud. For example, in a November 2011 CFO Research report titled "Exploring New Models for Enterprise IT," Philipp Neuhaus, CFO of Germany-based hygiene services firm CWS-boco International, praised his company's adoption of cloud-based salesforce.com for customer relationship management. "Our sales force can access it [salesforce.com] on demand quite easily from everywhere they are," he said.
Mobile devices and the cloud, in short, are made for each other. In the same November report, Tom Bartlett, CFO of American Tower Corp., a U.S.-based lessor of antenna space on communications towers, touched on what the intertwining of mobility and access can mean for his business: "Anytime you can increase functionality, ease of use, mobility, those types of things — which is what cloud computing can do — I have to believe that it's a game-changer." And the name of that game, of course, is growth.
Lifted by the Cloud
In our most recent internal technology survey of our readership, finance executives from small and midsize businesses repeatedly cited growth as the impetus for upgrading their information systems and platforms:
• "The main priority for upgraded technology is to be able to handle growth."
• "Improve customer experiences from changes made to support future business growth."
• "Develop systems to support our operation requirements as we experience increased growth."
Smaller companies, in particular, are looking to the cloud to give them lift. Some need help managing the increasing complexity that naturally follows success. Discussing his small manufacturing company's new cloud-based CRM system, one company's controller said the purchase was necessary, "as prior to this we were managing through spreadsheets. Growth demanded that we implement a system that fit into our business processes."
An executive from a small but ambitious zoo wrote about his organization's selection of a cloud vendor to help solve its growth problem: "Our current customer database system lacks an adequate reporting function. Several similar database systems were used by different departments. Our goal is to integrate them into one [cloud-based] system and provide up-to-date BI [business intelligence] information."
The right cloud-based service can be ideal for growing on the pay-as-you-go model, avoiding the need to sink large chunks of capital into hardware and systems. It also can provide the support a company needs for a flexible and dynamic growth strategy. As the zoo executive wrote, "The new system provides all the solutions we were looking for, and it also covered some areas we can utilize in the future."
But scalability through the cloud works for large companies, too. Shaun Hughes, chief information officer of Elders Ltd., told us how an eye to the future led the Australian agribusiness and real estate company to choose a cloud-hosted ERP system. "Moving to the cloud gave us the ability to incrementally and economically increase the size of our IT environment in small amounts consistent with our rollout plan," said Hughes. "We didn't have to buy a big box."
The Mobile Society
Elsewhere in "Exploring New Models," a finance executive from an Asian bank insisted that competitive advantage in the future will be driven not so much by product innovations as by technology — technology that can change the life of the customer or the way a company itself does business. In large part, these changes will come from creating the so-called mobile society — placing information directly in the hands of customers, suppliers, and co-workers alike, wherever they happen to be.
Because of the mobile society, roles will change inside the company as well as out. Old ways of working won't cut it anymore. Responding to a question about CFO-CIO working relationships in "Uncrossing the Wires," the CFO of a large U.S. health-care provider zeroed in on a lingering problem: "They live in their own specialized world, be it finance or IT, and do not always understand the exact needs and limitations of the other." Companies will need to find ways to break through these traditional barriers: finance can no longer afford to be just the controller of the purse strings while IT is cast as the enthusiastic promoter of the latest technology trend. (See "Bringing Business Insight to IT Decisions" at the end of this article.)
The cloud will help dissolve those barriers. "With this [cloud] service, we don't have to care about IT infrastructure and hardware anymore," said CWS-boco's Neuhaus. That means that the IT function can spend more time caring about the business itself.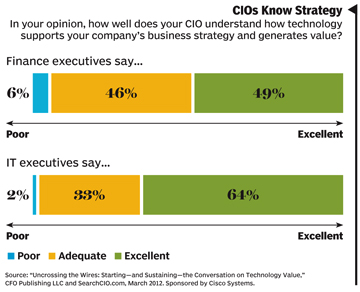 In a companion report to "Exploring New Models," Abhishek Jain, associate general manager in acquisitions and alliances for France's Schneider Electric in India, said that "especially with social media and cloud computing, IT is helping companies to reach out to a larger set of customers in unique ways, which were not there three years before." He concluded, "IT is now seen more and more as an enabler to drive the top line of the company, and not just as an efficiency mechanism to push the bottom line."
"Cloud computing is going to untie IT's hands to concentrate more on the business," says Gustavo Aguirre, CIO of private health insurer Grupo OSDE in Argentina. "If it works as it should, IT will be able to stop doing a lot of things that have no value." Fortunately, many of the finance and IT executives we've surveyed are hopeful that IT is up to the challenge: 49% of CFOs think their CIOs have an excellent understanding of how technology supports corporate strategy, while 64% of IT executives think so.
When your workday is no longer tied to a desk, an office, or a factory floor, "accommodating the mobile workforce" becomes the priority, as one reader said in our internal survey. "Technology is serving as the enabler, with companies now able to share information instantaneously," adds Walter Wallace, instructor in the department of managerial sciences at Georgia State University's Robinson School of Business and director of the Global Logistics Roundtable. For more and more companies, the union of mobile technology with emerging cloud capabilities is promising to be the game-changer they're looking for — a true marriage made in heaven.
---
Bringing Business Insight to IT Decisions
While nearly every finance chief we interviewed extolled the value of having a closer relationship with the IT organization, some insisted that the real goal should be to create closer relationships not only between finance and IT but between finance, IT, and the business units.
"The message is really not about the evolving relationship between finance and IT," says Jack de Kreij, CFO of Royal Vopak, a Netherlands-based bulk liquid storage provider for the global oil and chemical industries. Instead, he says, "it's about creating an involving relationship between the business, finance, and IT." Without involving all three parties, he warns, technology becomes the province of two expert functions — finance and IT — that are then denied the insights that business-unit leaders can and should bring to the table.
Royal Vopak has relied for nearly a decade on its Information and Communications Technology (ICT) Board to evaluate technology investments. The board is stocked with leaders of the company's business units, its global IT leader, and its executive board, including CFO de Kreij. "This eliminates the risk of over-professionalization of the process by technology experts, and a lack of involvement by the business itself," says de Kreij.
Once the ICT board gets behind a proposal, de Kreij explains, finance challenges that proposal from an investment perspective, reviewing key performance indicators laid out in the business case and, where metrics are difficult to establish, relying on the business judgment of the board's members.
Over the past three to five years, de Kreij continues, finance has taken on a stronger support role in this fashion, developing "decision matrices where each project is ranked from a value-creation perspective, from a complexity perspective, and from a cost perspective." He notes, though, that those matrices often must be filled in by people outside of finance, since finance cannot judge the complexity of an IT project.
Other CFOs we interviewed are also driving the formation of, or are at least participating in, multidisciplinary teams with the responsibility for making sure technology investments make business sense. For example, at Wesco International, a U.S.-based distributor of electrical products and industrial supplies, technology investments are vetted by a balanced IT advisory council that includes members of all the functional areas of the company, including finance and IT, as well as business-unit leaders.
At another company, Eurocopter Group (Europe's largest helicopter manufacturer), a "Strategic IM Plan" brings together stakeholders across the value chain — business-function chairs, together with finance and what [Eurocopter] calls information management — to seek common agreement on when and where the company should be investing in technology. As a result, says CFO Dieter John, the company's IM group has become a strategic business enabler helping to drive corporate growth.
As part of these teams, CFOs play a key middleman role between users and providers of technology, offering the translation needed to match business needs with technical capabilities. As the CFO of one company observes, "Our CIO likes reporting to the CFO because he feels a CFO can do a better job of explaining and packaging things in a way that the rest of the members of management can understand."
Excerpted from "The Expanding Role of the CFO: Using Technology to Drive Value for the Business," CFO Publishing LLC, November 2011.