Mortgage-backed securities. Collateralized debt obligations. NINJA mortgages. Neg-am loans. What was once arcane real-estate jargon became the language of the Great Recession, as the bursting of the housing bubble sent the economy downhill faster than a mortgage broker could say "Approved!"
Over the past two years, those buzzwords faded as the national conversation focused on the federal deficit and the grim employment picture. But as economists, policy makers, and businesspeople struggle to jump-start economic growth, housing is once again a hot topic.
By most measures, the housing market remains anemic, or worse. The Case-Shiller Home Price Indexes, which track changes in residential real estate prices across the country, showed home prices down nearly 4% in August compared with August 2010.
Average home prices nationally have plummeted 31% from their 2006 peak. In some cities, like Naples, Florida, they have fallen as much as 61%. Financial-analytics company Fiserv predicts a further 3.6% average national decline by next June, fueled by continued high unemployment and foreclosures.
The plunge in prices means that nearly a quarter of U.S. homeowners are underwater on their mortgages. While foreclosures remain a fairly localized phenomenon, where they hit they hit hard. In Nevada, which leads the nation in foreclosures, banks were foreclosing on 1 in every 44 homes as of the third quarter of this year. California was second, with 1 in every 88 homes in foreclosure, and Arizona ranked third, with 1 in every 93 homes in the foreclosure process.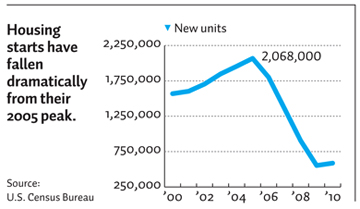 The collateral damage from housing's woes is huge. Foreclosed homeowners aren't doing much spending, and their underwater neighbors aren't either, even if they are employed and can still afford their mortgage payments. The negative psychological impact of owing more than one's home is worth means that spending is curtailed, mobility is limited, and borrowing against home equity, a common phenomenon during the debt-fueled boom, is not an option. Together with co-author John Quigley, economists Karl Case and Robert Shiller, creators of the Case-Shiller indexes, recently estimated that the decline in home prices from 2005 to 2009 caused consumers to spend $240 billion less each year than they otherwise would have — an amount equal to nearly 2% of annual economic activity.
Indeed, the Federal Reserve Bank has identified housing as one of the economy's most critical issues. "Continued house-price declines could lead to even more defaults, foreclosures, and distress sales, undermining wealth, confidence, and spending," said William Dudley, president of the Federal Reserve Bank of New York, in an October speech at Fordham University. "Breaking this vicious cycle is one of the most pressing issues facing policy makers."
Even for those in resilient real estate markets, such as much of the Northeast or California's Bay Area, news of foreclosures contributes to a feeling of unease and a general lack of confidence that affects both the housing market and the broader economy. "I may be well situated in my housing, but when I read about foreclosures it causes concern," says Marty Connor, CFO at Toll Brothers, the luxury-home builder. "I'm employed, but when I read about 9% unemployment, it doesn't make me feel good."
Housing, says Connor, is critical to the economic recovery not only because houses are most people's largest personal asset and their value has such an enormous impact on consumer confidence, but also because of the employment generated by the sector, in direct construction of homes as well as in real estate, home furnishings, mortgage banking, home renovation, and a host of other ancillary services tied to the business of selling houses.
The Ripple Effect
CFOs in the housing sector tell a similar story. They have survived the worst of the downturn and now maintain a somewhat defensive posture, carefully guarding their balance sheets and protecting the jobs of remaining staffers while waiting — and waiting — for the market to improve.
After a brutal few years in which the company saw its revenues shrink by more than 70% and reduced its employee base by the same amount, Toll Brothers is now at break-even. The company has shored up its balance sheet, Connor says, and is searching for the right opportunities to put its cash to work. "We think we saw a bottom in housing in the spring of 2009, and all we've done since is bounce along that bottom," says Connor. While the average number of homes built in the United States hovered around 1.5 million units a year for the past 40 years and reached 2 million in 2005, for the past few years builders have added fewer than 600,000 houses each year. "We're so far below the long-term average, it's distressing," Connor says. Toll Brothers will hold on to more cash than ever before so that the business is prepared to ride out the rest of the cycle, however long that may be.
Michael Kreamer, CFO at Marrano/Marc Equity, a builder in western New York State, also expects a long slog. "There's no consumer confidence in the future, so very few people are committing to a big purchase like a house," he says. "That's our biggest problem right now."
Kreamer says the business has held up relatively well, as the region didn't experience the same kind of building boom as much of the rest of the country and thus has had a less dramatic plunge. Nonetheless, the market has slowed in the past year. The company has shifted its product mix toward smaller homes, from an average of 2,800 square feet to 2,100 square feet. "We've moved away from what used to be a 'move-up' product to an entry-level product," he says. "In the past, buyers might have stretched because they had confidence in the future. Now, they're not willing to stretch."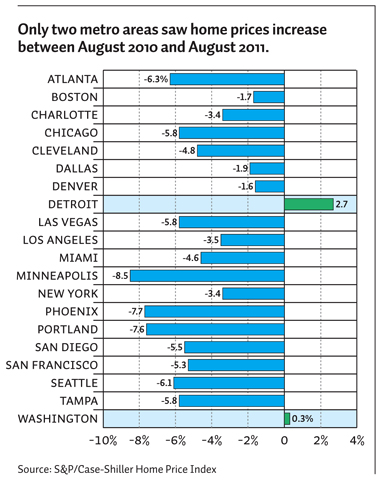 At cabinetmaker American Woodmark, "things are interesting," says Jonathan Wolk, CFO at the company, which sells its products through Home Depot and Lowe's and to smaller stores and large home builders, and reports some $450 million in annual revenue. After a strong spring in which sales were up over last year by 20%, business began to slow over the summer as the debt-ceiling talks dragged on and consumer confidence dipped, says Wolk. Now, while he expects sales will still be up for the year, he anticipates more-moderate growth.
Tim Wissner, CFO of Windermere Solutions, the technology arm of Windermere Real Estate, a Seattle-based realtor, says he and his fellow executives are looking at data on a very granular level as they try to plan for the lackluster recovery. "We break down Western Washington almost into neighborhoods," he says. At one end of the spectrum, in high-net-worth neighborhoods of Seattle, all-cash deals predominate. At the other end, there is a neighborhood in South Puget Sound where even foreclosed-upon homes aren't moving.
While Wissner says the foreclosure overhang is less of a problem than it was last year, he isn't expecting robust growth in the short-term. "We were originally projecting 2011 as the year the real estate market would stabilize and 2012 as the year it would see growth. We've pushed that back a year," says Wissner. "Until you solve the jobs problem, you will not fix the real estate issue."
Laying a Foundation
While waiting for a break in the vicious weak-jobs/weak-housing cycle, CFOs in the sector are taking steps to prepare for growth when it eventually returns. At Toll Brothers, Connor says, "we're looking at new land and new opportunities and balancing that with the security of having cash and liquidity for however long we need it." The company has added some new developments and plans to continue to do so.
A bright spot has been the City Living brand, a division that builds luxury condos in New York, New Jersey, and Philadelphia, which has grown to make up more than 20% of the business. "We still have significant success with the right product in the right location," Connor says. He cites a community of luxury homes in the $750,000 range outside Philadelphia where the company has sold nearly 50 houses in the past year.
American Woodmark's Wolk and his fellow executives meet regularly to review market data and try to forecast accordingly. "We're trying to determine ways to become more efficient in the event that the market just doesn't want to give us any help for a while," he says. "What we see is that new housing starts are struggling to get back to historical levels," Wolk adds. "We've been flat-lined for a few years now." The company is trying to maintain its current staffing levels by carefully managing schedules at its plants.
At Windermere, the company is taking advantage of the slow market to make a "massive investment" in technology, says Wissner, who has recently left his role as CFO of the corporate entity to head up finance for the technology business, which spun out of the parent company last year. "We are revising all of our platforms and trying to become much more sophisticated about social media and innovation. We're updating and greatly expanding all of the back-end tools for our realtors," he says.
Some companies have held up remarkably well despite their close ties to housing. Bed Bath and Beyond, the housewares chain, saw its stock reach a 52-week high in October and continues to add stores. Williams-Sonoma, which operates the furniture chains Pottery Barn and West Elm in addition to its high-end cookware stores, has also reported strong results in recent quarters. Others, however, like Lowe's, reported disappointing second-quarter results. Executives at the home-improvement retailer said same-store sales remained flat compared with the same quarter last year, and the company has closed stores and shaken up the management ranks in an effort to accelerate its business.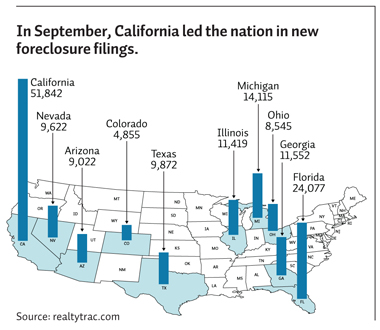 Help from HARP?
Recently, while data is mixed, the economy has shown signs of life. Numbers released in the fall showed that consumers actually increased their spending over the summer, despite worries about the debt ceiling and the European financial crisis. GDP in the third quarter grew by 2.5%, roughly in line with economists' expectations, and October's new jobs number, while still weak, came in better than expected. Analysts are predicting an increase in holiday-season revenues compared with last year.
These stirrings of growth may get a boost from a revamped home lending program, an update of the federal Home Affordable Refinance Program (HARP), which was first launched two years ago but gained little traction as banks hesitated to lend to all but the most creditworthy borrowers. The revised program, which is available to homeowners with loans backed by government agencies Fannie Mae and Freddie Mac, will allow borrowers to refinance even if their homes' values have dropped.
Announced in October, the new changes will eliminate appraisals, some fees, and some underwriting requirements for homeowners who are current on their payments. The program will also be extended through 2013, rather than expiring in June 2012. As many as a million borrowers could refinance under the program, according to the Federal Housing Finance Agency. The reduced mortgage payments could yield substantial savings for homeowners, which would provide a boost to the economy and, eventually, strengthen the job market. Economists estimate that, combined with continued low interest rates, the program could translate to as many as 4 million jobs.
Finance executives watching the housing market know there will be no quick fix. Wolk says that as he studies historical industry data, housing's cycles become clear. One of the reasons this downturn is so sharp, he says, is that it comes on the heels of a roaring 15-year upswing. But he is confident that the market will rise again. "We're going to have an increase from here, but it's going to be a long slog until we do," he says. "We didn't get here overnight on the upside, and we're not going to get it fixed overnight on the downside." In the interim, finance chiefs at affected companies are focusing on efficiency, balance-sheet strength, and carefully tailored product portfolios as they prepare for the eventual recovery.
Meanwhile, the market for home buyers has rarely looked better. With interest rates at all-time lows and prices down, says Toll Brothers's Connor, "I take great solace in being able to tell everyone that it is a great time to buy a house."
Kate O'Sullivan is a deputy editor at CFO.