If there ever was a question that the CFOs working for small-to-midsize companies were heavily involved in buying property-casualty insurance to cover their firm's risk exposures, here's an answer: 61% of such finance chiefs directly negotiate the purchasing of corporate insurance.
Asked which statement best characterizes their involvement in their company's insurance-buying processes,  61% of 172 CFOs working for companies ranging between $10 million and $499 million in annual sales could say,  "I negotiate our company's insurance buying," according to a CFO.com survey conducted in February and March. (See Figure 1, below.)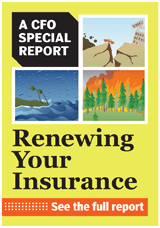 In fact, only about 2% of the CFOs said they have no involvement in buying coverage. The rest continue to keep their hands in, while delegating the nitty-gritty of the purchasing process to brokers and their company's risk managers.   
Why are many finance chiefs taking seats at the bargaining table across from insurance underwriters, sometimes with a broker and, less often, with the company risk manager in tow? How their companies protect themselves from potentially disastrous financial losses is just too important an item to delegate, some CFOs said.  "I personally negotiate the insurance for our company due to the materiality of its impact on our business," said an industrial-sector CFO who works for a company that takes in $10 million to $50 million a year. During negotiations leading up to a December 31 policy renewal,  this finance chief found workers' compensation the toughest coverage to buy at a reasonable price.
Similarly, one finance chief who works for a health-care organization in the $100 million to $500 million revenue range directly negotiates coverage because the task involves a "[l]arge, important expense that I should handle."  So important, says another CFO, who is "personally responsible for obtaining appropriate coverage at reasonable cost," that the finance chief "coordinate[s] my decisions with my CEO."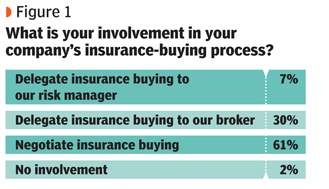 Even when they delegate the actual buying of insurance to a broker or agent, some CFOs still exert a great amount of discretion. "Our broker supplies me with quotes from different producers and recommendations to fill any holes we have in our insurance program. I typically do not buy everything he suggests," said the finance chief of a  $10 million to $50 million sporting-goods manufacturer.
Another executive, who leads the finance function at a $50 million to $100 million manufacturer, uses a broker to shop the company's coverage to the insurance market. "I however meet with underwriters, complete and sign off on applications and conduct facility tours and loss control interviews/visits," this CFO wrote.
With insurance prices primed to increase, and such lines of coverage as property and workers' comp getting tougher to buy at a fair price, more effort on the part of finance execs is being called for. "[T]he market seems to be hardening where insurers are exiting some of my markets and pricing is going up. We are working to renew our coverage and it's more challenging than ever," the finance chief added.
Although one CFO of a $100 million to $500 million manufacturer delegates purchasing to Wells Fargo's insurance-services unit, "it's not a 100% delegation," the finance chief said, noting that she or he remains "intimately involved in the process, given annual cost increases and coverage changes."
That process is a frustrating one. "All the company's insurers included historical claims from [a] recently closed plant in the quote," the CFO said, "but promised adjustments in the future."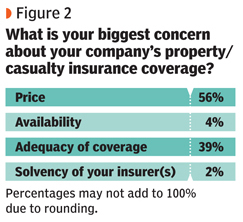 One survey respondent, who buys insurance as well as oversees finance at a $50 million to $100 million recycler of paper and plastics, said that the process of buying insurance takes "about 60 days to complete  and requires a great deal of time in reviewing."
Price Shoppers
To that finance chief, as it is to 56% of the CFO.com survey respondents overall, price is the biggest concern in buying property-casualty insurance. Adequacy of coverage is also a strongly represented worry, at 39%. (See Figure 2, at left.)
Indeed, the cost of insurance is becoming an even greater concern, with one fairly typical CFO declaring that premiums increased "dramatically" at his or her company's September 2012 policy renewals. Another simply declared a wish for "full coverage without paying an arm and a leg!"
A fair number of finance chiefs said they've been looking for a balance between decent prices and adequate coverage. "Price is always a concern to me," declared one, "but being responsible for risk management I am equally if not more concerned about adequate coverage." 
To be sure, these finance executives are fairly certain that some coverage will at least be available and that their carriers will be financially secure. Still, as one finance chief for a small manufacturer in the process of renewing its coverage this month put it, "Without a solvent insurance carrier the other three [price, adequacy, and availability of coverage] do not matter."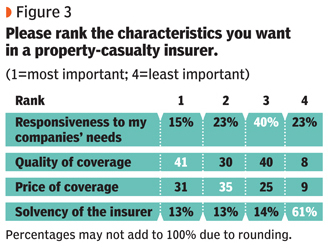 For most of the finance chiefs, however, solvency occupied the lowest rung of their concerns about their insurance carriers. Interestingly, though, "quality of coverage" topped "price of coverage" among their criteria for picking insurers. (See Figure 3, at left.) 
Still, price may be the most measurable way to assess an insurer before you buy coverage. Said one finance chief who last month renewed the policies of the $50 million to $100 million wholesale-retail company he works for: "Price is the only sure variable. Of course everyone wants great coverage, quick response, and the insurer to be able to pay out claims. But you only find many of those out after the fact."