Truck cargo theft is a perennial headache for Corporate America, thanks to the ease of stealing a truck and disposing of stolen goods, the omnipresence of gangs, and the relative indifference of law enforcement. Such theft amounts to $30 billion a year, according to a 2010 estimate by the Federal Bureau of Investigation. And it's on the rise: truck cargo theft rose 22% year-over-year in the second quarter of 2012, a report from data provider CargoNet found.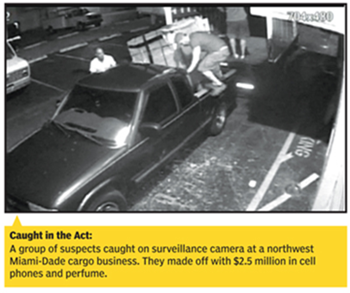 Many such thefts result in losses between $10,000 and $1 million, according to the CargoNet report. California, Texas, and Florida see more truck robberies than any other states. Beverages and prepared foods are the most stolen commodities, followed by base metals, electronics, and apparel and accessories. But cargo theft is hardly confined to these industries, causing significant losses for a wide range of manufacturers and transportation companies.
Truck robberies are often committed by members of organized-crime groups, including gangs, according to the FBI. Because products are often transported in unmarked containers, their theft is "almost always an inside job," says Anthony Cowie, a senior vice president with reinsurer Swiss Re. "There will often be inside information passed from someone who knows what's in a shipment. Typically there are organized syndicates doing these crimes."
Other robberies are opportunistic; some thieves will randomly steal a truck before they know what is inside, says Bert Mayo, a vice president of risk control services with Lockton, an insurance broker. Indeed, drivers taking a lunch or dinner break sometimes return to discover their truck and trailer are gone. The trucks are not exactly difficult to steal, says Mayo. "It's a matter of breaking a pretty insecure lock on the door, and for a lot of trucks being made today, one master key can start a whole series of trucks," he says.
Port cities like Miami and San Francisco are prime areas for such crimes, because thieves can easily sell the stolen products there, says Mayo. A thief driving into Miami with the stolen trailer can quickly acquire a bill of lading, which details the shipment and grants the carrier legitimacy, he says. "They will call ahead saying they have a load of whatever the product is and they can move it. The scary thing is that there is a whole structure set up to move any product."
Another reason such crime flourishes is that the penalties for it are small, says Mayo. "It's considered a minor offense, so someone gets six months in jail for stealing a truckload of clothing, versus 10 years for being involved with drugs. The payout can be enormous."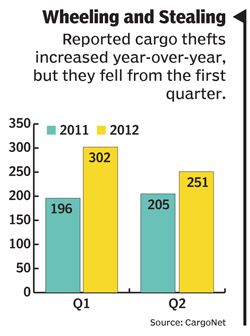 The insurance community regularly lobbies Congress to grant the U.S. Coast Guard and the FBI more money to combat cargo theft, but lawmakers have been unresponsive, says Cowie. "Because it's a property crime, it doesn't get the attention it probably should," he says.
Driver Examinations
Preventing truck cargo theft may seem a daunting prospect, considering how many parties are involved in transporting goods via trucks: manufacturers, distributors, loaders, purchasers, transportation officials. For that reason, it's best to begin by focusing on the driver, say experts. A truck is "like a bank on wheels, and one person is in charge," comments David Shillingford, president of Verisk Crime Analytics, a national information-sharing system designed to combat cargo theft.
Insuring against the risk of driver theft isn't a solution: though many cargo policies cover theft up to at least $1 million of stolen goods and damages, most exclude an act by the driver. "If the driver failed to do his job, or if he stole [the goods], it's not covered," says Cowie. Companies should protect themselves by other means, such as vetting drivers of trucks carrying high-value cargoes, he says. In particular, risk managers of companies moving high-risk freight should conduct scrupulous preemployment screening, including background checks, adds Mayo. If a driver is moving a load worth several million dollars, "we have to know he's going to be on our side," he says.
Trucking is the riskiest means of transport at Novartis, the Swiss pharmaceuticals giant. To protect against driver theft, Novartis's drivers are instructed not to stop in areas known for piracy, says Jennifer Santiago, director of insurance at the company. Their trips are also predetermined down to the lane they are driving in, so there is no room for deviation, she says.
"There is a sign-off of the merchandise when the driver picks it up, and the entire trip is monitored," says Santiago. Once a shipment is on the road, GPS locators are used for tracking by both Novartis and a third-party services provider, "so we know where it is at any time," she says. "If there is a stop, somebody calls to ask why."
Using only high-end trucking companies would be ideal, says Santiago, who points out that big chains like Wal-Mart and Walgreen often choose their own trucking companies. But Novartis doesn't always have control over its carrier, she says. "You are trying to put your requirements on a third-party company that you don't have a relationship with, so that can be a challenge."