Companies that have grown accustomed to coasting through their insurance renewals in a flat market are now bracing for higher premiums on some types of coverage. A long string of natural catastrophes, costing insurers more than $100 billion in 2011 and hammering their investment returns, has made underwriters more careful about the risks they allow. More than ever, carriers are requiring explanations for losses and evidence of the changes made to prevent those losses from recurring.
In planning for 2013, many insurance buyers are seeing prices for property-casualty coverage increase, with workers' compensation and commercial-property insurance leading the way, says economist Robert Hartwig, president of the Insurance Information Institute. Rates jumped about 4.5% to 6% across commercial insurance programs through the second quarter of 2012, Hartwig says.
Jennifer Fahey, chief broking officer in the United States and the Americas for Aon, the insurance brokerage, says risk managers should be working toward a managed outcome. Instead of "packaging up your risks, exposures, and data and [shopping them around] the marketplace," risk managers should prepare an analysis for their existing underwriters, Fahey advises, explaining, in the case of losses, what actions they have taken to mitigate the exposure going forward.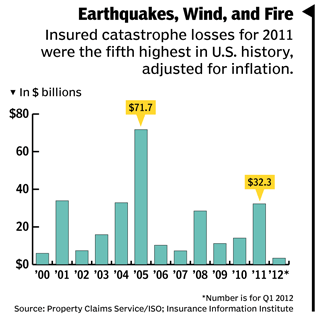 Transparency Pays
Recent natural catastrophes have made it more difficult to get reasonable pricing for supply-chain coverage. But transparency may be one way to keep premiums down. Laura Langone, director of global risk management at Juniper Networks, a $4.5 billion maker of networking equipment, says the company hasn't been hit with the price increases it expected, mostly because of efforts during the past year to give underwriters "good visibility into our supply chain."
For one, the company allows insurers to visit its suppliers. Langone has also worked to pinpoint suppliers' vulnerabilities and develop stronger alternate plans in case they cannot deliver materials or products. The company's history with its insurer also helped ensure more-favorable rates, adds Langone; if the company were to switch insurers, costs would likely rise, she says.
Indeed, a company's claims history and relationship with an insurer can influence contract negotiations. However, because insurers must now reflect the higher costs associated with catastrophe losses, even long-term, valued customers won't be immune from pressure on rates, warns Hartwig.
At Centerline Capital Group, insurance renewals ranged from flat to a 4% increase in 2011, thanks to Centerline's relationships with brokers and underwriters and a favorable loss history, says Lori Seidenberg, senior vice president in enterprise risk management. Now, however, the provider of real estate and asset-management services is faced with double-digit increases. Much of the company's capital is invested in wood-frame apartment buildings that are vulnerable to high winds, explains Seidenberg. Centerline manages $9.3 billion of investor equity in more than 116 public and private real estate investment funds, and has $11.5 billion of loans in its mortgage-servicing portfolio on behalf of Fannie Mae, Freddie Mac, Ginnie Mae, and the Federal Housing Administration.
Seidenberg has created risk scenarios to show how certain aspects of the buildings' designs protect against wind damage, and has promoted those to insurers. Still, "at the end of the day, when you're in a class that's not favorable, you are looking at premium increases," she says. "I can't forgo wind coverage to save money, because investor guidelines and Fanny and Freddie guidelines require complete compliance."
"A Manageable Marketplace"
One piece of good news for insurance buyers, Aon's Fahey observes, is that even though property-coverage prices have started to move upward, "it remains a very manageable marketplace." Premiums are rising not across the board, but rather based on a company's risk exposures and industry. Size also matters: while property premiums rose an average of 2.5% in the second quarter, they increased by 6.6% for the largest companies, Fahey notes.
Workers' compensation insurance is among the fastest-rising coverage. Because of head-count growth in New York, Veolia Transportation's workers' compensation exposure has increased this year, causing a 25% leap in state tax assessments and a jump in premiums, says Richard Rabs, vice president of claims and risk management. The company's premiums reached about 8% in July, double what they would have been without the higher tax assessment, he says.
Hartwig points out that 2013 will be the second straight year that workers' compensation rates have increased. But since prices fell from 2004 through 2011, he notes, "the average company is still paying a lot less in premiums today as a share of its payroll than 9 or 10 years ago."
---
No Surprises
Finance chiefs are demanding detailed information from their risk managers.
CFOs have become much savvier in their understanding of the insurance marketplace, observes Andrew Barile, an insurance and reinsurance consultant. Because insurance has become a greater expense in recent years, risk managers more often give detailed presentations to the finance chief. "CFOs are paying attention," Barile says. "When the risk manager comes in with a recommendation, he or she has to have detailed explanations of why rates have gone up."
At Veolia Transportation, vice president of claims and risk management Richard Rabs has regular meetings with his CFO to make sure there are "no surprises." While Rabs has binding authority over insurance, "if it's a huge increase, [the CFO is] going to know about it before" the deal is done, he says. Meanwhile, Laura Langone, director of global risk management at Juniper Networks, says she meets regularly with Juniper CFO Robyn Denholm to discuss strategy and get input before purchasing. "So far, so good," she says, since she's looking at flat to decreasing rates in October.
At Centerline Capital Group, Lori Seidenberg, senior vice president in enterprise risk management, says that the company's finance chief is "actively engaged in the buying process, not only in the premium, but also in the coverage and benefits to the organization." Members of the company's board are consulted before changes are made to directors' and officers' liability coverage, and the board is also informed about insurance pricing upon budget reviews, says Jessica Maldonado, director of enterprise risk management at Centerline. — C.McD.