For the second straight year, corporate directors view reputational risk as their chief concern, aside from financial risk, according to a survey by EisnerAmper LLP. The study, "Concerns About Risks Confronting Boards," found that 66% of 193 directors see reputational risk as their top concern, compared with 59% who named regulatory risk.
While directors' worries about regulatory risk have remained relatively stable, "the concern about reputation has grown over the last couple of years," says Steve Kreit, an audit partner with EisnerAmper in New York. The reason, he says, is "the very high-profile issues that have occurred with companies over the last few years," such as the BP oil spill in the Gulf of Mexico.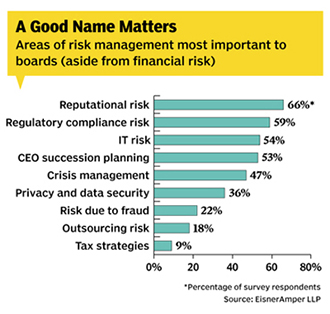 The survey, conducted from October 2011 through February 2012, recorded the opinions of directors serving on the boards of publicly traded and private firms across a variety of industries.
The top area of concern in reputational risk was, taken together, product quality, product liability, and customer satisfaction, at 30%. Second was a combination of concerns about integrity, fraud, ethics, and the Foreign Corrupt Practices Act, which totaled at 24%.
Asked how they identify risks, 22% of directors said they receive reports from executive management; 18% regularly discuss risk issues during board meetings; 16% rely on professional support or advice from outside experts; and 11% get information from a risk committee.
When asked what they want to learn about the most and allowed to provide multiple answers, almost three-quarters of directors said they are looking for information on broad-based risk assessment. This indicates a major interest in keeping up-to-date on risk holistically, according to the survey. Almost half said that a group of concerns including cybersecurity, protecting reputational risk, and being current with regulatory compliance issues were topics they want to know more about.
"In the past, boards weren't looking at risk as a big picture," observes Kreit. "When Sarbanes-Oxley came out, there was so much focus on compliance that they got caught up in regulations and small issues, instead of taking a step back and looking at some of the big things."