Business uses for YouTube, Facebook, and Twitter are fast catching up to the leisure uses that have been their primary raison d'etre so far, and usage of LinkedIn, which was created as a business tool, keeps soaring.
But among more than three-fourths (75.8%) of U.S. companies that have built corporate strategies around social media, a solid majority view it as a liabilitiy as well as an asset (see chart), according to the 2012 RIMS Benchmark Survey, released by the Risk and Insurance Management Society.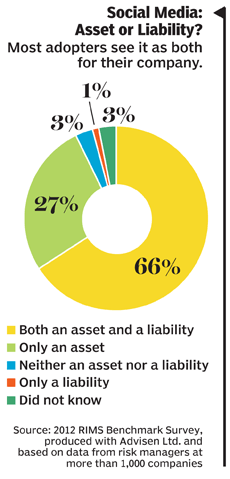 For example, Facebook has proven a golden tool for "reaching customers where they already are" and offering online deals, notes Jeremiah Owyang, an analyst at Altimeter Group. Communicating with target audiences and improving brand awareness were the top two reasons given for using social media, according to the survey. But at the same time, customers can and do blare their problems with a company on its own Facebook page.
Twitter, too, can be used to get the word out on products, but it's difficult for a company to monitor employees' use of the tool, given the high volume of tweets. In fact, Gene Morphis was fired in May as CFO of Francesca's Holdings Group for tweeting sensitive company information.
Among companies that have not adopted social media, the potential for liability was not the biggest concern. Only 15% cited that factor as a key reason for their reticence, compared with 40% who said they were still assessing its potential benefits and 35% who already believe it provides insufficient benefits.
The 2012 RIMS Benchmark Survey is available for purchase at the society's website.