In this survey report, hear from 500 SMEs to understand how finance leaders, their teams, and their executive peers interpret and are responding to Q2's economic trends.
Each quarter, CFO.com, sponsored by NetSuite, conducts a Wakefield survey of 500 small to midsize enterprises (SMEs) to understand how finance leaders, their teams, and their executive peers interpret and respond to economic trends. 
Compared to last quarter, business leaders appear more confident in the U.S. economy, with more than half of executives agreeing it will expand this year and have a positive effect on their Q2 2023 revenues and beyond. Almost all business leaders face continued hiring challenges, although most hope investments in technology will help by eventually reducing labor needs. Still, most executives predict their organizations will meet or exceed their goals, with 84% of CFOs expecting revenue to grow this year. 
Other Key Findings
Cost cutting is still a core theme in 2023, as companies prioritize efficiency. However, spending is expected to increase in all areas of business including: production, sales, marketing and technology.
Although most executives look to invest in technology and artificial intelligence (AI) usage is expected to expand, there are some diverging opinions with respect to evaluating such investments. There is wider agreement on the importance of factors such as compatibility with existing systems and ease of implementation.
Business leaders feel pressure from investors and the wider community to prioritize best environmental, social, and governance (ESG) practices.
Additionally, AI and the rise of ChatGPT made headlines in the first quarter of 2023, which mirrors many respondents' keen interest in AI application. More than two-thirds of executives believe their companies' AI usage will increase this year. Other data points agree that executives expect generative AI to have a substantial impact on business. But with the added advantages comes now well-publicized risks.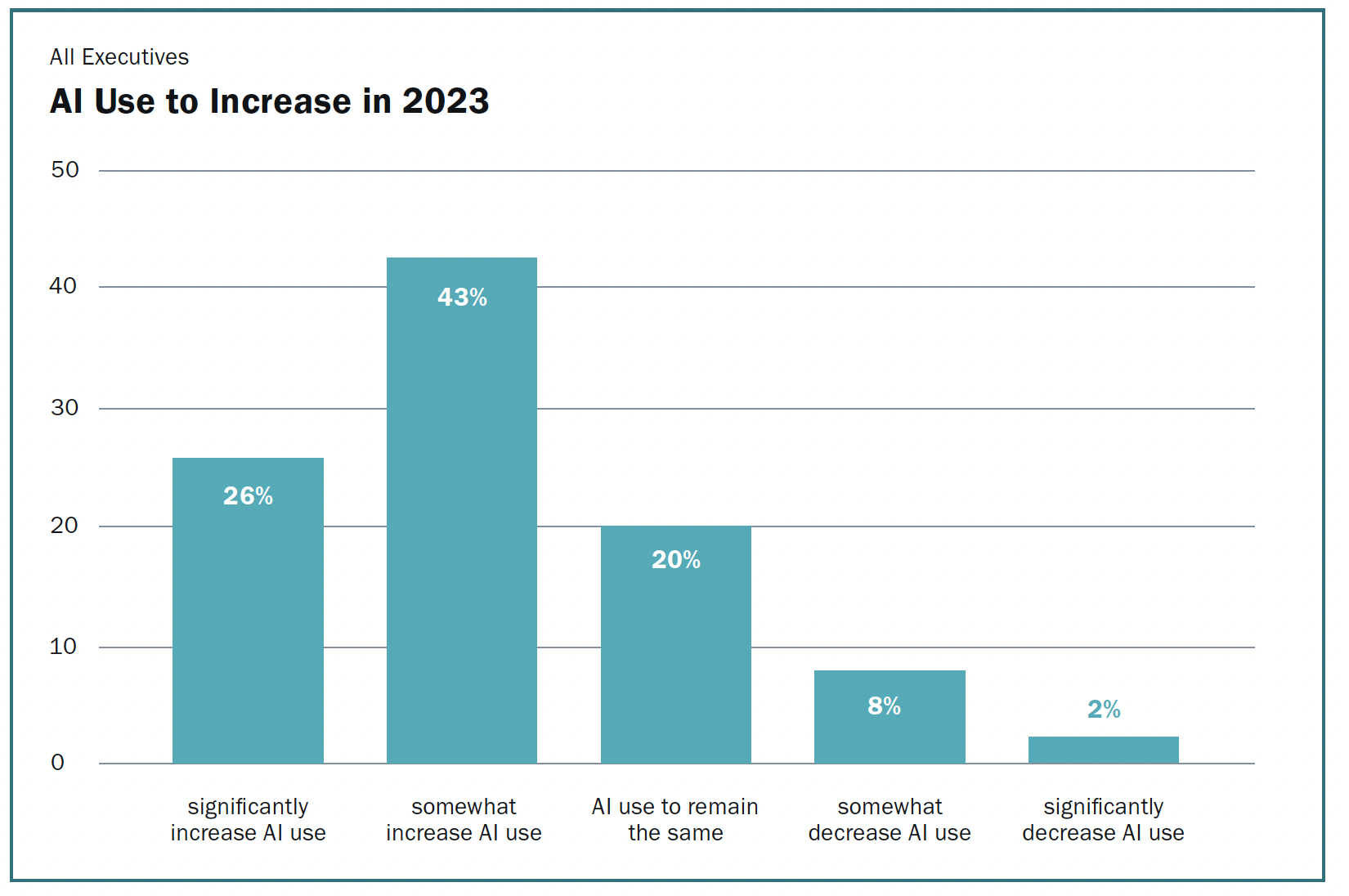 Download the report to learn more!