Offshore outsourcing is no longer the controversial topic it was 10 years ago, when the practice of contracting with workers overseas regularly made headlines. But while offshoring has since become standard practice for many U.S. businesses, few are employing anything close to best practice when it comes to managing their offshore relationships, according to a recent study of 240 executives by the Offshoring Research Network at Duke University's Fuqua School of Business.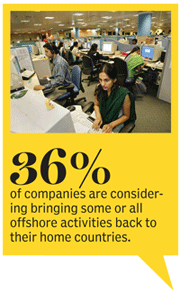 "Companies still have lots to learn," says Arie Lewin, professor of strategy and international business at Fuqua and the director of the study, which has been conducted annually since 2004. "Many companies have really perfected supply-chain management, but they're not applying those same capacities to the sourcing of business-support functions."
While the business of offshoring is booming — it's an $800 billion industry, by one estimate, with software development and finance and accounting the most frequently offshored functions — executives seem to be taking a "set it and forget it" approach after establishing a relationship with an overseas service provider. That's probably not wise.
As offshore outsourcing continues, with CFOs planning to expand their overseas workforces in the year ahead, according to the Duke University/CFO Magazine Global Business Outlook Survey, the time is ripe for finance chiefs to take charge of the process and identify ways to improve it.
Seven Success Factors
Lewin and his fellow researchers have identified seven critical "dimensions of effectiveness" for companies engaged in offshoring: the effort must be a companywide strategy with C-level support; there must be clear and measurable objectives; the company should have a central location for managing back-office functions; it should be employing cost accounting to track offshore projects; there should be a formal process for allocating savings as well as a formal vendor-management program; and there should be a defined process for the delivery of offshore services.
According to Lewin's research, which asked the executives at the 115 responding companies that were currently offshoring to rate their own performance on these dimensions, very few companies scored well on all fronts. Large companies held no particular advantage, with executives at midsize companies granting roughly the same ratings as their larger counterparts.
Only half of surveyed companies that offshore employ a process- improvement method like Six Sigma or lean management, and some 60% said they are not using any vendor-management tools. Seventy percent of companies do have a centralized department for managing global sourcing decisions, but the number of functional areas represented in that department varies widely. And even the highest-scoring companies didn't give themselves top marks on C-level support of offshoring initiatives. "Management attention to this issue at individual firms is a mess," says Lewin. "Many companies don't have senior-level attention paid to the importance of sourcing business-support functions."
Why the difficulty? While many companies have long had procurement functions for purchasing supplies and services, the process of procuring services from offshore providers is much newer, and may be handled in a more fragmented and less efficient way, explains Lewin. Many businesses have a diverse array of overseas vendors used by different departments or for different functions. And despite the significant dollars involved, senior management does not often focus on offshoring as a critical cost area.
Understanding the Risks
Without a deep understanding of where and how a business is offshoring, finance chiefs may not only be missing out on substantial cost savings, but may also be exposed to significant risks, says Jack Healey, a finance executive and partner at Genesis Management, a supply-chain management and consulting firm with service providers in India and Hong Kong. "You have to have a backup plan," he says. "You need to know what else you're going to do if the relationship changes, or if people leave. How deep is the organization you're working with?"
Companies also face operational risk if they have multiple offshore partners in one location, particularly if that location is in a politically unstable area or in a place with poor or unreliable infrastructure. Healey advises CFOs to carefully monitor their offshore service providers and develop a personal relationship, at least in the beginning, by visiting for face-to-face meetings. The difficulty in managing long-distance relationships is likely one reason why 36% of survey respondents are considering bringing at least some offshore operations back closer to home.
As overseas vendors race to offer various apps, cloud-based systems, and mobile communications options, the risk of data security breaches or data loss rises and the level of complexity in offshoring relationships grows.
"The pressure to get on top of this from an operational management point of view is growing," says Lewin. Consider yourself warned.