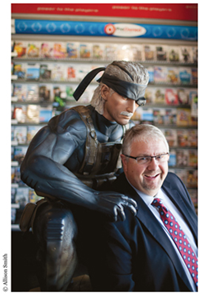 For GameStop, the world's largest video-game retailer, the competitive landscape may seem like a corporate version of "Mortal Kombat." Formidable foes loom, from big-box chains like Wal-Mart and Best Buy to Internet retailers and distributors like Amazon and Steam. The latter threat is particularly worrisome: although GameStop has more than 6,500 stores in 15 countries, nothing makes bricks fall faster than clicks.
But GameStop has no intention of hitting the exit button. Currently ranked 298 on the Fortune 500 with revenues of $8.8 billion, the company is determined to prevail in both the physical and digital worlds, says CFO Robert Lloyd. It has numerous resources to call on, including its PowerUp Rewards loyalty program, with 23 million members; new initiatives in digital sales and online gaming; and a dominant presence in the profitable pre-owned game and gear market. The company is also getting into used mobile electronics, a $184 million business for GameStop in 2012.
Called the "resident GameStop historian" by CEO Paul Raines during a recent earnings call, Lloyd, 51, joined GameStop's predecessor companies in 1996 as controller, following stints at several telecommunications startups. Recently he spoke with CFO about the changes he has witnessed at the company and the challenges that lie ahead.
Let's start with the important questions. Are you a gamer?
I play a little bit. My kids definitely are gamers.
What's your favorite game?
"Uncharted" is one of my personal favorites, but "Call of Duty" gets a lot of play in my house.
You've been at GameStop from the beginning. How has its business model changed since then?
Historically and now, we are predominantly a video game retailer. We sell games made by publishers like Activision and Electronic Arts, the consoles that Sony, Microsoft and Nintendo make, and all the accessories you need. We also have a pre-owned business.
About three years ago, the video-game market started to move more into the digital arena. You started seeing more game play online, and particularly with console games you started seeing add-on levels that are distributed digitally through Xbox Live and PlayStation Network. We sell that digital product in our stores.
These add-on levels are generally known as downloadable content, correct?
Yes. It's a way for the publishing community to monetize development dollars and prolong the life of their franchise titles. Take a game like "Call of Duty." About two or three months after a new version is launched physically, the publisher, Activision, is going to release additional levels for the game. We sell that content in subscription form, so when you buy the physical game, you'll prepay for the content that will be digitally delivered over the course of the next year. We've built a very nice business out of that.
Why would people buy that content at your stores instead of online?
Because our customers can pay for those add-on levels by trading in games that they're no longer playing. We also have a rewards program; it has 23 million members. And our store associates, who are largely gamers themselves, can help customers figure out how to find what they want in the digital world.
This is part of GameStop's response to the threat of digital distribution and sales.
We have responded to that threat. What we have found is that the technology may allow you to do things that the consumer just hasn't yet chosen to do. "Call of Duty," for example, is available for download. But few consumers will buy the entire game that way because it is so time consuming — and also because that would not allow them to get loyalty points or use trade-ins to pay for it.
There's a sort of collegial experience about lining up at GameStop for a midnight launch of a hot title. It's really a party at every store when we launch these big games.
I visited a GameStop store recently, and the first thing I noticed was a wall of pre-owned games for sale. That told me the used-game market must be significant.
It's huge, and it's an important part of our profit formula. The margin we make on pre-owned games is our highest-margin category. That has helped us sustain the business model through the years.
Our business is very cyclical; it depends on Microsoft, Sony and Nintendo to introduce new console products every few years. Right now we're in a cycle with console launches where what used to come out every four or five years now comes out in seven or eight years. So we're dependent on finding other ways to drive our business and protect our profits and cash flow.
Our digital business, which was $630 million last year, has been important to that effort. In 2011 we started to sell pre-owned mobile devices, and that was a $184 million business last year.
So longer console cycles are the main reason why your sales in 2012 were lower than in 2011 — customers are still waiting for the new PlayStation 4, for example.
Yes. According to NPD, from 2008 through 2012 the physical-game market declined 38%. We were able to grow our revenues through 2011 with a slight decline of about 7% in 2012.
How long can you rely on the used-game business?
We think the pre-owned business is going to be strong for years to come. There's a new console coming from Sony later this year. Microsoft announced its new console in May. What we've seen in the past and what we expect to see now is a wave of trade-ins from customers who want to buy the new products. So we'll have a business in pre-owned both for the generation of products that has been out now for a while and for these new products that come out.
Despite last year's sales decline, GameStop seems in fine financial shape. Not only do you have no debt, you've been conducting a sizable buyback program.
We recognized that our stock was getting discounted because of the video game cycle, so we took a couple of steps. One was to retire the debt that we had outstanding; we paid that off by the end of 2011. We're a heavily shorted stock, and the bear case is that we are going to go the way of Blockbuster and Borders and other businesses that have been digitally disintermediated. So we felt that taking the debt off the books would remove one element of the bear case against our stock.
At the same time, we thought it was important to return cash to shareholders, so we have done just over $1.1 billion in buybacks in the past three years. That's about a third of our outstanding shares. And we have been returning 100% of our free cash flow to shareholders during that time. Once we paid off our debt, we started a dividend in February 2012.
What do you see in the future for your digital business?
Downloadable content will continue to grow, especially with the new consoles and new ways to deliver products digitally. We also have an online gaming platform called Kongregate. We saw 48% growth in that last year.
You also acquired Spawn Labs a couple of years ago, as part of the move to digital.
Spawn has video-game streaming technology. They are in the process of extending that technology to PC games.
I've been asking about digital threats, but you have stiff competition in the bricks-and-mortar world, too.
Yes. Wal-Mart and Best Buy are the number-two and number-three market-share players in the video-game market. We occupy the largest share. We've done everything we can to gain market share in the last few years and prepare for this next console launch, but we're expecting them to compete with us.