Name: Steve Fitch
Position: SVP and CFO of the Boston Red Sox
Previous Positions: VP/controller, VP of finance, VP of human resources, Boston Red Sox; executive director of finance, San Diego Padres; controller, IRT; controller, Sav-On Drugs
Notable For: Wearing multiple hats in his job, with responsibility for everything from finance and accounting to risk management, strategic planning, and more.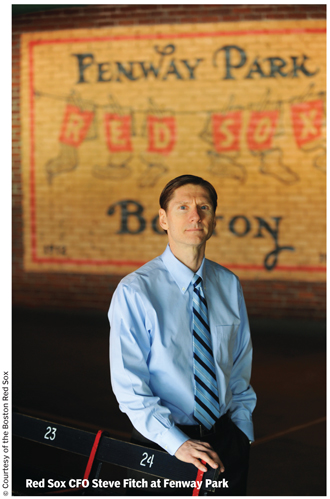 His Take-Away: Baseball is a year-round business, and for accounting executives, the busiest time is the off-season. We pull together the budgets. We have the audit engagement in progress, and we're working on the tax return. Basically, we're getting everything ready to go so that once we start the season, we're in more of a maintenance mode. The baseball season runs from April to September. October is the postseason; if we're even remotely close to getting in the playoffs, we prepare a budget for that. I don't go to many games, but I'm here for most of them. My office is in Fenway Park, behind the third-base grandstand seats. It looks out to Yawkey Way. It's fun around here during game time, especially a day game; people are just so happy to get inside, and it really adds to the ambience at the office. I'm optimistic about the season ahead. Every year we put out a team that I think has a chance to go deep in the playoffs, and this year is no different. We spend a lot of money on players; since I've been here, we have been one of the top teams in terms of payroll. We made that commitment again this year.