Forget what they say: Change is easy.
But continuous change is hard. That may be why so many finance and procurement executives, even as they push for improvements in financial and administrative processes, believe that they could do more. "There are situations where we feel that we can go further," says Joachim Jaeckle, corporate senior vice president at Henkel, a personal-care company based in Düsseldorf, Germany. "There's a lot of opportunity, but pursuing it requires cooperation across the whole company."
Cooperation, and patience, too. While the payoffs from process initiatives can be large, the road to realizing them is typically long and winding, as the song goes. Redesigning business processes starts with the unglamorous task of documenting exactly how work is getting accomplished. As they proceed, managers gain visibility into bottlenecks, gaps, and other lapses in efficiency that require mending. "You need to stop the bleeding," says Ralph Geertsema, former head of finance at telecom giant BT and now a director of SeventyOne, a consulting firm. "However many resources you need, that's what it takes."

But the effort is worth it, managers believe. A recent study titled "Made to Measure," conducted by CFO Research in collaboration with Genpact, the business process consulting firm, found that more than 60% of finance and procurement executives agree strongly that improving their administrative-process performance would yield meaningful financial benefit to their companies. The online survey included responses from 434 senior finance and procurement executives from around the world, including North America, Europe, Asia, Latin America, and South America. All respondents' businesses reported annual revenues of between $1 billion and $20 billion or more.
Given relentless cost-cutting pressure, demanding customers, and increasing competition, it's not surprising that finance and procurement executives have gained a renewed appreciation for the companywide benefits of standardizing, and improving, their business processes. "The desire to support the business as it grows without adding resources — that's what drives a lot of the process improvements you seek," says George Montague, vice president of finance and strategy for the Restorative Therapies Group at Medtronic, a medical technology company.
Benchmarks: Signposts along the Way
The CFO Research study found that using third-party performance benchmarks can be especially useful as catalysts for change and as sources of guidance on areas that are ready for improvement. "The only reason I would use benchmarks, personally, is as a case for change," says Adrian Ryan, head of finance transformation at Imperial Tobacco. "If I had a reluctant audience, I might need to use a third-party, arm's length organization to prove what I know to be the case already to decision makers that refuse to accept the point."
Gaining access to high-quality benchmarks, however, isn't easy. In the study, just 33% of respondents say their company makes "extensive use" of external benchmarks, while another 50% make "some use" of them to assess financial-and-administrative-process performance (see chart, "Standards Time").
Which companies are most likely to seek out third-party benchmarks and put them to use? Those that choose to make process improvement a priority. The study found that companies that use external benchmarks are especially likely to view process improvement as an important means of generating value. A solid majority of respondents (78%) who say their companies make extensive use of benchmarks agree strongly with the statement that "Improving financial-and-administrative-process improvement would yield a meaningful financial benefit to my company." Only 55% of respondents at companies that make only some use of external benchmarks agree strongly with that statement; this figure drops to 38% among respondents whose companies make limited use of benchmarks.
Difficult Choices
Useful as benchmarks may be, they are strictly a means to an end, not the end itself. It is up to managers to interpret how a certain benchmark relates to broader company performance, and what actions should (or shouldn't) be taken as a result.
That interpretation can lead to difficult choices. Choosing to centralize or decentralize order-to-cash processes, for example, often represents a trade-off between efficiency and customer satisfaction, according to the study. On the one hand, companies that centralize — either within shared-services centers or at the corporate or group level — deploy less labor in order to complete those activities, and therefore operate more efficiently. On the other hand, companies that distribute their order-to-cash activities among corporate subsidiaries or business units report higher levels of customer satisfaction with those activities.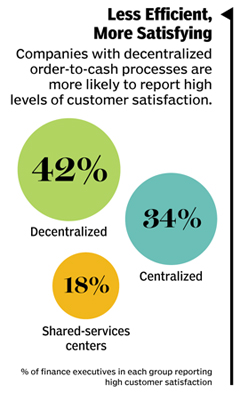 On a broader level, the push to improve processes involves a delicate balancing act: how to implement improvements without seriously disrupting a company's day-to-day functioning. There is also the need to incorporate technology usefully into redesigned processes, rather than simply automating existing, inefficient processes.
When major technology changes are involved, top executives need to promote patience more than ever. Standardizing charts of accounts and data definitions, moving to a single instance of enterprise-resource-planning software, building strong interfaces between multiple ERP systems — "these are major, big-ticket decisions," says Imperial Tobacco's Ryan. "If those core things aren't in place, then they need to be put in place. The problem is it costs a fortune to put those things in place, and it's a long time coming — there's no quick win here."
Getting the maximum payoff from undertaking process improvements also requires a dedicated team to collect the data and oversee implementation. "You have to have a core team of people who live and breathe process improvement, and you have to position those people right," says Ryan. "You have to give them the support; you can't just set up the team and say, 'Fine, it's set up now.'"
Otherwise, the long and winding road of process improvement could lead not to a big payoff, but to a pool of tears instead.