By almost any standard, Visa is an uncommonly successful company. One of the planet's best-known brands, the $9.2 billion (2011 revenues) payment-card giant operates the world's largest retail electronic payments network. Visa's stock, which debuted at $44 in 2008 in the largest initial public offering in U.S. history, now trades at three times that price, thanks to strong revenue and earnings growth. With more and more of its revenues (currently 47%) coming from overseas, Visa is seemingly everywhere it wants to be.
Yet the ground is beginning to shift in the payment-card industry. The Durbin Amendment to the Dodd-Frank Act introduced new routing rules for debit-card transactions, which will reduce Visa's payment volume. In July, the company said it was taking a $4.1 billion charge as its part of a settlement of an antitrust lawsuit. The settlement will enable merchants to add surcharges for credit-card use. In the long term, the rise of mobile-payment applications could disrupt the industry (see "A Mobile-Payment Revolution").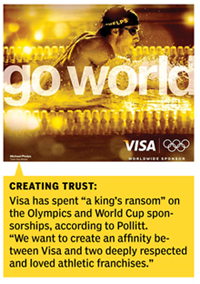 Helping Visa adjust to a changing world is CFO Byron H. Pollitt, previously finance chief of Walt Disney Parks and Resorts and then of specialty retailer Gap. Of his arrival at Visa in 2007 — when six companies came together as one, a year before the IPO — Pollitt says: "I'm a [Winston] Churchill fan, and at the tender age of 65, shortly after he was appointed war prime minister, he said that all of his life had been but a preparation for that moment. That is exactly how I felt." Today, at the tender age of 61, Pollitt continues to relish his Churchill moment. Recently he spoke with CFO about the challenges ahead for Visa.
What duties and responsibilities top your daily agenda?
With the exception of handling the investment community, they aren't that different from those for the other CFO roles I've had. The CFO is the executive who needs to ensure that investments and strategies are creating value. I almost think of a CFO as the company's chief steward of value creation.
Visa has been buying back a lot of its stock, and it just authorized a new, $1 billion repurchase program. How do you justify that strategy?
We are a shareholder-value-driven company, and we are going to drive that value using both operating and financial strategies. The financial strategies include returning excess cash to shareholders. The first call on cash should always be the money necessary to reinvest in the business and capitalize on growth opportunities. But once [those needs] are met, excess cash is available for deployment. Our view is, you return excess cash to shareholders.
How do you make sure you don't overpay for your stock?
We are followed by about 36 Street analysts, and virtually all of them have a 12-month price outlook. So the first thing we do is look at the 25th percentile of that outlook, at the low end of the price spectrum. We typically buy below the 25th percentile. There's a degree of comfort in the fact that quite a few analysts think the outlook is better.
We do not have a systematic, programmed buy. We pick the traders who will buy back [the stock] and we give them different pricing bands. Within a certain pricing band, we may buy back 5% of what we're eligible to buy back in a day. At a lower pricing band we'll go to 10% of the volume, and at a still lower pricing band we might go to 15%. When you get above 15% of a day's volume, you start running the risk that you're actually moving the stock price.
Now, if short-term and temporary reasons are causing your stock to have a particularly large drop, you may want to buy all you can. And at that point the instruction would be to buy up to the legal maximum.
How much guidance do you give those 36 analysts? Some companies have stopped giving quarterly guidance. What is your philosophy?
Our philosophy is to provide sufficient detail to allow analysts to model our revenue, earnings, EPS, and cash flow with sufficient accuracy so that consensus estimates are in the same zip code as our internal forecasts. This has several advantages. The first is that it gives investors more confidence in projecting earnings, thereby reducing potential volatility and yielding more- informed valuations. Second, it provides more financial transparency. Finally, it builds confidence in the management team's ability to execute if we regularly hit or beat our guidance.
What are you telling the Street about the effect of new regulation on Visa's business, in particular the Durbin Amendment?
Without question, the Durbin part of Dodd-Frank changed the profitability and the growth trajectory of our U.S. debit business by forcing us to surrender market share to our competitors, much of which we will not be able to recapture. It caused us to fundamentally rethink how we will compete.
Now, the merchants play a much bigger role in the routing decision of the transaction. If we don't get it routed to us, we don't have any revenue. Historically, we viewed the bank issuing the debit card as our primary client. We now have an army of Visa account executives calling on merchants as clients, and we have allocated much more investment toward products and services that can leverage the Visa network to improve merchant revenue and earnings.
Another challenge for Visa is digital wallets and mobile-payment applications. How are you adapting to these technologies?
The fastest-growing channel in electronic payments is Internet transactions. Then we have what we refer to as the form factor — it could be a credit card, a debit card, a mobile phone, your PC. The fastest-growing form factor today is mobile. The mobile phone has created a whole new technology curve for our business, and we are investing aggressively to capitalize on that area of innovation.
So when we think about the world ahead, we need to be able to facilitate the growth of Internet transactions. The greatest limitation to getting more merchants to conduct commerce on the web is fraud, so we are investing aggressively in the next generation of fraud protection, which will be characterized by dynamic fraud-verification and authentication technologies.
Many parts of the world, such as India and much of Africa, will never be able to afford the physical point-of-sale infrastructure that we have grown accustomed to. Instead, they are going to leapfrog all of that technology and go straight to mobile. And so a lot of our investments in digital wallets are to facilitate a better account-holder and merchant experience via mobile.
As a steward of value creation, how do you enhance and maintain Visa's brand value?
Brand plays a unique role at Visa. Our first challenge is to get people to trust a piece of plastic instead of cash. In many countries that isn't easy, but if we can't get people across that bridge, we don't have the basis for electronic payments. That's why we spend a king's ransom on the Olympics and World Cup sponsorships, because we are trying to create a perception of trust on the part of account holders. Once you've made the leap and you're willing to use plastic instead of cash, why would you prefer Visa? Again, this is where the Olympics and World Cup come into play. We want to create an affinity between Visa and two deeply respected and loved athletic franchises.
But if we're going to maintain the world-class perception of our brand, we need to perform at world-class levels in every aspect of our business that is potentially exposed to our financial-institution clients or our account holders. One metric we measure ourselves on is "five nines" reliability — that means 99.999% up and operational. So I need to be able to identify, advocate, and champion those capital investments that support that level of performance. If for any reason your transaction does not go through, it better not be because of our network.