Frank Friedman is CFO and managing partner, finance and administration, for Deloitte LLP.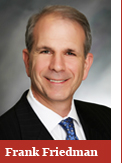 Election season brings with it uncertainty for business leaders, and this fall is no exception. With the makeup of Congress and the White House up for grabs, the last several months have been difficult for many CFOs. Top of mind is the potential impact of the U.S. presidential election on policy and equity markets, which will have widespread implications for their organizations.
A recent Deloitte CFO survey reveals a growing sense of unease and sharp drops in optimism and expectations. In addition to the uncertainty presented by the presidential elections, the primary issues weighing on sentiment include U.S. economic growth, conditions in Europe, and the "fiscal cliff" combination of expected year-end federal tax increases and spending cuts. In the survey, more than 80% of U.S.-based CFO respondents said they believed the U.S. economy is either stalling or about to stall. These are large, macro issues that are beyond the control of any one company, but they affect us all. Not surprisingly, expectations of revenues and earnings fell back sharply among the surveyed CFOs, and many of their companies have decided to put expansion plans on hold, including hiring and capital allocations. In short, the prevailing mood of caution continues to dominate.

As CFOs, dealing with uncertainty is among our core talents. No other group of professionals faces the number of known and unknown risks that we do on a daily basis, ranging from financial and currency market risks to governmental, regulatory, strategic, reputational risks and others. Fortunately, we have more analytic tools and capabilities than ever before – including powerful scenario planning modeling – to help us prepare for a range of possible outcomes when certainty is lacking. Once the election results are in and we have a better sense of what to expect from lawmakers, I expect CFOs will move forward on the issues they have some control over despite ongoing volatility in the U.S. and global economies. To me, that is the surest way out of the current malaise that has dominated the build-up to election season.
Looking beyond November
Health Care Policy: After the election, health care policy is one of the biggest issues that should become more certain. Many of us are piecing together our understanding of the Patient Protection and Affordable Care Act, and, more importantly, what impact it will have on our organizations. But depending on who wins the White House, we will know if the law in its current form will stand. That might begin to address concerns many continue to have. Deloitte's recent research found that 70% of respondents expect their companies' health care costs to rise by 10% as a result of the PPACA.
Health-care matters are not traditional finance issues. However, the ability of CFOs to drive decision-making through the use of analytics and our traditional focus on costs and pricing will be important contributors to how we as CFOs can lead important changes. CFOs should view the new health care law as an opportunity to look at their companies' full range of benefits coverage through the lenses of both compliance and cost and understand the full scope of the law. That can include such things as identifying health providers who deliver high-quality services at lower cost and contracting directly with them or looking for cost savings in health plans.
Tax Policy: Tax policy is another area that might start appearing less cloudy after the elections. Although the "fiscal cliff" is the dominant short-term concern, there are many changes being considered that could have a major impact, including lower corporate tax rates and the possible end of certain exclusions and exemptions. Interestingly, 58% of the respondents to the recent CFO survey said they were not taking any steps in anticipation of a fiscal-cliff event. The companies that are taking action indicate a notable scaling back in both hiring and investment.
Although there may be more at stake for some industries than others, some of the changes in corporate and individual tax policies could have far-reaching implications. For example, in the event of lower tax rates, CFOs should consider what that could mean for any deferred tax assets and deferred tax benefits. Changes to accelerated depreciation have also been discussed, which could have a considerable impact on certain industries.
Similarly, if the Bush-era individual tax cuts expire, the tax on dividends could jump next year, which should have dividend-paying companies considering whether to increase dividend payouts at the end of this year. These are just some of the scenarios worth considering under possible tax reforms, and again, CFOs should be at the forefront of anticipating these important changes.
Looking Ahead to 2013: I can't speak for all CFOs, but I know I will be planning for various scenarios in the months ahead for what could happen post-election. While November 6 will bring some degree of certainty on the domestic front, there remains the broader uncertainty created by the Eurozone crisis and political developments around the world. These as well as domestic issues will require CFOs' sharp focus, and possibly tough decisions, as they plan for 2013.