The defense industry is preparing for leaner times, thanks to deep cuts in military spending. Starting in fiscal 2012, the Budget Control Act of 2011 will reduce the Pentagon's budget by $487 billion over the next 10 years. That number could more than double because of "sequestration," a deficit-reduction mechanism in the act that will trigger $500 billion more in defense cuts over the next decade unless Congress changes the law.
Like other defense contractors, Exelis is bracing for the cutbacks. Spun off from conglomerate ITT in 2011, the publicly traded McLean, Virginia-based firm relies on the Department of Defense for about 70% of its revenues, which totaled $5.8 billion in 2011. But CFO Peter Milligan says the product portfolio of the diversified defense electronics company is well suited to the "smaller and leaner" military that Defense Secretary Leon Panetta called for earlier this year. Exelis also does a growing business with government agencies like the Federal Aviation Administration and NASA, Milligan notes, as well as with military customers overseas and "a small but growing" number of commercial customers.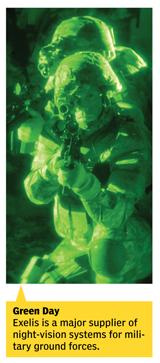 The 44-year-old Milligan came to ITT in 2006 from AT&T, where he headed investor relations. He became CFO of ITT Defense in 2010, and the following year was named finance chief of the newly spun off Exelis. In June, Milligan talked with CFO about the company's strategy for adjusting to an uncertain new world where the DoD will still be Exelis's largest customer, but perhaps not as large as before.
Exelis has a very diversified mix of products and services. Can you briefly summarize it?
We do a broad range of things in what we call the C4-ISR world — command, control, communications, computers, intelligence, surveillance, and reconnaissance. We make electronic warfare systems, communications equipment, force protection systems, radar systems, sonar, night vision, space-based imaging. Those are some of the major products. On the services side we do logistics solutions, training, security, and support services. Lastly, we're in air-traffic management. So it is a broad-based, highly diversified business.
Let's talk about major developments affecting the defense industry, starting with the winding down of the wars in Iraq and Afghanistan. What effect is that having on your business?
We supplied three main product lines to the DoD in support of those war efforts: tactical radios and communications equipment, night-vision goggles, and counter-IED [improvised explosive device] jammers. A lot of that has come down over the last few years. In 2009 almost a third of our revenue came from those three products; in 2012, well less than 10%, probably closer to 5%, of our revenue comes from those same products. So we've already absorbed a big piece of the impact of that decline from the product side.
What about the services side?
We don't have any direct service contracts in Iraq at this point, and we had very little there throughout the war. We do have a couple of contracts in Afghanistan.
Another development, of course, is the huge cuts in the Defense budget, which could reach nearly $1 trillion over the next 10 years.
Yes, it's making us think hard about what we can do to proactively address cost. Even though half of our business is on the product side, we do have a highly variable cost structure. So when we see changes in throughput — and usually we have a number of quarters to adjust for that, since we have a backlog of business that goes back many quarters in some cases — we can quickly adjust. We have reduced our footprint by about 10% over the last three years. We have kept our employee head count fairly flat, but the mix of those who are working on the product side and in services has changed as the profile of our business has changed.
A couple of years ago, before the spin-off, the defense unit of ITT underwent a transformation. We consolidated a lot of our divisions, taking tens of millions of dollars in costs out and making the business-decision process quicker and more streamlined. That was the beginning of the company positioning itself for what we knew at some point was going to be a [slowdown in the] top line of the DoD.
The challenge that I have, and that everyone in my role has, is that when you don't know which particular program is going to get cut, you can't do too much in terms of proactive decisions. You have to wait for some definitive answer and hopefully have as few stranded costs as possible when you try to adjust.
In January, Secretary Panetta said he wanted the military to become "smaller and leaner," one that would be "rapidly deployable and technologically advanced." Is this an encouraging message for Exelis?
Yes, I think it is. Our business has four key areas that align well with where our government customers are headed, based on their public comments. Electronic warfare is an important one; we have a very strong position there. The ISR market is another area. The military collects massive amounts of data, and we make sensors that help collect it. We also make software that helps analyze that data. So that's the second big piece.
The third area is important not only to the DoD but also in the commercial world, and that's composites. The aerospace market is becoming more and more interested in composites; its lightweight nature makes it more fuel efficient. The government has a heavy-lift helicopter in development that's going to be made largely of composites. We have a position on that with Sikorsky as the prime [contractor]. We are also working hard to expand some of our part numbers within Airbus and Boeing and others.
The fourth area is air-traffic management. The FAA has a vision to update the nation's air-traffic control system. One of the first programs designed to start that very big, probably $15 billion to $20 billion, effort was ADS-B, for automatic dependent surveillance-broadcast. Exelis was awarded a $1.7 billion contract on that program. That has made us a well-recognized and leading air-traffic management provider.
As CFO you spend a fair amount of time speaking with analysts. Do you also talk to people in Washington?
Yes, and it's something that I would like to do more of. I recently spoke to a couple of people in Congress on certain topics, and I've made a number of trips to meet some of the senior Army leadership with Dave [CEO David Melcher] and others.
What do you talk about?
The best ways we can serve them, quite honestly. What can we do as an important supplier to help make their mission easier? What can we offer to them in terms of products and services that will make their jobs easier, and certainly easier and safer for the soldiers?
Today, in mid-June, Exelis's stock price is around $10, which is a little lower than it was when the company was spun off. Are you satisfied with this? How often do you pay attention to the stock price?
I wouldn't say I obsess over it, but it's certainly something that I'll glance at each day. Right now there's just overhang in the industry. If you think about the whole defense market, equity values have come down pretty significantly over the last 60 days or so. As we get closer to the sequestration, I think there are some investors who are thinking that defense stock is not the most favored place. We have not been disproportionately impacted by that. In fact, if you look across our peer set, our return year-to-date is third in the industry.
Am I happy with where the stock is? My job is in part to create value for shareholders, and we do pay a strong dividend, but we would certainly like to find a way to have the shares appreciate.