With topics ranging from cloud computing to social-media strategy to data security, technology concerns are in the news daily. They're also on the finance chief's mind, according to CFO's latest Deep Dive Survey, which asked more than 200 senior finance executives about their top technology concerns this spring.
Data security ranks as CFOs' top IT management worry, with 55% of survey respondents citing it as their number-one technology concern. Technology costs overall come in second, followed by data accuracy and integrity. Rounding out the top five: finding ways to apply IT to innovation and managing the cost and risk of employees' mobile devices.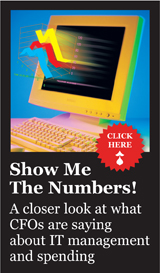 At New Resources Consulting, a project management and technology consulting firm, controller Lorne Tappa says, "Usability is the main concern. We need consistent access to mission-critical systems." In the finance department specifically, Tappa says increasing the automation of the reporting process is a top priority. "Right now we have three separate systems that don't communicate well," he says. Also on the CFO's list: integrating the tech systems of a newly acquired company and moving some of the company's human-resources processing to an online portal.
Thack Brown, the Brazil-based CFO of SAP Americas, cites four key areas of concern. First, he says, echoing Tappa, he is focused on efficiency and compliance. "We need to continually enhance our processes in a way that increases the efficiency of our organization and ensures that we maintain regulatory compliance in the markets in which we operate," he says. He is also working on managing "Big Data" — a hot topic in the technology space, and a term that refers to the vast quantities of unstructured information that companies are amassing today, in the form of customer data, e-mails, tweets, Facebook "likes," and various other bits.
Brown says "going mobile" is another key issue, as SAP's global presence requires that a vast network of systems be available for the company's international workforce around the clock. Finally, he adds, business analytics is a top concern. "We need to make sure that we can provide valuable analysis to our business leaders in an automated fashion," he says.
If all this sounds like a lot of work, it is. On average, CFOs spend a significant but not overwhelming portion of their time working on IT issues — 53% say they spend a tenth to a quarter of their work hours on tech-related projects. But nearly 20% spend as much as half their time on IT. In contrast, 27% spend very little time on such issues.
In addition to devoting time to IT concerns, finance chiefs plan to spend more money on technology on average in the next year. Seventy-five percent of CFOs say they will increase their tech spend in the next 12 months, while very few — just 7% — say their IT outlays will decrease.
At New Resources, Tappa says the company is working hard to shore up its tech systems this year, with the aim of increasing the reliability and stability of its existing systems. Despite the company's technology expertise, "we haven't always focused on infrastructure," says Tappa. The company has brought in an outside firm to assess its needs, and the controller says a first step will be determining which older systems need to be retired and replaced. "There's no question we will spend more this year than last year. Probably a 25% increase, at a minimum," says Tappa.
SAP Americas, too, will boost its tech spend as it rolls out a series of projects related to the key concerns Brown cites. On average, finance chiefs plan to increase their technology spending over the next 12 months by 6%, according to the latest Duke University/CFO Magazine Global Business Outlook Survey, released in the first quarter.
Getting Along
The relationship between the finance department and the IT department can be a strained one (see "So, You're the Boss of the CIO. Now What?" March), but it's one that many CFOs have to navigate, as nearly 42% of the finance chiefs surveyed say IT reports to them. (Of those who don't oversee IT, more than half are fine with the arrangement, saying they don't want the role.) In many cases, the relationship is a strong one, with 41% of survey respondents replying that "the two functions work closely together on both strategic and operational IT management issues." Forty-five percent also say there is a balance between finance, IT, and business units when it comes to deciding whether or not to pursue a major IT project. More than a third report that communication between the two departments is "very strong." Still, 44% say it is merely "adequate," and 19% say communication "needs improvement."
At SAP Americas, Brown says his role in tech decisions and planning varies depending on the technology issue. When it comes to compliance-related systems, the CFO should play a leadership role, he says, making sure that requirements are properly defined. In considering business analytics tools, the finance chief is also critical, he says. And, for any major IT purchase, "the CFO must be involved to make sure that the business case matches the true priorities of the organization and that the ROI on the projects will be positive," says Brown.
New Resources's Tappa maintains a respectful relationship with his IT department. "There's someone at the company who is much more qualified to deal with the technical decisions," he says. Still, he adds, "finance is always involved when you're talking about a significant spend."