The corporate finance field is renowned for its discipline, but there's one area where CFOs display what might appear to be an extraordinary degree of complacency.
In a new Korn Ferry survey of 740 finance chiefs, only 34% of them said a succession plan is in place for their role. And 81% of the respondents said there is no internal, "ready-now" successor.
Those are surprising results, the firm says in its survey report, considering that at the start of this year, 51% of CFOs at the 1,000 largest U.S. companies had come to the role via internal appointment.
"We're seeing more companies developing and promoting from within than we have historically," says Bryan Proctor, leader of Korn Ferry's global financial officers practice. "That's why our firm has invested so much in helping our clients with succession planning and talent development."
Traditionally a pure recruiter, the firm has flipped its business model over the past few years. Its chief executive, Gary Burnison, recently told CFO that only 35% of its business was in executive search.
Proctor offers a number of reasons for the dissonant survey findings. First, companies with shorter-tenured finance chiefs dilute the proportion that have a succession plan in place. "As a CFO steps into the role, the first objective isn't to find or develop a replacement," he says.
In fact, a CFO succession plan probably isn't among the top several strategic priorities for boards, CEOs, or CFOs themselves. "A bigger question is whether there's a succession plan for the CEO," Proctor says. "If there's not, the company probably isn't much focused on succession for the supporting roles."
Also, some companies lack a CFO succession plan not because it's not important to them, but because they aren't confident that any internal person has the range of abilities to replace the sitting finance chief.
Finally, once in a while territoriality may be at play. A CFO may not be comfortable having an anointed successor waiting in the wings. But again, that's more likely to be the case for the CEO.
"Some CFOs still have career objectives that go beyond finance," says Proctor. "And so as they think about their ability to progress into maybe a role as COO, a business-unit president, or a CEO, they know they need to present a strong succession for their own role as part of their case."
The survey found higher percentages of companies with CFO succession plans in place where the existing finance chief's tenure was more than 10 years (53%), revenue was greater than $1.5 billion (51%), and the company was publicly held (46%).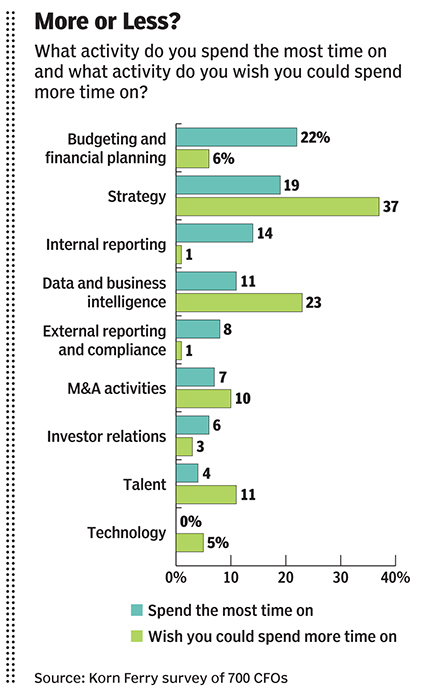 Meanwhile, Korn Ferry presented an interesting breakdown of the activities that CFOs spend the most time on — and which ones they wish they could spend more on (see chart).
For 60% of finance chiefs, the desire is greatest to devote more time to either strategy or working with data to enhance business intelligence. "CFOs want to be in positions where they're adding value as opposed to doing the day-to-day blocking and tackling," Proctor observes.
Virtually none of the respondents want to spend more time on reporting and compliance. Of course, at public companies, finance chiefs are liable for errors in public filings, so leaving those tasks mainly to underlings entails some degree of risk.
That risk may be particularly high for those who don't have accounting backgrounds and therefore may be less able to spot weaknesses. When Korn Ferry is evaluating such executives as candidates for CFO roles, it tries to identify how the executive was able to be successful in the past.
"If they were able to perform successfully without any issues, how strong was their controller or chief accounting officer and what was that person's background?" says Proctor. "If we're able to put them into another scenario, we want to make sure they'd have the same level of support And we're very clear with our client: this is what they bring, and this is what they don't bring."