You may not know it, but your company has probably been "pinned." That is, someone, somewhere, has taken a liking (or disliking) to its products or services and shared images of them on Pinterest, the social-networking website. By one count the third-busiest such site in the United States, after Facebook and Twitter, Pinterest had nearly 25 million unique visitors in August, up from 1.3 million in August 2011, according to ComScore, a digital marketing analytics provider.
Resembling a bulletin board or scrapbook, Pinterest allows users to create personal, image-based collections of products, fashions, animals, and other interests on their personal web page, or "Pinboard." Users can then "repin" what other pinners have posted, similar to the retweeting function on Twitter, or "likes" on Facebook.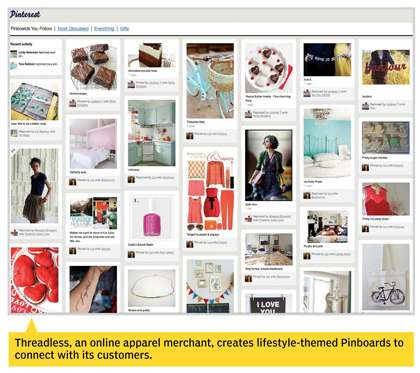 Businesses can create their own Pinboards for free. And it might pay off to do so: according to a recent survey of 1,500 U.S. consumers by ComScore, Pinterest users follow an average of 9.3 retailers, compared with 8.5 followed by Twitter users and 6.9 liked by Facebook users. While it's not clear how a Pinboard can affect a business's top or bottom line, aside from the cost of creating and managing it, it's easy to see why businesses might take an interest in Pinterest.
"Pinterest in itself doesn't have a direct commercial value," says Forrester analyst Darika Ahrens. "It's best used as part of a wider brand-building strategy, not a direct performance activity."
Pinning Down the Payoff
Bob Nanna, marketing manager at Threadless, a youth-oriented online apparel merchant, says the 12-year-old company was an early adopter of Pinterest largely because of the site's emphasis on pictures. Threadless's strategy, he says, is to pin objects on 22 different Pinboards that showcase design and photography, but are not necessarily related to Threadless products. The aim is to entice users to follow the company, then use more-targeted Pinboards to highlight certain products.
"We have Pinboards that are run by our employees that are specifically lifestyle based," says Nanna. "There's a music one that I help curate [Threadless Loves Music, with pictures of bands, art by bands, and links to YouTube concert videos]. When Pinterest sort of blew up, we tried to get on it as fast as possible and really explore to see what's resonating."
But any monetary benefits derived from pinning are hard to track, concedes Nanna. Pinterest doesn't collect any sales data, nor does it have Facebook-like application protocol interfaces that allow businesses to retrieve and analyze user information or generate leads. Nor does it track users so businesses can place ads strategically, as Google does. Companies are left to figure out what is resonating on their own by following who is pinning what and which products or services are trending.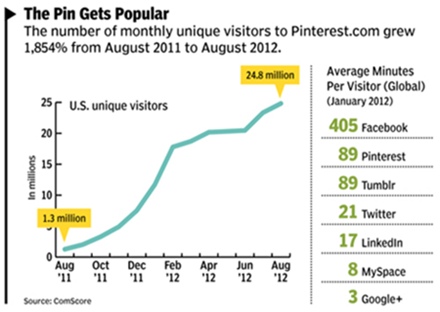 "It's sort of tough to quantify the effect [Pinterest is] having on Threadless," admits Nanna. "There's been a slight uptick in traffic coming from Pinterest, but nowhere near what we see from Facebook and Twitter." For now, Nanna says he is focused on interacting with the company's fans and solidifying Threadless's presence on Pinterest. "I think it's just important to keep our pins pretty fresh and fun for people to share, not really counting on the fact that they're going to click through to the site," he says.
Word of Mouth
If direct evidence of Pinterest's commercial impact is scarce, there are other, indirect measures. In April, Pinterest brought in 17.4% of social-media revenue for e-commerce sites, a huge increase from the 1.2% credited to it in the second quarter of 2011, according to a survey of 40 clients by tech marketing firm Convertro. Pinterest also reportedly generates more than four times as much revenue per click as Twitter, and 27% more revenue per click than Facebook, the survey found.
While this is a small sample, other businesses confirm the study's findings. Tait Larson, head of finance for the popular wedding website and magazine Style Me Pretty, says Pinterest has rapidly become his company's largest "social referrer." Style Me Pretty's five-year-old website has more than 934,000 Pinterest users following one or more of its 56 wedding-themed Pinboards, and Larson credits Pinterest with introducing thousands of brides-to-be to the publication.
"We receive about twice the number of referrals from Pinterest [as] we do from Facebook, our second-largest social referrer," Larson says. "I think this is because Pinterest is such a visual social tool and because brides are such visual consumers. For sites that contain less visually appealing content, there's probably less to gain."
Larson too says it's difficult to quantify the effect Pinterest has had on revenue. To determine the marketing impact, the company focuses on tracking the volume of click-throughs, how many of its pages users look at, and how long they stay on the site. "For online sellers," suggests Larson, "you could set up landing pages and track how users progress through a funnel, and really derive a value for each inbound Pinterest user."
Pinterest is popular now, but there is no way of knowing if it will have the staying power of Twitter and Facebook. "In a time where every marketing dollar has to deliver, Pinterest is too unproven compared with other investments you should be making today," says Forrester's Ahrens. But for the time being, Pinterest is giving the milk away for free. With the investment minimal, why not take a sip?
---
Pinterest in Action
A company can see who's pinning what images from its website by typing pinterest.com/source/[your website URL, sans the "www."] into a browser. For CFOs, the experience can be enlightening, says Forrester analyst Darika Ahrens. Pinterest can inform stock ordering and display merchandising by allowing retailers to measure which items and product colors are most popular, says Ahrens. Merchants can also identify cross-selling opportunities when people pin multiple items to form a complete outfit or set of items, she says. — T.P.