Private-equity firms have been choosy investors this year, expressing a preference for service and health-care companies for potential takeovers and greater portfolio exposure. According to financial sponsors, both industries will provide superior value in the current economic climate.
The second-quarter Rothstein Kass/CFO Midsize Private-Equity Firm Barometer surveyed PE firms with assets of $150 million to $1 billion and found that 52% of deals these firms completed so far in 2012 were in the service sector. Health care, including pharmaceuticals and biotech, came in second, at 31%.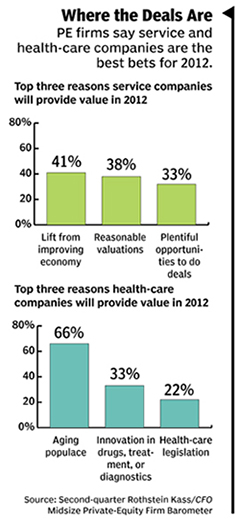 A substantial chunk of the 85 PE firms polled said they were weighing service-industry deals, particularly in the IT services, financial services, and insurance subsectors. When asked about catalysts for service-sector value creation, 41% of survey participants said service firms will get a lift from the recovering economy this year. The service sector is also offering reasonable valuations and plentiful deal opportunities, participants said.
On the health-care front, a majority of the PE managers (61%) said they had either increased their holdings in health care, were weighing deals, or were investigating future investment. By subsector, 34% of those surveyed cited instruments and supply companies as targets; about 28%, diagnostics; just under 24%, home health care; and about 22%, appliances and equipment.
The PE managers surveyed were mostly unified about what will spur value creation in health care: the aging populace. "Health care is rapidly evolving, with advances in everything from cancer-fighting drugs to noninvasive diagnostics and health-care analytics," says Jeff Somers, a principal in the private-equity group practice at Rothstein Kass. "These diverse and innovative companies offer a wealth of opportunities to PE firms looking to take nascent technologies to the next level."
Of course, by focusing too much on services and health care, PE firms could sow the seeds of lower returns. Somers warns that a "clustering" of deals in services or health care could have an impact on deal flow and valuations.
While PE firms are optimistic about opportunities, the deals in front of them obviously haven't been compelling enough to move them off the M&A sidelines. The vast majority of the 85 funds in the Rothstein Kass survey have closed one or no deals to date in 2012. Thirty-five percent have closed two to three deals, and 11% have done four to five transactions.
Rothstein Kass, a provider of professional services to alternative investment firms, polls PE fund managers quarterly.