Five years ago, former Federal Reserve Chairman Alan Greenspan deciphered the global market meltdown and credit freeze in a speech at Georgetown University. "In a market system based on trust, reputation has a significant economic value," he said. Today, those words and the economic decline in 2008 explain why reputation is becoming one of the hottest issues in management.
Reputation and its value are now a central focus for governance, controls and enterprise risk management. In 2013, reputation was disclosed as a material risk in more than 66 percent of S&P 500 companies' 10-Ks, up from 8 percent in 2009. Reputation is deemed the No. 1 board-level risk by more than 70 percent of directors surveyed for two years running by the accounting firm EisnerAmper.
Yet there is no objective or reliable framework for reputational value management. The reason is that most models of reputation rely on the opinion polls and sentiment surveys normally used to measure brands. These measure fluid and unrealized thoughts — responses that are often forgotten soon after. They don't measure the financially relevant behaviors that reflect stakeholder expectations of governance, sustainability and other attributes of reputation.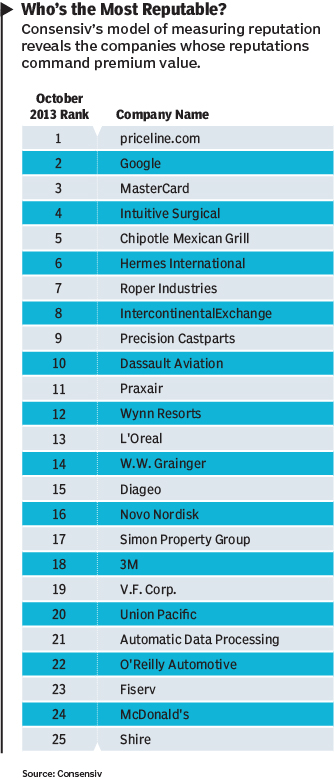 Consensiv LLC, a provider of reputation controls, has a new framework and tools for managing that reputational value and risk. Powered by reputational "big data" value metrics from reputation insurer Steel City Re, Consensiv's monthly league table tracks the relative value of stakeholder expectations and their consistency over time. Notably, the calculations do not involve likability or other qualitative attributes associated with marketing and brand research. (See "Methodology" on the next page.)
Steady Performers
This month's ranking illustrates how quantitative outcomes of stakeholder expectations can be used to understand and control reputational value. (For the full Consensiv 50 Chart, click here.) One of the most notable qualities of reputation is reliability, as evidenced by priceline.com. Priceline.com is one of only two consumer-services companies that has consistently stayed on the list for the first half of 2013. Most consumer-services businesses' reputations are somewhat volatile because they serve a consumer base that's highly sensitive to external influences, such as competitor promotions. The sector also relies on a dynamic workforce that is regularly exposed to risks of safety, security and supply-chain integrity. (McDonald's, the other league table stalwart in this sector, doesn't appear until 24th place.)
Priceline.com bucks this trend with an established global network of hardware and software tools that effectively match travel services supply with consumer demand, which earns it steady and profitable cash flows. Priceline.com signals in its regulatory filings its need to control risks to its reputational value, which is mentioned 12 times in its 2013 Form 10-K Item 1A.
Another quality of reputational value is that it's accretive. That is, reputation is less the result of stakeholder responses to good or bad headlines and more the outcome of managing ongoing expectations. Half of the companies on the Consensiv 50 list for October have been there for at least four or more consecutive months. A news search reveals little in the way of surprises for these companies. Many — including Diageo, J.M. Smucker, ADP, Linde, 3M, and Becton, Dickinson — are known for a commitment to process controls that help ensure product and service quality and safety. These drivers of reputational value don't necessarily win awards but because stakeholders can appreciate and value them, they deliver reputations that are less likely to suffer a negative event. If they do suffer one, they have a greater likelihood of recovering more quickly and completely.
A third quality of the table's reputation leaders is that many of them operate in industry sectors that have detailed regulatory requirements for business performance, such as companies in energy, minerals and health-care technology. This isn't surprising, since third-party validation makes assessment of reputational value clearer and more reliable. Shire, for example, broke through the ranks to join this month's Consensiv 50 league table. The expectations for the biopharmaceutical company's future success are based on established and disclosed criteria for quality, safety and ethical behavior that are in large part required by law.
A final quality of reputational value revealed in this month's table is that it's operational and not a result of values being claimed or attached to it through a branding campaign. Out of the 18 companies that have been on the list every month this year, nine are in business-to-business industries and nine are in business-to-consumer industries, some of which, like Roper Industries, have not run a corporate image campaign in recent memory.
We believe reputation is better measured as the expectations of business performance and quality evidenced through the prices stakeholders are willing to pay, and the costs companies will incur to earn profits. A stark disconnect exits between the money that consumer brands spend on brand and identity and the resulting financially relevant measures of value. Reputation is a business metric not a popularity contest.
Jonathan Salem Baskin is managing director of Consensiv, a reputation controls firm. He is the author of six books and has written a regular column on CMO leadership for Advertising Age since 2008. Nir Kossovsky is chief executive of Steel City Re, a leader in corporate reputation measurement and risk transfer. He is currently a Trustee of Excela Health Systems, a community-based health care provider. His latest book is Reputation, Stock Price and You: Why the Market Rewards Some Companies and Punishes Others.