Say on pay was supposed to be easy. Although such nonbinding votes (facilitated by a provision within the Dodd-Frank Act) enable shareholders to register their disapproval of a firm's executive-pay practices, most companies thought they would win shareholders' support when votes first began in 2011.
And they were mostly right. Of the more than 2,300 companies that held say-on-pay votes during last year's proxy season, only 40 received less than 50% support for their proposals, notably Hewlett-Packard and Jacobs Engineering. But more companies than expected received disappointing results, and anything less than 70% approval on a shareholder vote is considered problematic by proxy advisory firms, points out Holly Gregory, a partner at law firm Weil, Gotshal & Manges.
"Roughly 10% to 15% of companies received significant opposition, most often because of a disconnect between what they say their compensation programs do and their shareholders' perception of those programs," notes Mark Borges, principal at consultancy Compensia. According to a study conducted by Farient Advisors for the Council of Institutional Investors, a disconnect between pay and performance was cited as the number-one reason why investors disapproved of executive compensation at companies that received less than majority support in 2011 (see "Nay on Pay," below).
So even if they passed their first say-on-pay test, many companies have to show improvement before their next advisory vote. (That vote will come this proxy season for about 85% of companies that held votes in 2011, says Borges, since Dodd-Frank also gave shareholders the option to hold votes every year, versus every two or three years.)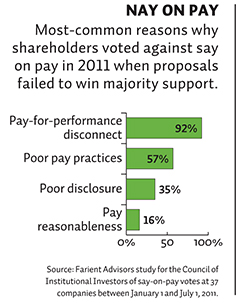 As a result, they are scouring their top executives' pay packages for questionable perks and easily misconstrued bonus plans. In particular, they are looking for any areas where shareholders could perceive their so-called pay-for-performance plans as, in fact, pay for poor performance.
"Something Is Lurking"
Even if a company did receive a disapproving say-on-pay vote, the worst that most executives expected to follow was probably a dig in the press and, possibly, a downgrade in their compensation. Now, some may also fear shareholder retaliation through lawsuits.
While the risk so far is minuscule — only eight of the companies that received less than majority approval of their executive pay in 2011 were also sued — such cases caught compensation advisers off-guard the first time around. Now, "everybody is attuned to the possibility that something is lurking in the background," says Borges.
These suits accuse directors of breaching their fiduciary duty and seek payback from executives, including CFOs, whose compensation appears to reflect "corporate waste." Last summer, for instance, a shareholder of Hercules Offshore sued the drilling company's directors and officers, including CEO John Rynd and CFO Stephen Butz, following a shareholder rejection of their compensation (59% voted against the pay). The suit cited Hercules's $145 million net operating loss in 2010 and Rynd's 90% raise as a reason for the filing. The hike in pay "was not in the best interests of Hercules's shareholders and was disloyal, irrational, and unreasonable," the suit charged.
Some experts say this lawsuit and others like it are unlikely to be successful. "I find it hard to believe the courts will allow these cases to grab hold," says Gregory of Weil, Gotshal. Still, the cases are taking up directors' and officers' time, prompting some of the sued companies, such as KeyCorp and Occidental Petroleum, to settle and make changes to their compensation policies.
Kenneth Davis, counsel at law firm Reinhart Boerner Van Deuren, which represents investors, says that "the risk of some of these suits surviving the early stages is greater than people think." Giving the plaintiffs' bar hope is a case against Cincinnati Bell that was still pending at press time. Two-thirds of the communications company's shareholders voted against its executive pay plan in 2011 after the company had lost $61 million in net income.
Although shareholder derivative suits are typically dismissed quickly, a judge in an Ohio federal court kept this case alive, noting it was plausible that Cincinnati Bell's pay plan "was not in the best interest of shareholders." In a separate but similar lawsuit, the company settled, agreeing to make changes to its policies.
Some observers believe that the risk of shareholder litigation could increase during this second year of say on pay. Indeed, Amy Borrus, deputy director of the Council of Institutional Investors, suggests investors may have held back last year. The association asked its members last fall if the low (2%) overall rate of companies that failed to win majority support for their pay plans indicated that companies were doing a good job with executive compensation. "The overwhelming response was no," Borrus says.
Can We Talk?
Aware of the possibility that shareholders may have higher expectations, companies are improving how they communicate, meeting with their largest shareholders more frequently, and trying to make the proxy voting process as transparent as possible.
Cardinal Health, for example, put an executive summary at the top of its proxy statement last year, giving investors a breakdown of the issues under vote. The health-care supply-chain services firm also met with institutional investors ahead of the annual meeting, helping it avoid a slip that other businesses made when they pushed for a less frequent vote. "Our choice of an annual vote was based on direct input from shareholders even before the preliminary proxy statements were filed," says Sally Curley, senior vice president of investor relations at Cardinal Health.
Meanwhile, businesses out of sync with their investor base on executive pay could see other items on their ballots affected. Firms "that haven't responded sufficiently to investor concerns or haven't engaged with investors on the issues will likely have a higher no vote for their directors," Borrus warns.
Will say on pay get any easier next year? Smaller companies (those with a public float less than $75 million) will be following the rule for the first time. Other companies will likely have to deal with new disclosure rules, yet to be outlined, that would require them to explain the relationship between compensation and their financial performance. They may also have to calculate and disclose the ratio between their CEO's pay and that of the rest of the payroll. That would give shareholders plenty to talk about.
Sarah Johnson is senior editor for news at CFO.