Finance chiefs and corporate risk managers have been finding a pause in what has been a steady upward growth in property-casualty insurance prices, according to the results of a quarterly study released Tuesday by an insurance-brokerage association.
After steadily growing hikes in average quarterly commercial-insurance rates starting in the third quarter of 2012, The Council of Insurance Agents & Brokers' reported that its Commercial P/C Market Index Survey had found that rate growth slowed to 4.3 percent in the second quarter of this year.
Small-account and medium-account pricing continued to rise more than pricing for large accounts, according to the survey of about 100 commercial-insurance brokers. The CIAB defines small accounts as those yielding less than $25,000 in commissions and fees; medium-size accounts as $25,000 to $100,000; and large accounts as greater than $100,000. (See table.)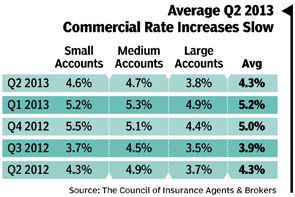 The recent entry of Berkshire Hathaway and five other new players in the market could be a factor holding the price of property insurance down.
Despite the slower growth in prices, property insurance carriers were still feeling the effects of Superstorm Sandy in the second quarter, according to a CIAB press release. Those effects were widely seen as a contributor to the commercial-property-insurance premium hikes, which 65 percent of the respondents said ranged from 1 percent to 10 percent. Fourteen percent saw increases ranging from 10 percent to 20 percent.
At the same time, carriers were careful about insuring catastrophe-prone property risks inland as well as on the coast last quarter, according to the association. CIAB noted that brokers across the country reported that insurers were more frequently asking companies to take on greater risk via deductibles on coverage for wind and hail damage.
Insurers were also wary through June about selling workers comp insurance, "particularly where loss experience was poor," according to the association. Rate increases of from 1 percent to 10 percent were seen by 57 percent of the brokers, while 25 percent saw hikes of 10 percent to 20 percent. The growing use of opioids by injured workers and the sluggish economy have contributed to the wariness, some say.