For many treasury departments, this could be the year of SEPA, whether they like it or not. That's because they will have to accelerate efforts to make their European operations compliant with the new 32-nation Single Euro Payments Area (SEPA), slated to go into effect next year.
Even though the single European currency, the euro, was introduced 14 years ago, making payments between the different countries that use the euro has long been about as complicated and expensive as making payments between countries that do not share a common currency. That is changing, thanks to SEPA, an initiative that will standardize payment protocols, messaging, and bank-account number formats for euro currency payments across the European Union. A few non-EU countries, such as Norway and Switzerland, are also adopting it (see chart below).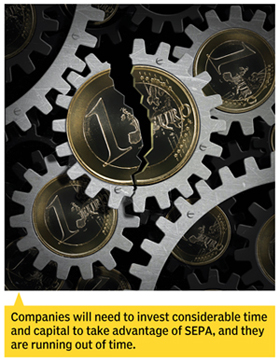 Companies will need to invest considerable time and capital to take advantage of SEPA, and they are running out of time. By February 2014, banks will be required to offer SEPA-compliant payments within the euro zone (the deadline for non-euro-area payments is in 2016). In turn, corporations with European operations will need to amend their payment systems to make them compatible with those of the banks.
Streamlining Cash Management
SEPA could make it significantly easier for U.S. companies with European operations to make payments (SEPA credit transfers, or SCTs) to employees or suppliers in the area. SEPA direct debits (SDDs), in which a company has an account holder's authority to withdraw funds, could also be useful for any business that would benefit from having a mandate to regularly take money out of customer accounts for subscriptions, loan repayments, utility bills, or other recurring charges.
The new system will also allow larger companies to streamline cash management by creating payment factories — shared-service centers focused on the accounts-payable function. A company could put its payment factory in Ireland, for instance, and run all of its European payments and collections from that one center.
Smaller companies may find it easier to compete across borders by being able to offer their customers easy payment facilities such as SDDs. And some treasurers say that banks that now offer SEPA-compliant cross-border euro payments are charging considerably lower fees.
But implementing SEPA will require a lot of time and effort. Because migration potentially affects many aspects of IT infrastructure and processes, companies will need to comprehensively assess their IT needs. To start, they should analyze the scale and scope of the SEPA migration project by constructing a profile of accounts receivable and accounts payable across geographies.
Just as important, businesses will need strong relationships with their banks as they deal with migration issues, notes the latest edition of World Payments Report by CapGemini, RBS, and the European Financial Management Association.
Seriously Lagging
Despite the effort that will be required, more than half (52%) of corporations within the SEPA zone have not even seriously started their SEPA conversion project, according to a November survey of 273 finance and treasury professionals by EuroFinance, a conference and research company. Many had begun evaluating options or putting plans, teams, and budgets in place, but had not progressed to the stage at which their project was properly under way.
Companies that make euro payments but are headquartered outside the SEPA area are seriously lagging: more than 60% have not even started planning or evaluating their options.
As of April 2012, only 27% of euro-zone credit transfers were SEPA credit transfers, even though most banks offered SCTs, according to World Payments Report. Moreover, only 0.4% of payments were made using SEPA direct debits, although most payment service providers offered them.

Businesses may wonder why they have not heard more about SEPA and its implications before now. One reason is that there was no deadline for its introduction until February of last year. The authorities regarded SEPA as such an intrinsically good thing that they thought its virtues would sell themselves and banks and corporations would rush to adopt the new system. In fact, many banks were reluctant to take on the added cost, holding off until recently because the European Commission had not given them a mandatory implementation date.
A senior finance professional at a French subsidiary of a U.S. technology company (who spoke on condition of anonymity because of commercial confidentiality and compliance issues) says it is important for businesses to figure out SEPA compliance now. "As we move toward 2014, there will be some bottlenecks at the bank level and the enterprise resource planning system level," he says. "Resources are not extensive, and if you have not planned what you will be expecting to do and when, you may find yourself blocked."
For now, his firm is aiming for minimum compliance. Since the business restructured its payment systems some years ago and effectively eliminated cross-border payments, it will not gain much from embracing the new system.
The company also hasn't had time to do anything more ambitious, because there was no firm deadline in place for the mandatory introduction of SEPA until February 2012, the finance executive says. It is difficult to put forward a business case when there is no legal requirement to comply and no big commercial gain to be had, he says.
Once SEPA is up and running, however, the company will reconsider. "We'll look and see how SEPA actually operates then," the finance executive says. "Will we really be able to consider it as a single market in terms of execution of transactions? If so, then we will move to the next stage."
Andrew Sawers is a freelance financial journalist based in London.
---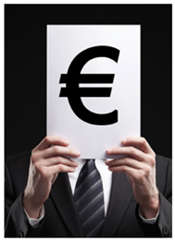 SEPA: What and When
By February 2014, banks within the euro zone will be required to switch over from their national payment formats and rules and offer SEPA-compliant payments instead. SEPA involves a shift to international bank account numbers and, for a short while, bank identifier codes, with new message formats based on the ISO 20022 XML standard. The deadline for countries outside the euro area is in 2016, but national banking systems will be able to retain their current formats for domestic currencies. The United Kingdom, for example, will have to use SEPA protocols for euro payments but will probably retain sort codes and bank-account numbers for domestic payments.
Businesses with euro-area operations will have to amend their databases and payment files to ensure payments will be processed reliably and accurately by their banks. As a result, many companies will need to change the way they collect bank details from their suppliers, customers, and employees, and change the way they manage mandates for direct debits. — A.S.