Despite a challenging capital-raising environment and growing worries about new government regulations, private- equity firms are guardedly optimistic about fund returns and see strong investing opportunities in specific U.S. industries.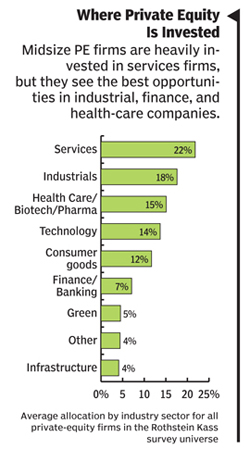 Those were the views expressed in a new quarterly CFO benchmark survey done in partnership with Rothstein Kass: the Rothstein Kass/CFO Midsize Private-Equity Firm Barometer. The survey, conducted in January, polled 90 PE firms that have $150 million to $1 billion in assets under management.
Despite a volatile stock market and concerns about the European debt crisis, more than half of the PE managers who responded to a question about their investment valuations said their portfolio assets had increased in value since the last reporting period; only 5.6% reported that their portfolio valuations had fallen.
Among the respondents who provided projections for 2011, the average expected return was 17%. For 2012, respondents expect modestly improved performance (18%), but for 2013, the average anticipated return jumps to 22%.
"The climate in Washington has been cited as a cause of prolonged economic malaise, and the resulting uncertainty has been weighing on private-equity firms as well," says Rothstein Kass principal Jeff Somers.
When asked which sectors will provide the most value to private- equity funds this year, PE managers had a wide range of responses. But industrials, health-care-related businesses, and banking and finance lead the pack.