Nineteen venture-backed companies went public during the first quarter of this year, raising $1.5 billion and reflecting the highest number of such initial public offerings in the first quarter since 2007, according to the National Venture Capital Association (NVCA) and business-data provider Thomson Reuters.
"[Judging] by the quality of the companies that are registering to go public, there is more optimism today than we've had in a long time," says Mark Heesen, president of the NVCA. But the venture-backed IPO market got off to a similarly encouraging start in 2011, a year that ultimately proved disappointing.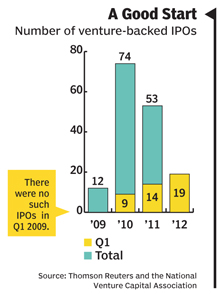 The NVCA reported in April that 50 venture-backed companies were registered with the Securities and Exchange Commission to go public. New registrants expect to raise an average of $274 million per filing, or double the average proceeds seen in the beginning of this year, according to a separate report from PricewaterhouseCoopers. Facebook's IPO, expected later this year, could encourage other, smaller companies to take the plunge as well.
Smaller companies may also be inspired by looser regulations, thanks to the Jumpstart Our Business Startups Act (JOBS Act), which President Obama signed into law in April. The legislation gives so-called emerging growth companies (defined as companies with less than $1 billion in annual revenue or $75 million in market cap) a five-year reprieve on several SEC regulations, including auditor attestations of management internal-control assessments. The break may help push more companies with venture-capital backing toward going public rather than being acquired, says Heesen.
The IT sector is driving the latest activity; 11 of the 19 IPOs in the first quarter were technology related. Companies going public included Guidewire Software and Brightcove, an online video distribution platform. All of them are U.S.-based firms except for Vipshop Holdings, which raised $71.5 million on the New York Stock Exchange in March from its Guangzhou, China, headquarters. The largest IPO came from ExactTarget, a marketing firm that raised $161.5 million.
Same Old Song?
Despite the encouraging numbers, some caution is warranted. The figures for the first quarter aren't far from the results for Q1 2011, when 14 venture-backed companies listed their shares on national exchanges, realizing $1.4 billion in proceeds. Back then, the NVCA similarly touted those numbers as marking "the strongest opening three-month period for venture-backed IPOs since 2007." But the second half of 2011 saw a decrease in activity, with just 17 companies going public between the third and fourth quarters (adding to the year's total of 53 venture-backed IPOs, compared with 2010's total of 74).
Indeed, those with long memories won't get Pollyannaish on the latest numbers. The IPO market was a ghost town just a few years ago: only 18 companies went public between 2008 and 2009. And Heesen cautions that the good news could sour, as it did last year, if economic factors change. The forthcoming Presidential election, gas prices, and business activity here and overseas could all have an effect on the confidence companies have in selling their shares on the open market.