Yum! Brands reported earnings of $1.04 per share for the three months ended September 30, as strong sales at KFC and Taco Bell compensated for weaker performance at Pizza Hut.
Analysts' average expectations were 83 cents per share, according to Refinitiv.
The company reported revenue of $1.39 billion, down from $1.44 billion a year ago but ahead of analyst expectations. Net income was $454 million, up 8.6% from last year.
Same-store sales at Taco Bell were up 5% in the third quarter as the company began offering $1 nacho fries and $1 Triple Melt burritos and nachos this year. Same-store sales at KFC were up 3%.
Analysts had expected a 3% increase in same-store sales at Taco Bell and a 2.13% increase for KFC, which was also bolstered by strong performance in international markets including Russia, Thailand, the Middle East, and India.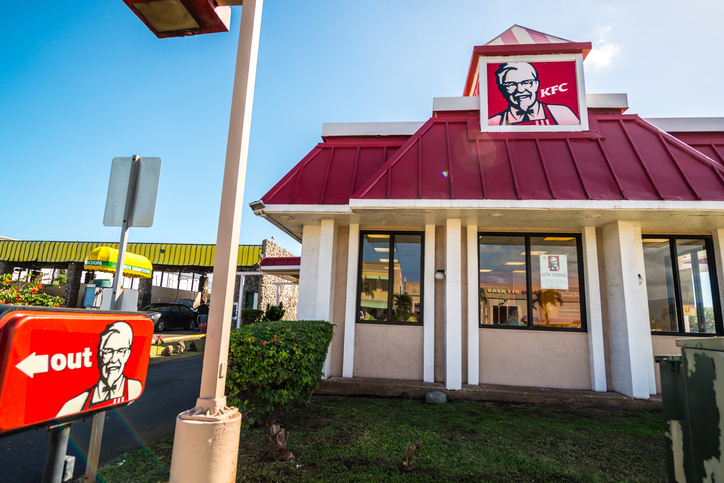 Pizza Hut same-restaurant sales fell 1%, despite aggressive promotional offerings that CEO Greg Creed said were not distinctive enough to attract new customers. Pizza Hut has been offering large, two-topping pizzas for $5.99.
In a report, GlobalData Retail's Neil Saunders says young customers, particularly students, are choosing Domino's and Papa John's Pizza over Pizza Hut.
"This is one of the reasons why the chain has focused so much on digital initiatives, in an attempt to better connect with this cohort, which is still driving much of the market growth," Saunders wrote. "In our view …  the success of other chains isn't just about digital — it's about brand perception, physical location, and price. On all three, Pizza Hut still falls a bit short."
System-wide same-store sales at Yum rose 2%, in line with FactSet guidance.
"We are now two years into our three-year transformation and remain firmly on-track to becoming more focused, more franchised, and more efficient," Creed stated. He said core operating profit growth of 2% was consistent with expectations.
The company said worldwide system sales excluding foreign currency translation grew 5%, with Taco Bell at 8%, KFC at 7%, and Pizza Hut flat. Yum repurchased 6.3 million shares totaling $527 million at an average price of $83 during the quarter. It also refranchised 134 restaurants, including 57 KFCs, 31 Pizza Huts, and 46 Taco Bells.
Yum shares were up 4.7%% shortly before markets closed on Wednesday.
Photo: Getty Images