With health-care spending projected to rise an average of 5.5% annually from 2017 to 2026, and with the competition for employees growing fierce, it's a good time for creative solutions that nourish employees from the inside out.
Food is at the heart of the issue, and healthy employees and the food on their plates is now your company's business.
Research back in 2012 showed that 45% of deaths from "cardiometabolic disease" (including heart disease, stroke, and Type 2 diabetes) were attributable to the food people ate. In 2000 it was estimated that approximately 30–35% of cancer deaths in the United States were linked to diet.
If business leaders learned that drinking water in the office was contaminated and 45% of employee deaths were attributable to that, it wouldn't take years to begin a conversation about cleaning up the water source.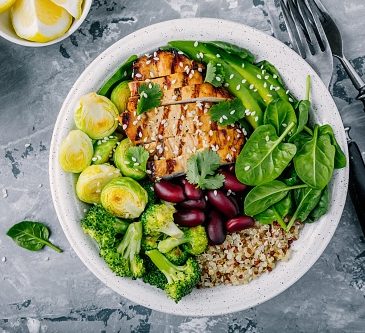 If proper nutrition is an effective tool to address health-care costs, then employers need to take more active role in providing or at least facilitating healthy meals for employees and their families.
The good news is that many people today are proactively using food as medicine to improve their health. Specific eating styles such as gluten-free, dairy-free, low-carb, and whole-food, plant-based diets are proving effective for improving chronic conditions and symptoms.
Actively supporting employees' healthy diet also contributes to increased productivity and can be used to attract and retain high-quality talent. Companies that authentically demonstrate support of  employee's life and health goals are winning out.
Here are six ways companies can take an active role to support a healthy diet and lifestyle in an effort to control health-care costs and attract/retain employees.
Provide access to meals that cater to a variety of eating styles and dietary restrictions. Time is scarce, so employees are grateful for healthy meals that are complimentary, subsidized, or even just simply accessible to them.
Daily offerings of fresh quality foods that support specific employee eating styles aren't restricted to large corporations. Smaller firms can provide a few breakfast items such as oatmeal cups, hard-boiled eggs, or fresh fruit. Contract with a local caterer to offer simple healthy lunches, such as grilled chicken, roasted vegetables, grain or bean salads, and vegetarian chili.
Host wellness education and cooking sessions to improve knowledge and skills. Food prepared at home is less likely to be loaded with salt, fat, and sugar. The more employees develop basic cooking skills, the easier and more likely they are to prepare simple, healthy meals at home.
Invite a local chef or cooking-school student into the office over lunch and watch employee's eyes light up and engage in conversation with co-workers. Invite a health coach to speak on a variety of health topics to provide dietary education. Provide gift certificates or discounts for online classes from a leading online culinary school such as Rouxbe.
Partner with local restaurants and organic eateries that provide healthy options. There are so many new restaurants, take-out meal services, and organic markets in cities across the country, in addition to almost 500 Whole Foods and Trader Joe's markets.
Establish partnerships with those that can provide meals with simple, whole foods and cater to specific eating styles. Use discount coupons and gift certificates to motivate employees or reward them for a special project or providing exceptional customer service.
Sponsor "Eating Clubs" or "Wellness Groups." Having a tribe of people who share the same eating style or wellness goals is a huge recipe for success.
Offer to sponsor The Keto Club, The Vegan Group, or whatever is most popular in the office. The ability to share in the challenges and lessons learned from others who simply "get it" can make all the difference in the world.
Treat the group to a special snack box that is delivered each month and caters to their food plan. Set up a Facebook group or recommend discussion forums for members of all groups to share knowledge and best practices.
Provide access to healthy "meals to go" for busy employees. A healthy grab-and-go lunch is ideal for workers during busy times. They can use the time saved to take a quick walk or download a meditation app for a few minutes to relax and decompress.
Easy access to a meal or snack reduces the chance of grabbing highly processed, high-sugar junk food, which often leads to the afternoon crash. Stock a few meals for employees working late to meet a deadline. It's best for them to eat a healthy meal and get a good night's sleep in preparation for that big meeting tomorrow.
Encourage the use of "meal-prep kits" for fast, healthy cooking at home. Partner with meal-kit delivery services to provide employees with either discounted delivery at home or on-site pick up in order to stay on track with their food plan. Grabbing a meal kit on the way home from the office is not only a time-saver but also great way to get the whole family involved in the cooking process at home.
The trend for companies to support healthy eating habits of their employees isn't an HR issue, it's about making a commitment to reducing healthcare costs and creating an overall culture of wellness that produces measurable benefits.
If the root of health-care costs stems from poor diet, companies must ask themselves what specific actions they can take on a daily basis to influence employee's breakfast, lunch and dinner. Not only does this have a financial benefit but it can also serve as a unique method to attract new employees. It seems the answer is once again on your plate and who doesn't love a free meal?
Marissa Costonis is a certified health coach who helps clients transform their own eating habits and health one bite at a time. She is the author of "Change BITES: 5 Change Management Strategies to Transform Your Health."