There were a lot of things to like in the earnings release of electronics retailer Best Buy. However, Wall Street found something it clearly didn't like — reduced earnings guidance.
The Richfield, Minn.-based company reported second-quarter net income of $244 million on revenue of $9.38 billion, beating analysts' estimates of $9.28 billion. Adjusted earnings hit 91 cents per share, versus the 83 cents expected.
But Best Buy lowered profit expectations for the current quarter. It said it expected third-quarter adjusted earnings per share of 79 cents to 84 cents, a significant dip from analysts' previous estimates of 92 cents per share.
The company said it expected same-store sales to grow as much as 4.5% for the full year, up from a previous target of 1%. However, it said operating margins would decline as investments ramped up and higher costs pressured profits.
On the company's earnings call, Chief Financial Officer Corie Barry said, "As we invest in the implementation of our strategy, the profitability profile of our quarters is not completely linear on a year-over-year basis." Higher supply chain costs and transportation expenses are also a factor. Walmart and Target have also cited higher fuel costs as hurting profit margins.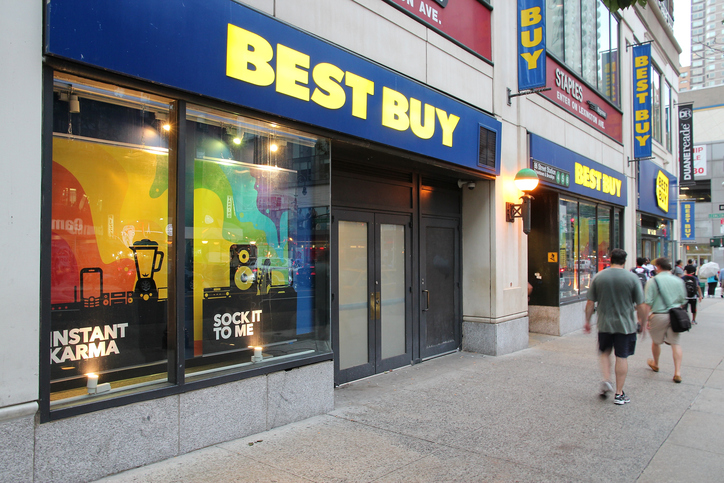 In Best Buy's second quarter, domestic online sales rose 10.1%, compared with 12% in the first quarter. A year ago, they rose 31%. Online sales make up 15% of Best Buy's total domestic sales.
In the brick-and-mortar channel, same-store sales rose 6.2% overall. International same-store sales grew 10.1%.
CEO Hubert Joly said second-quarter sales growth "was helped by the favorable environment in which we operate and driven by how customers are responding to the unique and elevated experience we are building."
Best Buy announced earlier this year it would close all 250 of its mobile phone shops to focus on its core electronics business. Earlier this month, it announced it was buying GreatCall, which offers medical alert devices for seniors, for $800 million. It is also reportedly working with Amazon to sell smart TVs.
Best Buy shares were up 20% year-to-date but fell about 5% on Tuesday.
Photo: Getty Images