We combed through websites, interviewed tech experts, and researched a host of product categories to assemble, once again, the roster of 20 companies that make up our annual "Tech Companies to Watch." We uncovered a wide range of technologies and products that would be valuable to finance chiefs, and we also discovered a wealth of innovation going on in "traditional" finance-related tech categories.
The entirety of the list appears in the April/May 2018 edition of CFO magazine. We are revealing the first 10 companies on CFO.com, one per day. Our first five tech companies to watch were Pymetrics, Prattle, Tipalti, UiPath, and Exabeam. Today, we cover digital assistant provider x.ai. Other companies on the 2018 list appear at the end of this story.
X.AI
EXECUTIVE ASSISTANCE
Everyone has a digital assistant, whether it's Siri, Alexa, Cortana, or the less endearingly named Google Assistant. But what they can effectively help you with is limited. That's why an iPhone, for example, offers access to a store with 2.5 million apps in addition to Siri.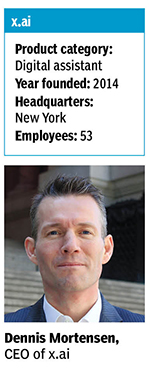 The key to an effective digital assistant is specialization, and that's what's driving a wave of new digital assistants focused on completing specific tasks very efficiently.
A company to watch in this area is x.ai. Why? Think about a task you perform in your job often enough that it robs some of your productivity. How about scheduling meetings and phone calls? X.ai has created an artificially intelligent digital assistant to significantly reduce the time spent on that activity.
A user simply creates an email with brief instructions — whom to meet with, when and where, and in what medium. He sends it to the digital assistant, which is linked with his activity calendars and will know when he is available.
The assistant, called Amy Ingram or Andrew Ingram (user choice), will then handle most of the subsequent details: contacting other meeting participants, responding to requests for information, and rescheduling meetings if necessary.
It may sound simple, but actually it's not. Company founder and CEO Dennis Mortensen employed dozens of programmers over four years to figure out how to use machine learning to make the system work. Efforts to commercialize the product didn't begin until mid-2017.
"If every human being were extremely rational and wrote without any ambiguity, the whole thing would be a lot easier," Mortensen says. But of course, they don't. Their prose lacks clarity, and they use slang and idioms.
As an example of a problem Amy must solve, imagine you're working late and send an email to someone after midnight asking to chat "first thing tomorrow." Amy has been taught to understand that, when humans say that, they don't mean 24 hours later; they mean 7 or 8 hours later.
"And there are tens of thousands of examples like that," says Mortensen. There is, of course, a failure rate, but humans scheduling meetings make mistakes too, he points out.
Mortensen says he got the idea for the service after he sold his previous software company and recalled spending an enormous amount of time the year before the transaction setting up meetings.
"I went back into my calendar, and it was a staggering amount: 1,019 meetings in that one year, 2012," he says. "Even sadder, there were 672 reschedules."
On average, he says, setting up a meeting between two parties requires about 3.5 emails on each end. It takes just under 5 minutes per email to open it, read it, flip to another tab, open a calendar, check availability, and craft a reply email.
So, each person spends about 15 minutes on scheduling a meeting. If a company is paying a salary of $65,000 to someone who schedules an average of 10 meetings per week, each month it costs the company $300 worth of the person's time to just schedule meetings.
Mortensen plans to add languages other than English, but he's not yet thinking about branching out beyond scheduling meetings.
"Amy is among a set of highly specialized, vertical AI assistants that do only one thing, but do it extremely well," he says.
Other Tech Companies to Watch 2018