As it turns out, predictions that the economic recovery would inevitably draw companies into a fierce tug-of-war for talent were off-base. As far as finance executives are concerned, the hiring process now more closely resembles a scavenger hunt.
That insight into labor market dynamics emerged from the third-quarter results of the Duke University/CFO Magazine Global Business Outlook Survey, which drew responses from 850 CFOs.
The results signified only the second time in the survey's 21-year history that U.S. CFOs ranked "attracting and retaining qualified employees" as their top concern. The challenge they identified isn't shiny new, however: the identical issue landed in the top spot in the immediately preceding quarterly survey.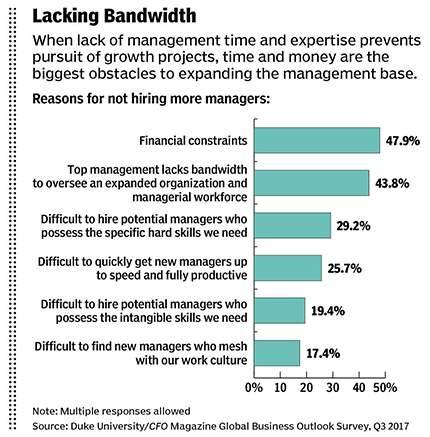 By all indications, the concern isn't likely to be toppled from its prominent perch any time soon. At just a smidge over 4%, the U.S. unemployment rate is the lowest it has been since 2001; economists have declared that the country is slouching toward "full employment," meaning that the rate doesn't have much further to fall.
The tightening labor market is partly due to solid economic growth. It also reflects the fact that an estimated 10,000 baby boomers are leaving the workforce every single day — even better economic news for those who identify as millennials and want to move up the corporate ladder. As the Duke/CFO survey results suggested, though, the lingering recruiting and retaining challenge isn't only a reflection of the surging economic cycle. To hire and keep the talent they need, companies also need to address structural hurdles, both internal and external.
Endangered Species
The shortage of qualified workers, CFOs reported, is reshaping corporate strategy — namely, by inhibiting growth. Among respondents, 89% said they don't expect their companies to be able to pursue the full panoply of value-creating projects they'd like; about half of them cited the inability to hire the employees they need. Especially in short supply, U.S. CFOs said, are the managerial competencies needed to implement ambitious growth initiatives.
Traditionally, of course, companies provided workers with training. But as loyalty has frayed on both ends of the employer-employee relationship, training budgets have waned.
If workers are only planning to stay for about four years (the average tenure in a single job, according to the U.S. Bureau of Labor Statistics), investing in training offers a less-than-tantalizing return on investment. In any case, about a third of the skills that employees of U.S.–based companies will need to maintain their productivity in 2020 will be different from those they now rely on. In some fields, the dwindling ranks of candidates with proven skills may be the result of an educational system that has, for the most part, de-emphasized vocational training and permitted apprenticeship programs to fade. (From a policy perspective, corporations and the government have been locked in a battle over the cost of training, each insisting the other should fund more of it.)
It's little wonder, then, that U.S. CFOs who participated in the survey said the pool of potential managers is shallow: those possessing industry-specific experience and technical knowledge, plus the necessary critical thinking skills for solving complex problems, are in short supply. Even the once-venerable MBA degree is under scrutiny. An understanding of management theory, as helpful as it is, is no substitute for firsthand experience in guiding a company's growth trajectory or modeling a competitive strategy for a fast-changing marketplace.
Changes in Aptitude
As hard as it is for a company that is looking to scale to find management talent with the requisite skills, survey respondents who said their companies were struggling to hire rank-and-file employees indicated that many job candidates lack even basic writing and math skills — capabilities that serve as a foundation for more-specific skill-building. It's easy to speculate why that would be the case: The alphabet has surrendered share of brain to emojis, with Snapchat and texts having rendered traditional syntax and spelling obsolete.
But the fault may reside with employers as well. During the Great Recession, when companies had their pick of overqualified candidates, they got in the habit of being rigidly selective.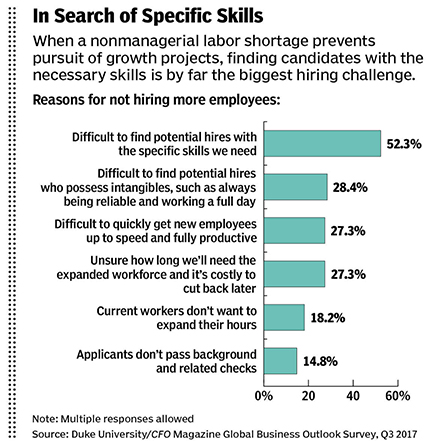 Senior management's hesitancy to expand their workforces to pursue growth projects is also part of the complex story around the struggle to fill the labor gap. In the survey, 27.3% of respondents indicated they weren't hiring more workers to reduce perceived shortages because they didn't know how long they would need the expanded workforce, and it would be costly to cut back headcount later when some workers were no longer needed.
Waging Gracefully
Not surprisingly, hiring employees for the IT department is becoming especially problematic. In the survey, 40% of U.S. respondents said that difficulty hiring and retaining technology workers was having a negative impact, either moderate or substantial, on their organizations. Within the IT function, the shortage was most pronounced in areas such as operations support, innovation and product development support, core functions, and big-data analysis.
The tight labor market does hold some good news for workers and managers in all functions. In part because of the market conditions, many U.S. companies said they expect to raise wages in the next 12 months.
Finance executives who participated in the survey projected average wage growth of about 3%, with the strongest gains occurring in technology, health care, and construction. Workers are learning what makers of popular toys instinctively know how to exploit around the Christmas holidays: There's more money to be made in scarcity.
For individual employers, higher wages will be just the price of admission. Boosting salaries may attract more qualified people to certain roles, but structural issues in the labor market will remain. Hiring the best talent, in other words, will continue to be a struggle.
Homepage image: Thinkstock