Middle-market companies are struggling to attract and retain technology employees — and looking to managed IT services providers and the cloud for help in meeting the talent shortfall.
A recent CFO Research survey of 123 U.S.–based middle-market senior finance executives, conducted in collaboration with RSM, finds that about half (49%) of the finance chiefs say the inability to attract and retain qualified technology talent adversely impacts them. Survey respondents represent firms with annual revenues between $25 million and $200 million, and a plurality of respondents (35%) carry the title of CFO.
The fallout from the talent shortfall extends far beyond the IT department. Finance chiefs who report a talent-shortage impact indicate that the business functions most severely affected in their organizations are operations (cited by 64% of those reporting talent woes), finance (36%), IT (36%), customer service (27%), sales and marketing (27%), and product development (12%).
Asked to identify their most difficult IT-related talent issues, 40% of the survey respondents say pure "technical competency." A close second is the 36% who cite "strategic planning and vision." "Industry knowledge" (34%), "project management" (33%), and "customer service" (28%) follow closely behind. (See Figure 1, below.)
External Affairs
What are companies doing to address the shortfall? An increasing number are turning to managed IT services to bridge the gaps in their own IT workforce, with generally favorable results. The speed of technological change, combined with the ubiquity of business process outsourcing after decades of refinement, appears to have given finance executives a much stronger appreciation for outsourcing IT functions than they once had.
More than two-thirds of the finance executives surveyed — 69% — say a trusted managed IT services provider can do a better job of delivering IT services than a typical company can do on its own. And 60% now say they would be comfortable having a managed IT services provider deliver all of their company's IT functionality.
In addition, as managed IT services have matured, the benefits of outsourcing the information technology function have become broader and, in some cases, more strategic. Many CFOs now see better capabilities, not simply lower costs, as the key benefits of IT outsourcing.
Demonstrating that shift, finance chiefs say that the top advantages of outsourcing IT activities today are "freeing internal resources for other purposes" and "gaining access to world-class capabilities" — benefits that 57% and 50% of the survey respondents cite, respectively. These are followed by "streamlining or increasing efficiency for time-consuming functions," which 45% of the respondents choose. "Reducing and controlling costs" — which not long ago would have been far and away the top reason companies gave for moving to an outsourcing model — now comes in fourth place, at 32%. (See Figure 2, below.)
Fear not, however, that CFOs have completely lost their skepticism about this issue. Despite the clear benefits of outsourcing that respondents identify, there continue to be lingering concerns among some finance executives about outsourcing IT functions. The top concerns the survey identifies are costs (indicated by 52% of respondents); the provider's ability to understand the company's businesses and key systems (50%); service quality (47%); and risks associated with a partner security breach (39%). The bar remains high, in other words, in the eyes of the CFO.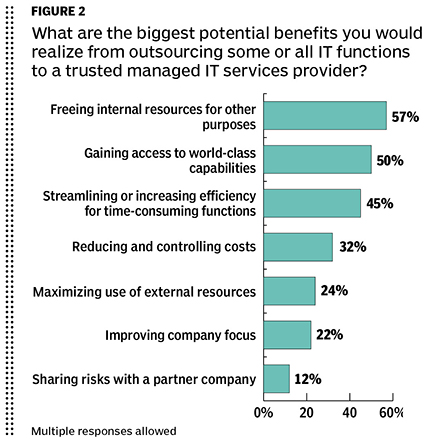 However, the fears of finance leaders are more than compensated for by the need to respond rapidly to business and technology changes. Survey respondents say their companies see clear value in implementing technologies such as mobile applications (69% of respondents); big data and predictive data analytics (45%); social enterprise (24%); Internet of Things (24%); artificial intelligence/machine learning (21%); and virtual/augmented reality (13%). All of those technologies benefit from the scalability, agility, and cost environment of a managed IT setting, supported by the cloud. Ready or not, here we go.
Move to the Cloud

Survey respondents indicate that one strategy they are using to manage their way through the IT labor shortage is moving some or all of their IT operations to a cloud-based environment, which reduces or eliminates the need to source, manage, and maintain computer hardware and software.
And many companies that have already migrated basic IT functions to the cloud are now looking to tap a higher-value potential. More than half (53%) of the survey respondents say their companies are already using cloud-based services for fundamental applications such as data storage and network hosting. About 41% are using cloud-based office productivity software and 37% are using cloud-based financial systems. Migrating higher-value activities to the cloud is proceeding more slowly — for example, only 16% of survey respondents say their companies use cloud-based data analytics systems, and only 10% have migrated marketing automation to the cloud. However, those percentages are likely to grow as cloud-connected data augments the value that cloud-based versions of those applications can deliver.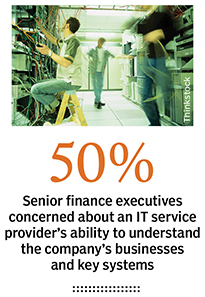 In areas in which their organizations haven't yet embraced cloud services, finance executives say their biggest concern by far is data security, which 69% of the survey respondents cite. About 53% cite privacy issues. Nearly 4 in 10 respondents — 39% — say they are concerned about the costs associated with cloud services. Loss of control and performance risk are a source of unease for 37% of survey respondents.
Given how widely held these worries are, it's not surprising that a clear majority of finance executives say it's important to use the services of a third-party expert in nearly all phases of implementing a cloud strategy, including needs analysis and strategic planning (57% of respondents); architecture and design (65%); and implementation (72%). Nearly half — 48% — of the survey respondents also say a third-party expert is needed for ongoing support and monitoring of any cloud initiative.
In sum, the survey's results suggest that while cloud providers have work to do on building trust in their security and privacy protocols, the migration to cloud services that has gained so much momentum over the past decade is unlikely to reverse direction. Already, much of the new software being created is designed expressly to deliver specific benefits enabled by a cloud environment. As the business value of moving to the cloud becomes clearer, those benefits, combined with a better awareness of available security tools, should offset any perceived risk for many potential users.
The ultimate goal of most corporate technology strategies is not simply to replace current functionalities but to enable future ones. It's clear from the survey that finance chiefs believe managed IT services and the cloud both have a role to play in those objectives.