Structuring executive compensation is a delicate balancing act that isn't getting easier. Pay plans have multiple goals — attracting and retaining top talent, motivating performance, and keeping activist shareholders at bay — that are often at odds with each other.
Ostensibly, both shareholders and the boards of directors that set executive pay want management leaders, particularly CEOs and CFOs, to carry out the business strategy that is judged to be the best path to long-term company growth and share-price appreciation. Most agree the best bet for accomplishing those outcomes is a strong alignment of pay and performance.
Yet, when it comes to how and how much executives are paid, there are numerous areas of concern for the various stakeholders, which, in addition to the investors and directors, include analysts, employees, and of course the executives themselves. The growing income inequality in the United States has many groups criticizing executive pay, especially CEO compensation, as excessive and unwarranted. Investors want stronger links between pay and performance, but tempered with policies that give executives real "skin in the game." Executives themselves want to be compensated appropriately for their abilities and results.
Compensation committees today are busily tweaking their pay policies to address all of those concerns. But many are struggling to find a balance between demonstrating good governance and justly rewarding and retaining top executives.
Treading Carefully

Results of the nonbinding shareholder advisory votes on executive pay packages, required for public companies by the Dodd-Frank Wall Street Reform and Consumer Protection Act, have indicated that investors are generally OK with executive compensation programs. They've given a majority thumbs-up about 96% of the time, and in more than 90% of cases the approval rate has been at least 80%, notes Rick Smith, a managing director in the global employer services practice at BDO.
That suggests companies are spending sufficient time connecting executive pay to the business plan and doing a good job explaining the structure in proxy statements, Smith says.
But boards shouldn't take too much solace in those results. In structuring pay plans, boards' compensation committees must keep in mind that they understand the company's particular needs in a way that few outsiders — even some large institutional investors — can, says Marc Hodak, a partner at compensation consulting firm Farient Advisors. In the current climate, however, they run a real risk of alienating shareholders if their actions don't appear to have a justifiable motive.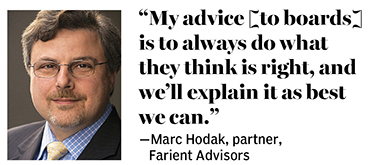 For example, a board may grant a significant equity award that it sincerely believes is in the company's best strategic interests but, for competitive reasons, may shy away from explaining the strategy to the full satisfaction of outsiders. Or, while many executive pay plans employ a mix of metrics to determine incentive payouts, some boards may believe so steadfastly that earnings are what drive value that they base incentives solely on that. Either of those behaviors may give shareholders pause.
"My advice [to boards] is to always do what they think is right, and we'll explain it as best we can," Hodak says. Such explanations can, though, be strained in cases where company performance is suffering, creating pressure to appease investors.
Still, the surest way for a company — a big one, at least — to get itself in trouble with shareholders on the pay front is to grant a large, one-time equity award to a particular executive without disclosing a very well-thought-out rationale in the proxy, says Matthew Goforth, a research manager at Equilar, an executive compensation research firm. Such an award may be extended to a new hire, to an executive who may be seen as a retention risk, or in connection with an acquisition. A board may see this as a well-established practice; investors and the public may view it as a form of largesse.
The Imitation Game

Even the basic foundations of compensation plans are being questioned in the current environment. A common methodology for setting senior-executive pay packages looks at what peer companies — comparably sized ones with similar business models in the same or a related industry — are paying. Executives with less-than-average experience or skills start below the median compensation level. Compensation committees are increasingly arming themselves with data to ensure they're paying what they have to from a competitive standpoint, but no more, to procure and retain the executive talent they need.
Some experts say companies shouldn't place so much emphasis on their peers' pay practices, however. "The bane of the comp committee's existence is the uniformity that many companies feel compelled to pursue because they don't want to be criticized or have been criticized," says Alan Johnson, managing director of Johnson Associates, a compensation consultant.
A bolder approach may be particularly useful for optimally setting variable compensation, which, according to Hodak, typically comprises 60% to 90% of top executives' pay packages. Even the boards of two similar companies may have very different ideas about what kinds of incentives will best motivate company leaders, in which case the copycat mentality may serve neither of them well.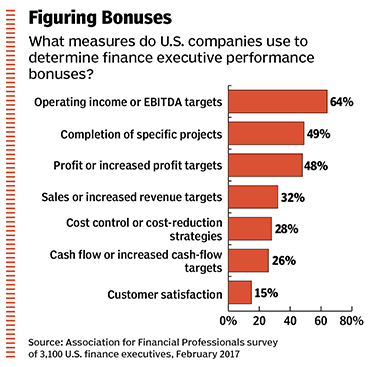 Other pay practices that are in vogue these days may be somewhat less debated because companies have adjusted their practices. For example, tax gross-ups, or pledges to reimburse executives for their incremental taxes owed following compensation spikes, have largely fallen out of favor, according to Richard Bannister, North America practice leader, executive compensation, for Willis Towers Watson.
For equity-based incentives, more companies are instituting holding periods after vesting, Hodak notes. Typically, they may require the executive to hold 25% of vested shares for one or two years. The goals are to discourage behavior that drives up stock price in the short term at the expense of long-term performance, and to make sure the executive has ongoing, meaningful "skin in the game."
More companies are also requiring executives to retain a certain number of company shares at all times to ensure that top managers' interests remain aligned with those of shareholders, Goforth says. Large-cap companies typically require the CEO to hold at least six times the value of his or her annual salary in company stock. (For CFOs, the ratio is usually lower.)
But, Hodak cautions, while investors like to see senior executives holding lots of company stock, companies should be careful not to push the tactic too far. If an excessive portion of an executive's net worth is tied up in the stock, at a certain point it becomes an incentive for the executive to leave, whereupon he or she can cash out the stock and diversify their assets.
Another trend driven by the quest to establish stronger links between pay and performance relates specifically to grants of restricted stock, which historically vested after a certain time period passed. Now, more such awards are vesting only when the company hits certain earnings goals or outperforms peers on a certain metric, Hodak observes.
Too Much of a Good Thing?

If there's one thing companies need to work on it's addressing the flaws in pay for performance. The 2010 passage of Dodd-Frank heightened the profiles of the top proxy advisory services, Institutional Shareholder Services and Glass Lewis, which successfully advocated for linking equity-based performance incentives to total shareholder return. But while the practice that those firms promoted has been adopted almost ubiquitously in the name of good governance, the overall amount of pay based on performance is reaching the advisable limit, according to Hodak.
One issue, he says, is that paying a high volume of performance-based equity greatly complicates incentive plans, resulting in reduced transparency for shareholders. In many cases investors aren't sure exactly what management is being rewarded for.
Also, the bigger the portion of compensation that is at risk for senior executives, the greater overall compensation companies must offer them. "Investors would never accept additional risk without the prospect of additional reward, so they can't expect [CFOs and CEOs] to behave any differently," Hodak says.
Furthermore, a portion of incentive compensation simply must remain subject to directors' discretion. "It would be great to live in a theoretical world where comp plans could be very algorithmic and [still] affect human behavior," Goforth says. But executives are naturally skeptical of over-engineered programs, he adds.
One way companies are tweaking pay-for-performance is by focusing on year-over-year measures of company performance and making sure they align with long-term strategies, says Goforth, whose firm spots such trends by combing through thousands of Compensation Discussion & Analysis (CD&A) statements each year.
For example, a company may focus on measuring short-term performance in a certain area of its business, believing that incremental growth there will eventually lead to long-term shareholder growth. For purposes of calculating the annual payouts, a company may come up with tweaks for common metrics, like revenue, earnings per share, cash flow, and operating income, to more precisely fit its vision of success.
More companies are capping awards that grow over time at a certain pre-determined value, based on facts and circumstances, Goforth says. For example, an award based on a company's performance relative to a peer group could be capped if the company's absolute stock price dropped during that period. The purpose is keeping the value of the incentive in line with actual shareholder value creation.
The Long Arm of the Claw

CFOs and CEOs might not welcome a relatively new development in compensation, the clawback. Among all the aspects of executive pay that compensation committees grapple with, clawbacks are of late a high priority. There are few kinds of publicity more damaging to a company than news of executives benefiting from failure or, worse, fraud.
Public companies are required under the Sarbanes-Oxley Act to reclaim money executives made as a result of fraud or accounting errors, but it's becoming common to include more expansive clawback provisions in executives' employment contracts.
Still, disclosures of clawback policies are usually not very detailed. If the SEC's proposed rules for implementing Dodd-Frank requirements were implemented, companies would have a very objective, bright-line test for when to implement a clawback, according to Goforth. But for now, companies generally prefer to make decisions on a case-by-case basis, with boards using their best judgment except when egregious misconduct or financial restatements mandate a clawback.
When a company's financials are restated, incentive payouts should be recalculated, and any already-awarded compensation based on the incorrect figures should be clawed back, regardless of whether the executive had any personal role in the misstatement, Goforth says.
Executives should also suffer financial consequences for purposeful bad actions, even if the financial fallout for the company is nil. "It's a weapon that's extraordinarily blunt," Johnson says. "It should be used when appropriate, and it should be very obvious when it's appropriate. A view that the company is just going to take back money that someone lost could create a very odd set of behaviors."
An executive could even wreck a business to avoid reporting a clawback-triggering loss. "If the company says it's going to fire an executive and take back the money he's made, the executive might double down," says Johnson. "And then a big problem becomes a gigantic problem."
Out with Opaqueness

Trying to solve the flaws in pay for performance, though, can lead to compensation plan complexity. Institutional investors are complaining about the length of CD&As, which now run up to 40 pages. "They've gotten larger every year on average, and investors have gotten weary of it," Hodak says. "It's an enemy of good governance."
Descriptions of bonus plans are among the most complicated parts of CD&As, with explanations of the different payout levels, why they were set where they were, and how multiple performance measures play against one another. A metric could be based on three or four factors, two of which could be "gates," such as "nothing gets paid out if the executive doesn't hit a certain earnings number," Hodak says. If that number is hit, then bonuses are distributed based on, say, cash flow, revenue, and depending on the company, even safety metrics, he adds.
But the biggest driver of complexity in many executive comp programs is the inclusion of long-term incentives based on relative measures like relative total shareholder return covering multiple rolling periods simultaneously, according to Hodak.
"Once upon a time, management compensation was really simple," he says. "You had salary and a bonus that was typically based on hitting earnings, and got a little bit more or less depending on how much you performed above or below your earnings targets. And you got stock to keep you focused on the long term. Plans could be discussed in two or three pages."
The big challenge is to simultaneously satisfy two conflicting wishes of institutional investors: the desire to place constraints on how executives are paid and the need to have comp plans be transparent and written in plain English. The complexity that investors abhor may be driven by their own demands. Until that contradiction is resolved, executive compensation plans will remain in the spotlight.
Keith Button is a freelance writer based in Valley Cottage, New York.
---
Fee, Fie, Foe, Pay Ratio
Many CFOs disdain the coming requirement to compare CEO pay with the workforce median.
While the Trump administration favors scrapping the CEO pay ratio rule, it's slated to take effect in 2018 and will do so, barring an unlikely event. So companies are bracing for the fallout.
Under the rule, promulgated by the Securities and Exchange Commission to satisfy a provision of the Dodd-Frank Act, companies must disclose the ratio of their chief executive's total compensation compared with that of their median-paid employee.
When a company's CEO pay ratio becomes public it will surely affect employees as they realize how their pay stacks up against the median, according to Steve Seelig, an executive compensation counsel at Willis Towers Watson.

"The ratio will be disclosed, it will get very big play in the local press wherever the company's people are, and it might even be on the evening news," Seelig says. "The natural reaction of an employee is going to be shock."
For the rule to be delayed or eliminated, Seelig notes, one of two unlikely scenarios would have to transpire. For one, Congress could repeal it within Dodd-Frank. The Financial Choice Act, which would roll back many Dodd-Frank provisions including the CEO pay ratio, passed the House in March. But it is not expected to pass the Senate. The other scenario is that all three SEC commissioners, one of them a Democrat, could agree to meet (thereby constituting a quorum) to vote on a change.
Like some in Congress, companies widely view the pay ratio disclosure as an exercise that will waste time and money while providing no useful information. But the SEC rule allows companies to use statistical sampling techniques to establish the ratio, rather than having to take every employee's compensation into account. "We were surprised when we talked to companies and read comment letters from companies and advisers who don't think [the sampling techniques] reduce the burden," Seelig says. "That's simply not so. They reduce the burden significantly."
Companies can use statistical sampling to find the employee group most likely to contain the median-paid employee, then gather pay data just for the employees in that group to zero in on the assumed median.
The SEC says companies need only briefly describe their methodology for calculating the ratio. In fact, it could be summarized in a single paragraph, Seelig says.
The fact that the pay ratio will be a filed disclosure is causing some consternation among CFOs, he adds, because they bear personal responsibility for its accuracy. But the allowance of statistical sampling means the number will by definition be an estimate, so companies should simply state as much in their disclosure.
"I think it's important for CFOs to understand that an error rate can be built into the calculation," Seelig says. "It will take the pressure off." —K.B.
---
What Executives Want
In the study, "Making Executive Pay Work: the Psychology of Incentives," PwC asked if the current compensation model for executives works for the individuals it is meant to motivate. The study found:
• 50% more executives choose a clearer pay package than a more ambiguous one of the same or potentially higher value.
• Executives value deferred pay significantly below its economic or accounting value — a deferred bonus is typically discounted by around 50% over three years.
• Most executives would choose to be paid less in absolute terms but more than their peers—only a quarter choose a higher absolute amount, but which is less than their peers'.
• For their ideal jobs, executives would take a 28% pay cut.
• Fewer than half of executives think that their long-term incentive plan is an effective incentive.
• Executives discount performance pay compared with fixed pay by about 10% for cash bonuses and 50% or more for deferred bonuses and long-term incentives.
Source: PwC and the London School of Economics and Political Science, study of 1,106 executives from 43 countries