A few months into his tenure as the leader of the free world, President Donald Trump seems to be getting the message that the issues that populated his hard-fought campaign are not the stuff of sterling presidential legacies.
Before taking office, for instance, Trump made pronouncements about the troublesome strength of the U.S. dollar. But in mid-April, when he told the Wall Street Journal that he thought the dollar was getting "too strong," he toppled several related indicators. The U.S. dollar index quickly took a U-turn, halting its upward momentum and dropping about 0.6%. Yields on 10-year U.S. government bonds, absorbing Trump's stated preference for low interest rates, dipped to their lowest level since November 2016.
It wasn't just the contents of the president's remarks that rattled global exchanges. Presidents have traditionally resisted encroaching on policy turf that is typically trod by the Federal Reserve. And the Secretary of the Treasury is usually given a free hand, so to speak, to elucidate on the dollar's comparative value.
Then again, Trump's penchant for convention-crushing comments is well documented. In the economic realm, he previously vowed to label China a "currency manipulator" for pushing its yuan to artificial lows. He also promised to replace Janet Yellen as chair of the board of governors of the Federal Reserve. But as complex political realities have come into sharper focus  —with the recognition, for example, that America needs China's cooperation to apply pressure on North Korea — such statements have softened into milder assessments, if not sharp reversals.
The Revengers
Still, some CFOs, both inside and outside of the United States, are taking Trump's comments about a protectionist trade policy seriously. They are suggesting they would enlist in a trade war if necessary, with others vowing retribution if the president stands by some of his controversial economic pronouncements.
Those are among the findings of the most recent Duke University/CFO Global Business Outlook Survey, which ended March 10. The quarterly report, based on the responses of nearly 900 global CFOs, identified regional pockets where finance executives are ready to oppose certain administration policies regarding trade.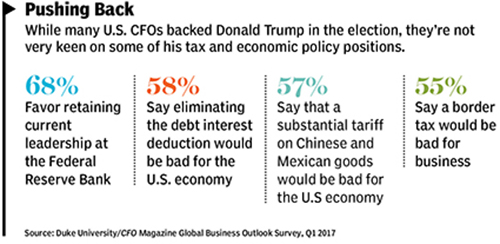 The U.S. optimism index, as measured on a 100-point scale, rose to 68.5, its highest level in 14 years, according to the survey. Yet among CFOs whose companies are headquartered in the U.S., more than half are not in favor of some of the president's proposed reforms.
Just over half, 55%, say that a proposed 20% border tax — a value-added tax levied on imported goods — would be bad for business. Nearly 60% of respondents say that a substantial tariff on Chinese and Mexican goods would be bad for the economy, with almost the same number voicing opinions against the elimination of the tax deduction for corporate debt (see "Pushing Back," above).
As part of a broader overhaul of corporate taxes, the president has proposed tearing up current trade accords (namely, the North American Free Trade Agreement, which dates to 1994) and taxing imports at the border — imposing especially steep tariffs on goods from China and Mexico. Economists have warned that the move—aside from strengthening the already muscle-bound U.S. dollar — could ignite a trade war, leading other nations to strike back by imposing tariffs of their own.
Among Latin America countries, the survey finds increased levels of economic enthusiasm in every measured dimension, including respondents' optimism about their country (which jumped to 55.0 in Q1 from the prior quarter's 37.2) and about their own companies, which jumped to 66.6 from 58.0 on the index. Across the region, only about 7% of survey-takers back the idea of retaliating against the U.S. if the president acts to restrict trade with their region (see "Ready to Resist," below).
But CFOs of companies from Mexico are more adamant. Three-quarters of those respondents express discontent with the U.S. president's proposed actions. One-quarter of CFOs based in Mexico say their government should retaliate in kind against any trade penalties imposed by the U.S. This could mean slapping taxes on, say, popular American-made luxury goods or on agricultural fare ranging from soybeans to corn. Legislators from agricultural-producing U.S. states would almost certainly convey their disapproval of the administration's action.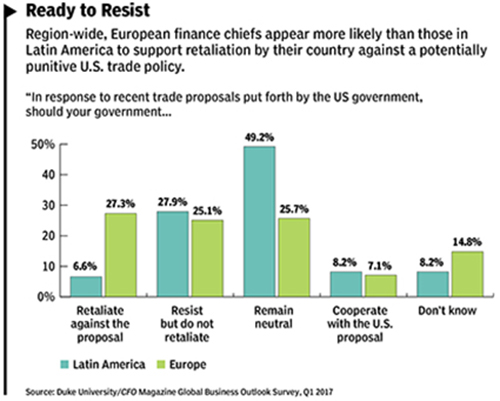 Among Mexico-based survey-takers, 50% say the country should resist the U.S. policy but not retaliate against it. The range of Mexico's retaliation options could include threatening to end its cooperation in nabbing drug traffickers or even loosening security on its southern border so that migrants from Central America can pass through, unimpeded, on their way to the U.S. In terms of how their companies should respond, 65% of CFOs of Mexican companies believe their own firms should remain neutral.
The Big Chill
Even among respondents based within the U.S.'s top trade and investment partner, the European Union, the administration's talk of protectionist trade policies has clearly elicited unease. No doubt that edginess has only increased since mid-March, when the president and German Chancellor Angela Merkel met for a chilly meeting that featured the conspicuous absence of a handshake for the cameras.
In the Duke/CFO Global Business Outlook survey for 2017's first quarter, European CFOs express a level of optimism about the economy that registers a slight dip in comparison with last year's fourth quarter. Respondents' optimism about their country's prospects slipped from 56.6 to 55.7 on the index, the lowest it has been since June 2016—the same month the Brexit referendum was held. Optimism on a company level inched up to 62.3, from 60.6 in the preceding quarter.
Slightly more than half of European CFOs say their countries should retaliate or resist U.S. trade proposals, with 65% of French companies favoring such action. (France is among the countries that the Department of Commerce recently accused of dumping — selling some imports below a fair price.) EU-member countries, which mostly trade among themselves, have been aiming to boost exports to outside countries. That being the case, their objections may be understandable.
Not every country that could end up on the losing end of a new trade policy is simmering with anger. The CFOs of Canada, a country that has been part of the tariff-busting NAFTA for 23 years, seem to reflect the patience of their youthful Prime Minister, Justin Trudeau. Trudeau has said that he'd renegotiate NAFTA if that were what the U.S. decided. True, 42% of Canadian CFOs say their government should resist U.S. trade proposals, but a mere 8% want their country to retaliate. True to form, it seems, the Canadians are managing to keep their cool.