When it comes to CFOs and strategy, everything old is new again.
The appearance of the "strategic CFO" can be traced back more than two decades. Asked by CFO in 1994 what qualities finance chiefs should have, CEOs said that strategic thinking topped the list. Five years later, in our survey of 500 chief executives, strategic vision was deemed a more desirable quality for a CFO than industry experience and capital-raising expertise. "CEOs will almost always say that what they want most in a CFO is a strategic partner, a business partner," an executive recruiter told us at the time.
The financial scandals at Enron and WorldCom and the subsequent passage of Sarbanes-Oxley revived the demand for finance chiefs with strong accounting skills, but the need for strategic CFOs has only grown stronger. KPMG, which recently conducted its own survey of 549 chief executives across the globe to understand their expectations for CFOs, noted in its report that "every CEO with whom we spoke gave examples of how much they rely on their CFO for strategic guidance."
Changes in the business environment are strengthening the case for strategic input from finance. David Wessels, adjunct professor of finance and director of executive education at the University of Pennsylvania's Wharton School, cites two trends that are elevating the role of the CFO. One is the rise of matrixed organizations, which place more power in functional leaders. With distributed power, "few executives have complete control over the P&L," says Wessels. "The one person who has total visibility into all components of the firm via the P&L is the chief financial officer."
The second trend is the growing importance of capital markets. CEOs have to be completely versed in how the markets work, says Wessels, and they need CFOs to help them navigate such issues as whether or not to raise capital, make investments in the firm, change the payout policy, and so on.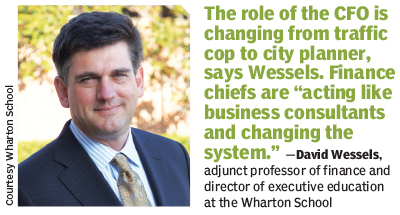 To these trends add business transformation, frequently involving the adoption of digital business models. And a fourth trend is the ever-increasing power of information technology. "Leading CFOs owe their growing clout to a truly granular and holistic view of data," two Accenture Strategy executives declared in a 2014 article.
Overall, the role of the CFO is changing from traffic cop to city planner, says Wessels. Instead of focusing on infractions, he explains, finance chiefs are "acting like business consultants and changing the system."
Transforming Roles
One finance chief helping to change the system is Christopher Chapman, CFO of Diebold, the North Canton, Ohio-based ATM maker. Although Chapman is just 42, he has spent his entire career at Diebold, serving as head of its international finance organization and getting "steeped in the operations of the company" before becoming finance chief in 2013, as he told CFO last year ("Diebold Grows Bold," July). He continues to play a key role in "Diebold 2.0," the ongoing transformation of the 157-year old company into a services-led, software-enabled provider of financial self-service and security solutions. Currently, Chapman is devoting most of his time to the planned acquisition of Wincor Nixdorf, the third-largest player in the ATM industry.
Chapman considers himself a strategic partner to CEO Andy Mattes in implementing Mattes' vision for the company. "I think you have to be [a strategic partner]," he says. "All of the senior leadership team gets involved in that conversation in some fashion or another. It's absolutely critical." To transform a company, says Chapman, "you have to be grounded in reality — the reality of the opportunities of the business. I've been involved in many aspects of the business, so I have a good command of what's going on at Diebold, across a lot of the geographies we're in." Plus, the finance chief says he's well versed in the evolution of Diebold's industry over the past 20 years.
Another CFO working to change an even older company is Raj Agrawal of Western Union, the global money transfer and payments company. Founded 165 years ago on leading-edge technology (the telegraph), Western Union is again building on new transmission capabilities: the Internet and mobile devices. Agrawal is heavily involved in implementing the new strategy.
"Western Union has been on a journey the last several years to utilize the key assets we've built with our retail business and add a strong digital presence," he says. The consumer-to-consumer business generated 78% of the company's $5.4 billion in revenue last year, largely from migrant workers sending cross-border remittances to their families or bank accounts. The company operates in more than 200 countries and territories, with more than 500,000 agent locations and 100,000 ATMs and kiosks.
Now, Western Union is rolling out digital channels to attract customers who prefer to use a PC or mobile device — and, in the process, fend off a growing threat from fintech startups. So far, so good: 80% of the consumers visiting wu.com are new customers, says Agrawal. Those visitors can send money online from 36 countries to retail locations anywhere in the world, or to more than 1 billion bank accounts in more than 50 countries. Today, wu.com is a $300 million business, growing 26% in 2015.
Western Union has also introduced a new money-transfer product called WU Connect, which is embedded in messaging and social media applications. By partnering with services like Viber and WeChat, the company can potentially attract millions of new customers, the CFO says.
Agrawal, who joined Western Union as treasurer in 2006, completed two assignments in Europe and headed the company's Business Solutions unit before becoming finance chief in 2014. "My role is to be involved in the strategy of the company and the execution of the strategy," he says. "I'm very focused in that way. I have a very strong finance team that knows the day-to-day, and obviously I know the day-to-day."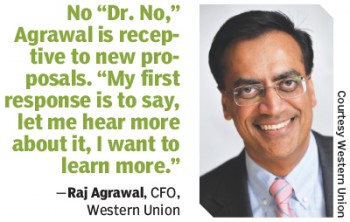 Does he consider himself the right-hand man of CEO Hikmet Ersek? "Right-hand and left-hand man," replies Agrawal with a laugh. "He has a high comfort level with me and the financial function, which he looks at as more of a strategic function. When we talk, we talk about the strategy and direction of the company. We talk about finance when we need to." Ersek respects his opinions, says Agrawal. "I have a strong voice at the table, but ultimately he has to make the final decision."
No "Dr. No," Agrawal is receptive to new proposals. "My first response is to say, let me hear more about it, I want to learn more," he says. The CFO says he constantly seeks to maximize value for the company. "It's not about whether we have enough money or not," he says. "It's about reprioritizing the resources we have if the right opportunity presents itself."
As for communicating the company's strategy, "you cannot do enough," says Agrawal. "The only way to get a strategy across is to tell it over and over again, to all levels of management, to the board, to stakeholders. You have to make sure the executive team is all aligned and speaking the same language."
The CFO says he's "very excited about our future and the opportunities ahead along the digital journey." At the same time, he's "very satisfied, because ultimately we're helping people around the world get money to their loved ones."
Strategic Technology
If data analysis and forecasting are integral to strategic planning, then more-powerful software tools for those purposes should help finance chiefs contribute more strategic value to their companies. Indeed, in KPMG's CEO survey, three of the top five CFO initiatives thought to add the most strategic value to an organization involved financial data analysis or forecasting, with "achieving profitable growth through financial data analysis" at number one.
In a 2015 survey by Gartner and Financial Executives International, finance executives ranked corporate performance management applications as their highest priority for investments in business intelligence and analytics tools. CPM suites comprise budgeting, planning, and forecasting; financial consolidation and close; performance measurement; profitability modeling; and more. (For an overview of CPM software and its leading vendors, see "High Performance," CFO, May 2015.) By capturing and integrating data from data warehouses, ERP systems, and other sources, the software provides managers with a shared set of key performance indicators and metrics — a "single source of truth" — and enables companies to move from trend-based to driver-based planning and forecasting.
"For example, our customers might incorporate actuals from the general ledger, data from customer-facing systems like Salesforce or Marketo, and information from their HR IS systems," says Tom Bogan, CEO of Adaptive Insights, a cloud-based CPM vendor. "If I'm the sales leader, I get my metrics from the corporate planning system — my sales force productivity, my quota coverage, my productivity targets." In turn, those KPIs are used as drivers in financial plans.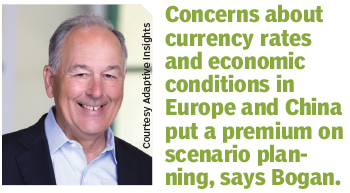 Using CPM software, finance chiefs become custodians of all the metrics for the company, not just the financial ones, says Bogan. As a result, they become much more closely involved in strategic planning, he says.
Moreover, many companies have used CPM tools and driver-based planning to adopt rolling forecasts, frequently looking ahead eight quarters. The software also enables users to conduct scenario planning, particularly important during times of economic uncertainty. "We saw this at the beginning of the year, with concerns about currency rates, economic conditions in Europe and China, and so on," says Bogan. "Most boards were asking companies to run multiple business scenarios to find out how the business would potentially perform where the risks were."
In April, during Adaptive Insights' annual user conference in San Jose, California, 55 finance chiefs gathered in a separate CFO symposium to share their experiences with the vendor's software and to discuss how it could boost finance's contribution to strategy. Himself a former CFO, Bogan draws a distinction between tactical finance — getting the numbers right, doing budgets on time, and so on — and strategic finance, which is "being fully integrated into the business, partnering deeply with operating leaders, being able to update your forecast and view of the business on a regular basis." Most of the companies represented at the symposium were somewhere in between, he says.
What struck Bogan was that much of the CFOs' discussion wasn't about the software per se, but rather about driving change through the organization. There was "a strong desire" among the attendees to help their companies become more agile, he says, and "the culture of managing that change was a more significant issue to them than implementing the tool."
Playing Chess
Increasingly powerful analytics tools are "part of the equation" of becoming a strategic CFO, agrees the Wharton School's Wessels. "But better data doesn't get you the solution," he adds. "What gets you the solution is asking the right questions. If you're asking the wrong questions and not identifying the root cause of issues, you're wasting time."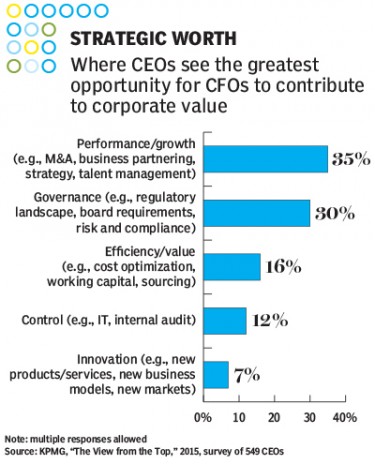 To help finance chiefs ask the right questions (and find good answers), Wharton's executive education department offers a twice-annual program called "The CFO: Becoming a Strategic Partner." Taught by Wessels and other Wharton faculty in finance, strategy, and leadership, the weeklong program is designed to raise senior financial executives' strategic IQs through lessons in corporate strategy, game theory, optionality, and more. Business is like chess, says Wessels; "you have to think a few moves ahead" to anticipate how customers, competitors, investors, and stakeholders are likely to respond to actions. "It's not enough to make a few linear moves one after another," he says. "It's really about thinking through how the game, or your market, is likely to evolve."
Attendees put theory into practice through case studies, worked on by teams of executives who propose a course of action for difficult scenarios where there is no single best answer. One recent case, for example, involved an upstart airline that wanted to challenge a larger incumbent by entering a lucrative market. The question that participants had to think through was not just how customers would respond to the move, but also how the larger airline would react, says Wessels. Would it maintain its ticket prices and cede a piece of market share to the upstart? "Or would it attack? If so, could you survive an attack, and for how long?"
Other cases are integrative, where executives must call on different skills and functions to solve a business problem. Imagine, says Wessels, that you're the new CFO of a fast-growing convenience-store chain. How will you position the chain strategically? What resources should marketing receive to reach the target demographic, and how can supply chain assure that the right products are delivered to the right markets? "CFOs are increasingly organizing this entire mix, because, again, they are the ones ultimately responsible for the entire P&L," says Wessels.
Such strategic thinking may be underdeveloped in CFOs who came up through the accounting ranks and had to play the role of traffic cop, says Wessels. "It's only when they move into a position of leadership that they suddenly must transition into a new role, a more consultative one." The largest companies often prepare finance staffers for that transition by rotating them through various functions and geographies, while smaller companies may send them to external training programs like Wharton's, "where we provide new tools around market selection, competitive advantage, and capability building that they haven't seen before," says Wessels.
One of the program's most popular sessions deals with the science behind influence. After all, the best-laid strategic plan may fail if an organization doesn't buy into it. "I think every one of us can use a tune-up in persuasion," says Wessels. A soft skill, perhaps, "but there is a tremendous amount of research behind how people react in certain situations, and you can use this research to help shape a decision. Remember, no one can change someone else's mind; they have to change their mind themselves."
To be strategic, it seems, CFOs need more than mastery of advanced analytics or game theory. They need one of the oldest skills of all: how to tell — and sell — a story.
Edward Teach is editor-in-chief of CFO.