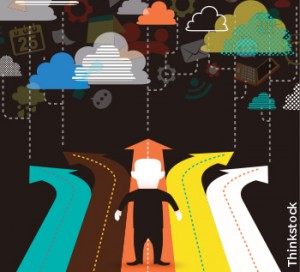 Ask a business prognosticator what's in store for 2016, and likely you'll hear how gloomy the outlook is — particularly overseas. But ask a finance chief, and you may get a response along the lines of that provided by Vsevolod Rozanov, CFO of Sistema, a diversified collection of large Russian businesses. "It is not a time of crisis," Rozanov says,"but a different reality. It presents threats but it also presents significant opportunities."
Similarly level-headed comments were recently made to CFO by other finance leaders at several globe-spanning enterprises. Far from pushing the panic button, these finance chiefs are thinking about the best ways to gird their companies to continue to build on gains made in recent years. "We're appropriately frugal," says David Carter, CFO of Suncorp Bank in Australia, "but we're not backing away from investment. We've got to keep investing if we want to have a bank that's sustainable into the future."
Richard Peretz, CFO of UPS, notes, "You have growth, but it's slower and it's sending mixed signals, both within a country or a region, as well as across the globe." These conditions require using a different yardstick to measure success, says Peretz. "A few years back, if you were to expect growth to be 2% to 3%, everybody would look at you and say, 'Well, that's not very good,'" he explains. "But that's the new reality post-recession, so we have to be thinking about how you can take advantage of that."
In the end, says Pascal Bouchiat, senior executive vice president and CFO of Thales, a Paris-based manufacturer, "short-term volatility driven by economic factors is not preventing us from developing a rather positive view of the overall demand in our key businesses, particularly in emerging countries." In the eyes of Bouchiat and others, it falls to finance to help the business keep its focus on the future.
Bending, Not Breaking
One key for making it through the next year in such a mixed environment, according to the finance leaders interviewed, is figuring out where to pull back and where to flex corporate muscles. Given the wide-ranging scope of many of their enterprises, these CFOs felt it was important to stay flexible and direct resources to the businesses that offered the most solid prospects.
Andreas Schneiter, CFO of Dufry, a Switzerland-based global travel retailer, extols the advantages of geographical flexibility. "Geographic diversification helps us to mitigate or manage the risks that can come from any single location or from any single market where performance may be a bit weaker for whatever reason," says Schneiter. This ability to refocus resources underlies the company's core management philosophy: "We are looking always at the business on a long-term basis. We are not there just for the short term."
For the CFO of Telefónica Brasil, Alberto Manuel Horcajo Aguirre, "The greatest single challenge is maintaining growth in revenue." For that reason, he says, the company also will be looking to "invest surgically," as he puts it, in the territories and the customer bases that can deliver the most value.
The "surgical" view of a company's portfolio becomes even more important as conditions place more constraints on precious resources, notes Sistema's Rozanov. "This year, investment resources do exist, but especially in hard currency, they are becoming scarcer or more limited," he says.
Given that circumstance, Rozanov continues, "we are now starting to compare investment projects across our many industries. We are definitely getting tougher in regard to approvals of incremental opex, and as a rule, the rate of increase in operational expenditures cannot exceed the rate of revenue growth." The business is making a similarly selective review of capex opportunities "case by case," according to the CFO.
Rozanov views this as a necessary response to the shifts taking place in the global economy. As with Dufry, Sistema relies on its ability to mix and match strategies across its different markets. Rozanov explains: "[Growth in] some of our industries is focusing on replacing imports with domestic products. But other industries have very good potential to increase their footprint globally because of the favorable dynamics in pricing and in cost."
So, he concludes, "while we expect declines in investment from some of the group's biggest spenders, we expect to make up for it by growth in the export-oriented businesses and in industries, such as pulp and paper, agriculture, and in a few domestic areas, such as oil services or pharmaceuticals."
Other companies also will be shifting more resources into newer or growing business segments. UPS's Peretz provides an example of what he calls "threading the needle." The strengthening U.S. dollar has clearly put a damper on exports, but, Peretz says, "you've got to look for the bright star in that. For us, we see imports into the U.S. growing, both out of Europe and to a lesser extent out of Asia." Also, for the past two years UPS has been spending more time working with small and medium customers who are exporting for the first time, says Peretz. "That's an important shift to compensate for the U.S. market, because the middle market is not impacted as much when they're going into international trade for the first time."
Innovate or Fall Behind
For these finance leaders, innovation goes hand in hand with flexibility. This perspective reflects a subtle shift observed in finance functions from a narrow focus on cost control and toward a more expansive view of the business.
From his vantage point as group CFO, group CIO, and president of group finance and M&A at the diversified Indian enterprise Mahindra & Mahindra, VS Parthasarathy oversees a wide range of businesses and functions. He cites "two paradigms which are in our DNA": cost leadership and innovation leadership. "In the long run we must be able to do innovation arbitrage, not just cost arbitrage," he says. "That means asking, how do we innovate? How do we help innovation in the organization?"
Similar viewpoints are not limited to any one country or company. Thales' Bouchiat emphasizes that "restoring top-line growth is a key target" for the company in the coming year. To help do that, he notes, "we'll keep increasing our R&D expenses, as we did over the last two years. R&D is a very important enabler for Thales, to continue to develop innovative solutions."
In fact, success in the cost area can be a necessary underpinning to success in innovation, according to Jitesh Sodha, CFO of U.K.-based De La Rue, the world's largest printer of commercial banknotes. Sodha says, "De La Rue has a fabulous heritage of innovation, and now it's about taking that further forward. We will be doubling our R&D spend over the next five years, with the focus on driving more innovation."
Here is where the attention to cost control comes into play. "In the optimize-and-flex area, we're looking to continuously drive down cost and reduce our unit cost of production," Sodha says. "We will then take some of those savings and put them into the invest-and-build area."
Thought Leaders and Influencers
In the view of Mahindra's & Mahindra's Parthasarathy, finance professionals will need to evolve to become innovation leaders, central to a company's success in hard times. "I think we [in finance] need to move beyond the paradigm called 'business partnership' and become value creators. A value creator has both functional expertise, on the one hand, and business acumen and business understanding, on the other."
"We don't want accountants anymore," he continues, "because computers can do most of the job. The functional expertise should come from thought leaders and influencers of today and tomorrow."
To become thought leaders and influencers, finance professionals will need to expand their experience base. "For our finance staff, I think the most important thing is to have a broad range of experiences," says Dan Knutson, executive vice president and CFO at food and agricultural cooperative Land O' Lakes. "I would want somebody to have worked in each one of our businesses at one point, to be alongside that business partner, to be a valuable source of information, to be able to analyze data quickly and provide insights as well as to challenge."
For Angie Lim, CFO for the Asia Pacific region of the financial and professional services firm Jones Lang LaSalle, developing finance staffers with wider skills is one of the more important challenges she faces. "What you're looking for," she says, "are 'people people' who are analytical, but also have good communication skills, and can interact and communicate and engage with others."
The ability to engage with business partners and analyze information is "something that you don't find in every accountant," Lim says. "A lot of them take the numbers and then run with it, without understanding what is happening behind the scenes. I think that's a danger with the newer accountants that I'm seeing."
Dufry's Schneiter also notes, "If you want to be successful, you need to have a good view on what really are the requirements in the organization, and not only what the requirements are for the team." For Schneiter, that means being a good listener, among other things. He doesn't see many hard and fast lines between finance and the rest of the enterprise, commenting, "Nowadays within the finance function, it's so integrated with the operational part of the business, you really need to be in a position to understand what other people need from you."
As UPS's Peretz sees it, "It is about understanding outside perspectives. It's a culture that's about helping the person grow as a leader. When I became CFO, the big change for me was opening my eyes to how much time I spend on the business side. So I would ask future leaders to have additional assignments in the direct operation of the company."
In this kind of world, flexibility in working relationships can be as important as flexibility in business choices. At Suncorp Bank, for example, "we think a little bit differently about how to access talent," says CFO Carter. "The basic accounting work can be done anywhere. It can be done by machines, virtually. So we have a very flexible working environment here — people with very different backgrounds who may not always be around you in the office. They might be working outside the office, they might be working part-time, they might be very different age ranges or from different generations altogether." It takes a special sort of finance professional to be up to the task of keeping in step with the changes in the workplace, as well as in the marketplace.
Parthasarathy concludes by emphasizing the need for keeping one's eyes open to all the possibilities. "It goes far beyond simply saying this reduces cost, or that increases revenue," he says. "Your insight and analytics may save cost in one instance, and they may identify new business opportunities coming up in another, or they may signal a danger coming ahead." All of these help create value, he notes, and the finance professional prepared to pitch in at any moment, on any decision, will be the one who becomes the true value creator.
---
An Agility Index
The strategy consulting firm McKinsey has devised an Organizational Health Index that it uses to compare organizations' abilities to outperform their competition over time. In the McKinsey Quarterly for the fourth quarter of 2015, McKinsey used scores from its OHI database to sort companies by their agility — that is, a combination of speed and stability. In McKinsey's system, speed is a measure of the ability to make important decisions quickly and adjust rapidly to new ways of doing things. Stability is a measure of a range of characteristics, including clear operating goals and metrics, clear standards and objectives for work, accountability, designing jobs with clear objectives, and devising processes to document knowledge and ideas.
According to McKinsey, the resulting Agility Index shows that the healthiest organizations also are the most agile.
Best Practices for the Agile Organization
The most agile companies were differentiated by 10 best practices that linked closely to better outcomes in key characteristics on the Organizational Health Index: accountability, capabilities, motivation, culture and climate, innovation and learning, and coordination and control.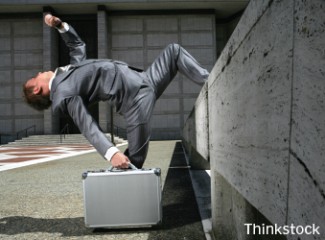 1. Role clarity
2. Top-down innovation
3. Capturing external ideas
4. Process-based capabilities
5. Operationally disciplined
6. Internally competitive
7. Meaningful values
8. Knowledge sharing
9. Inspirational leaders
10. People-performance review