Markets hate uncertainty. It's akin to an odious smell in an otherwise perfectly good eatery. Even the most dedicated patrons keep their distance until the stink is gone or until they have no place else to go. The U.S. patent market is no different.
Driven largely by the lingering uncertainty over the validity of previously granted patents, transactions are down and prices are off … way off, creating a serious (and overlooked) risk for companies with sizable portfolios of acquired patents.
The uncertainty started with the America Invents Act passed in 2011. Among other things, the AIA made it easier for third parties to challenge previously issued patents. The result was an unforeseen groundswell of successful challenge proceedings. In the early going, some 77% of patents filed and reviewed were invalidated either in whole or in part. In response, prices tumbled.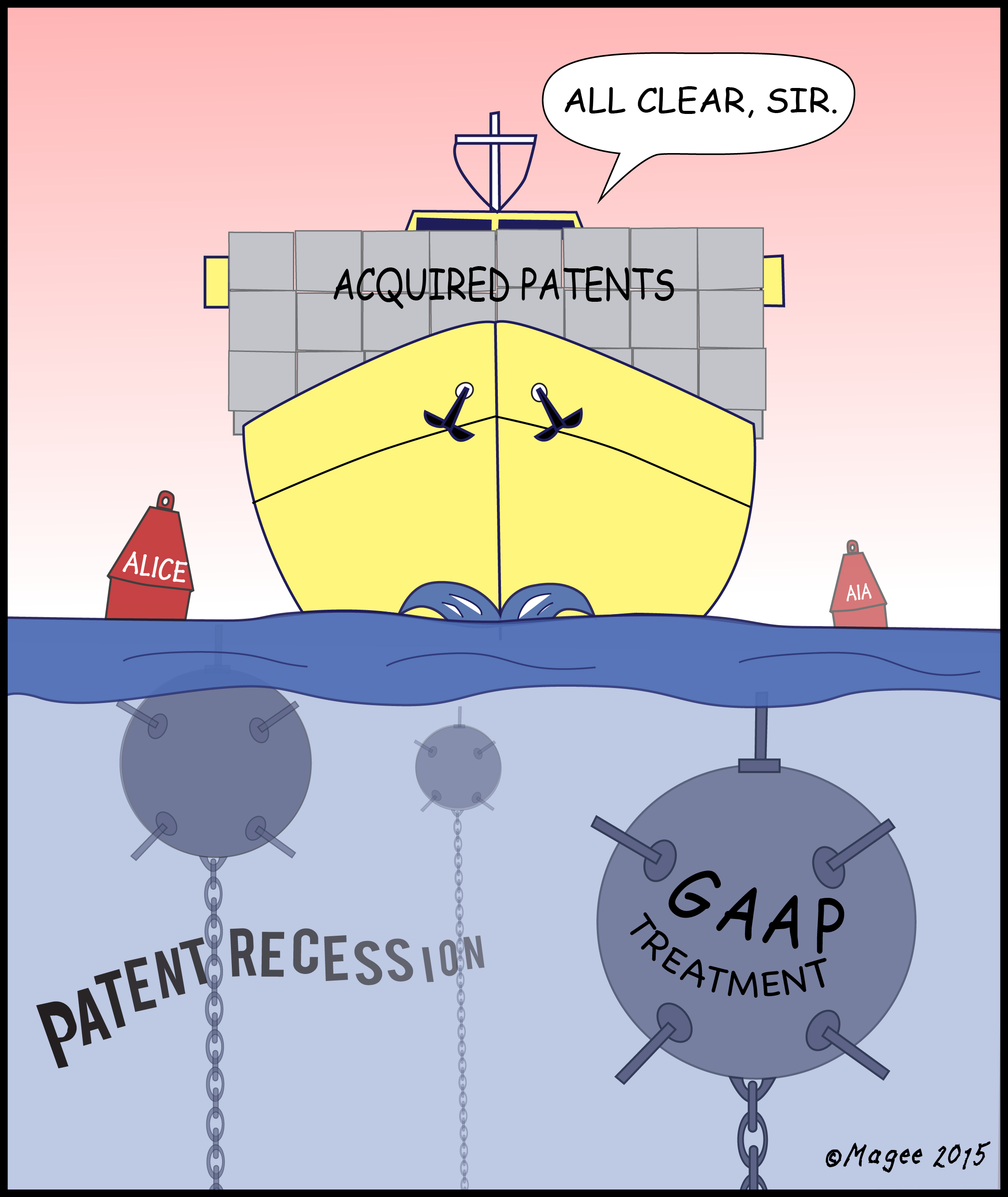 If that wasn't enough, then came Alice vs. CLS Bank, a U.S. Supreme Court decision in 2014 that called into question the very patentability of two prolific areas of invention: software and business methods. The equivalent of a subduction zone earthquake, Alice shook patentland to its core and magnified the uncertainty.
The problem posed by depressed patent prices stems from the way GAAP rules treat acquired — as opposed to internally developed — patents. Developed patents don't appear on the balance sheet while acquired patents do. They appear as long-term intangibles, and they're carried at fair value (usually, the initial purchase price).
Once booked, GAAP rules require companies to revisit these valuations at least once a year. In addition, they're obliged to test valuations anytime circumstances indicate a (mere) probability that a given patent's fair value is less than its book.
"Probability" implies a simple more-likely-than-not trigger. In a market where median patent values are down 40% to 60% by most measures, there's a good chance the trigger has been pulled. If so, GAAP rules mandate further testing.
Should subsequent testing confirm the probability (that fair value is indeed less than book), then the patent's value is deemed to be impaired by the difference. When that happens, management has two options.
First, it can segregate the patent from ongoing operations and reclassify it as "available for sale." This requires a legitimate plan to actually sell the asset at a reasonable price. Though not a solution for business-critical patents, it's an option worth considering for non-critical patents.
The second alternative is to take the writedown. As acquired patents are fixed assets on the balance sheet, any writedown has the effect of reducing both total assets and shareholder equity by the amount of the impairment.
Beyond the balance sheet, the impairment is subtracted from income before taxes on the current income statement. This reduces both income and net income for the reporting period. The cash flow statement is unaffected.
If large enough, patent impairments can materially impact a company's financial statements as well as key financial ratios (like return on equity, return on assets, debt-to-equity, and debt-to-assets). As investors routinely rely on these numbers and ratios when making investment decisions, here lies the rub.
Many companies with substantial holdings of acquired patents will neglect to even test their portfolios as required though all or a portion could be impaired. It's not that accounting personnel are out to deceive investors. Rather, it's just that patent markets are both unfamiliar and opaque.
Irrespective of intentions, filing a materially inaccurate 10-Q or 10-K with the Securities and Exchange Commission can have nasty implications for the company, as well as those CFOs and CEOs who personally attest that the filings are truthful and complete. But it doesn't stop there. There's the real risk of shareholder derivative actions for misleading investors.
Industry insiders are convinced a tsunami of litigation is just over the horizon. One such insider is Erich Spangenberg, founder of IP Navigation Group. The world's largest patent assertion specialists (or "patent troll" depending upon one's perspective), Erich certainly knows his way around the courthouse. "Class-action firms are lying in wait for companies that don't write down these overvalued assets," he told me. "Acquisitive high-tech and biotech companies are particularly vulnerable."
Amid this lingering depression in the U.S. patent market , C-suite execs, risk management personnel, and board members (particularly compliance committee members) should be asking two questions: Are we affected? And, if so, what is our strategy to comply but minimize the impact?
David Magee is managing director and CEO North America for EverEdgeIP, a global intangible asset advisory and valuation specialist. He can be reached at [email protected].
Image: David Magee