Before the financial crisis, a finance executive might have been forgiven for thinking that managing the company's pension fund wasn't very difficult. After all, the right mix of equity and fixed-income investments could reliably form the backbone of a solid portfolio. There were risks, of course, and the dot-com bust was a setback, but pension fund performance more or less trended upward during the three decades that led up to 2008.
Since then, however, volatile equity prices and plummeting interest rates have forced sponsors to turn off the autopilot and take over the wheel. To mitigate the impact of underfunded pensions on the balance sheet, finance chiefs have taken a variety of steps to derisk their defined-benefit plans, from implementing liability-driven investment (LDI) strategies to preparing to transfer the liability and risk to a third party.
For many finance executives, the active search for a "glide path" — a systematic approach toward derisking — is still a work in progress. In a survey conducted by CFO Research and cosponsored by Mercer LLC, the global HR and financial consulting firm, finance chiefs revealed that they are taking balanced steps to preserve the investment gains that their plans have realized and move toward fully funded status, while protecting their balance sheets from unproductive leverage.
The goal of the study was to gauge the outlook on risk management for large defined-benefit plans. The online survey yielded 213 responses from finance executives at U.S. companies with plan assets of more than $100 million. In addition, researchers conducted 10 in-depth interviews with finance executives whose companies matched the profile of survey participants. (To download a copy of the report, "Taking the Next Step in Pension Risk Management," go to www.cfo.com/research.)
Longer Lives, Greater Liabilities
The recent study is similar to those conducted by CFO and Mercer in 2011 and 2013. It's worth noting that in the 2013 study, about half of the respondents said they were exploring options for better managing the risks in their defined-benefit pension plans. They expected to be able to build on improvements in their funded status, either by locking in gains or by shifting assets into longer-duration investments to hedge some portion of interest-rate risk.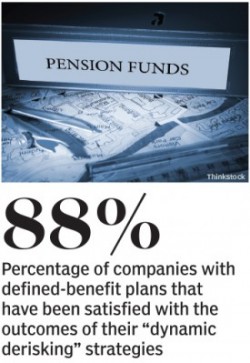 What happened next, however, helps explain why finance executives are now eager to reallocate assets to drive better outcomes for their funds. In 2014, a year after the previous study, the Society of Actuaries updated its mortality assumptions to reflect increases in participant life expectancy as well as the prospect that life expectancy will continue to increase during the next 20 years. That was welcome news for plan participants, but not so for the managers of the funds, which would have to take on increased liabilities. Moody's calculated that the new tables would cause total pension obligations to increase by 6%.
Among survey respondents, changes in mortality assumptions were the most likely factor to influence pension-funding policies and practices over the next two years. The extent of the increases depended on the demographic characteristics of each plan's participants. While some companies (31%) developed customized mortality tables based on their plan participants, others have yet to do so—and, as the study found, may be absorbing more of a liability increase than necessary. Thirty-seven percent of the companies in the survey said they had adopted the SOA's new mortality tables at their most recent year-end disclosure without any adjustments, while 21% said they were analyzing alternatives and impacts for new tables. Ten percent of respondents indicated that they did not plan to change their mortality assumptions.
Transferring Risk
Following a dip in 2014, upturns in both equity markets and interest rates have helped pension funds improve their funded status. But the volatility has clearly left its scars.
Indeed, those scars, inflamed by the August plunge in the stock market, are undoubtedly fueling the interest of finance executives in identifying optimal derisking strategies. But as this year's study found, finance leaders are doing more than just contemplating their options. Fulfilling the intentions they expressed in 2013, they are taking steps to trim liabilities from their balance sheets while still making progress toward making sure their plans reach fully funded status.
In general, derisking strategies come in two flavors. One involves transferring the liability to a third party, either the plan participant or an insurance company; the other allows for retaining the pension plan's risk, but applying specific techniques to manage it better.
Companies can transfer risk to plan participants, offering future retirees the option of a lump-sum buyout. Almost 6 out of 10 survey respondents (59%) have offered one-time lump-sum payments to portions of their eligible participants, and about half (49%) also plan to do so in the next two years. This year's study shows that finance executives are almost universally pleased with the results of their lump-sum forays.
Additionally, transferring the liability of a pension plan to a third party has garnered attention as brand-name companies like General Motors have moved pension obligations off their books. Through the purchase of a group annuity, companies can transfer the plan, along with any associated risk, to an insurer that will assume all of the obligations. Among survey respondents, interest in such transactions is intensifying, with 36% saying that they are likely or very likely to do so this year or next.
Especially in light of extended longevity, the cost of buying an annuity is decreasing—although many finance executives haven't begun to prepare to seize the opportunity yet. Among survey respondents, 42% say that interest rates are likely to prevent them from buying an annuity. But the survey also found that many finance executives might be overestimating the cost of annuity purchases relative to their balance-sheet liability, perhaps relying on outdated rules of thumb.
Dynamic Derisking
But the most tried-and-true approach continues to be "dynamic derisking," a strategy that is already in place at 42% of companies, with another 39% considering it. Among those respondents who have implemented it, 88% say they are satisfied or very satisfied with the outcome. (See Figure 1.)
Dynamic derisking involves systematically shrinking risk while the pension plan's funded status improves. Many companies are implementing LDI strategies to reduce volatility. By aligning the interest-rate sensitivities of assets and liabilities, LDI ensures that they do not respond differently to the same market activity. In this way, the sponsor can put itself in a position to fulfill its pension obligations, no matter how the market gyrates.
That slow-and-steady tempo is characteristic of a classic glide path, a carefully implemented plan that defines specific trigger points at which stocks are sold and bonds are purchased. That way, changes in allocations don't depend on trying to time the market.
"We believe that implementation of a glide-path investment strategy is a prudent approach for reducing plan interest-rate risk over time," says Douglas Stenske, VP, treasury and risk management, at Rockwell Collins, the provider of aircraft electronic systems and information technology. "By predefining funded status 'triggers' for increasing the allocation to fixed-income assets, emotion is removed from the asset-allocation decision."
But the finance executives who participated in the current study, unlike those in the 2013 edition, aren't likely to let themselves grow complacent, even as they've set strategies in motion that will gradually guide their companies' pension funds away from riskier, return-focused investments and toward more-conservative fixed-income securities. They've got more to do—and they know it.
"It's now time to educate ourselves," says Mike Ray, CFO of California Casualty Management, "and find out what's out there to help us mitigate the risk in the long term."