Women are still underrepresented at every level in the corporate pipeline, and it will take 25 years to reach gender parity at the senior-vice president level and more than one hundred years in the C-suite, according to a survey of 118 companies and nearly 30,000 employees. The survey, by McKinsey & Co. and LeanIn.Org, was published Wednesday in the report, "Women In The Workplace 2015."
Many people assume women are underrepresented because they are leaving companies at higher rates than men or due to difficulties balancing work and family, the report said.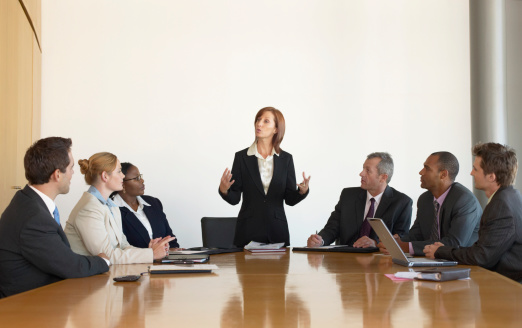 However, the survey showed that, on average, women are leaving their organizations at the same rate or at lower rates than men. But across job levels, the expected representation of women is 15% lower than that of men, which suggests that women face greater barriers to advancement.
Fewer women also hold roles that lead to the C-suite, according to the survey. A majority of manager-level women hold line-of-business roles — positions with profit- and-loss responsibility. But by the vice president-level more than half of women hold staff roles — positions in functions that support the organization, like legal, human resources, and information technology.
In contrast, a majority of men hold line-of-business roles at every level. Since line-of-business roles provide critical preparation for top roles, the disparity can impede women's path to senior leadership, says McKinsey.
Moreover, there is a gap in "leadership ambition," according to the survey. Entry- and mid-level women and men share similar aspirations for promotion to the next level, but senior-level women are less interested in advancing than senior-level men. In addition, at every stage women are less eager than men to become a top executive, and the gap is widest among women and men in senior management.
The report's authors told CNNMoney that companies may tout the importance of gender diversity, but more needs to be done to actually foster that goal, including tracking key metrics such as promotion rates and attrition rates.
"It might mean beefing up professional development programs that better direct women to senior roles," CNNMoney wrote. "And it might mean getting a better beat on employee perceptions, such as where women feel barriers to advancement or why they are drawn to staff roles."
How did McKinsey come up with 100 years? The calculation is based on the changes observed between the 2015 study and the one conducted in 2012. The difference between the two was a 0.9% increase in female representation in the C-suite in 2015.
Image: Thinkstock