Company A hires company B to hire employees for a project. These employees work for company B, but do they also work for company A? If they are upset with the terms of their employment can they go after company A with pickets, boycotts, and protests? Does A have any direct obligations to these employees?
The correct answer, in general, is that it depends. In a more specific sense it depends on the outcome of a fraught battle between a California branch of the Teamsters Union and Republic Services, one of America's two giant rubbish-collection companies. The union is attempting to organize employees of Leadpoint Business Services, which employs sorters and other workers at a recycling plant in the Golden State. The union, however, has gone a step further and petitioned to have Republic treated as an employer as well since, it argues, Leadpoint's supervisors act in a chain of authority controlled by Republic.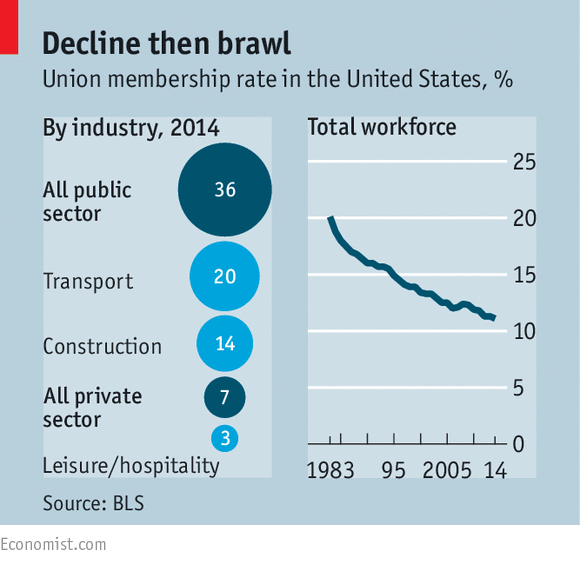 The National Labor Relations Board (NLRB), a body set up in the Depression to rule on disputes between workers and management that is liked by Democrats and loathed by Republicans, is expected to issue a ruling on the matter in the final days of August. Its rulings are binding but can be appealed against. At least three of the five members of the board, which is appointed by the president, are expected to take the union's side. That is unlikely to put an end to the matter, if only because the implications are so large.
The case has echoes of those wending their way through California's courts, which will produce rulings on whether Uber drivers are employees, self-employed or something in between. Uber is appealing against a judgment that found it liable for $4,152 of a driver's expenses — a small sum for a company with a valuation close to $50 billion but one with a potentially catastrophic effect on the company's business model. Uber is not the only company facing such a case: a lawsuit in Virginia brought by 10 former employees at a McDonald's franchise restaurant, who say they were sacked on racial grounds, will test whether or not McDonald's itself was their employer.
If the decision goes against Republic it would affect contracting, outsourcing, and franchising, which is to say a vast segment of America's economy. Republic would then probably appeal to a federal court, creating something else to fight over during elections to the White House and Congress, and fundamental questions for companies both large and small about their structure, risks, and opportunities.
Given the stakes, one of the surprising aspects of the case is why it has received so little attention. This is partly because the defendants are barely known. Leadpoint is private and the name on the case is Browning-Ferris, a company that was absorbed into Republic years ago.
Trash Talk
Interested parties were invited to submit "amicus" briefs (extensive legal arguments) to the NLRB and 17 were quickly received. The current standard for determining "joint employment" states that each company must be involved in hiring, firing, discipline, supervision, and direction. Responsibility must be "direct and immediate." Under this standard, Republic was found not to be a joint employer by a regional office of the NLRB in 2013. That decision went to an appeal court.
This dispute turns on whether that is the right definition of employment. Among the most striking briefs was a submission by lawyers for the NLRB's own general counsel. It begins by flatly stating the current rule should be abandoned. In its place, it "urges the Board to adopt a new standard that takes account of the totality of the circumstances, including how the putative joint employers structured their commercial dealing with each other." The way the standards currently treat subcontracting and the operation of business franchises, it says, undermines the ability of workers to bargain for better wages, hours, and working conditions.
If this change were to be adopted, businesses could find themselves responsible for people who provide them with services but whom they do not manage, such as janitors, argues Aloysius Hogan, of the Competitive Enterprise Institute, a libertarian think-tank. They would be exposed to strikes and other labor strife prompted by the actions of companies other than their own. They would lose the ability to choose from competing service providers. Hogan thinks large businesses would then be under pressure to integrate vertically, with all the inefficiency that may entail for their own operations, and lost opportunities for others. Whatever happens, the very different ideas on view in the Republic case about who is, and is not, an employee are not easily reconciled.
© The Economist Newspaper Limited, London (August 22, 2015)