The International Monetary Fund on Thursday sliced its 2015 forecast for world economic growth to 3.3%, down from the 3.5% that the organization had predicted in April. The adjustment was due to setbacks in economic activity in the first quarter of 2015, mostly in North America.
"The shortfall reflected to an important extent an unexpected output contraction in the United States, with attendant spillovers to Canada and Mexico," the IMF wrote. "One-off factors, notably harsh winter weather and port closures, as well as a strong downsizing of capital expenditure in the oil sector contributed to weakening U.S. activity."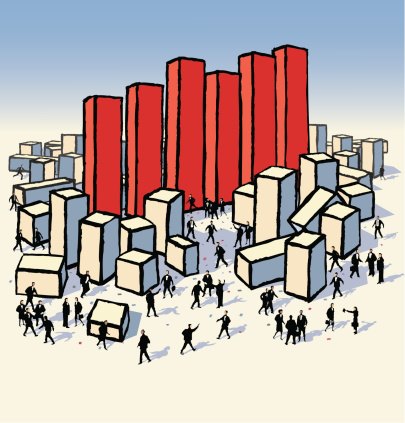 Outside North America, positive and negative surprises were roughly offsetting. Growth in output and domestic demand in emerging markets and developing economies broadly weakened, as expected.
"In emerging market economies, the continued growth slowdown reflects several factors, including lower commodity prices and tighter external financial conditions, structural bottlenecks, rebalancing in China, and economic distress related to geopolitical factors," the IMF wrote.
However, activity in a number of distressed economies should rebound next year, the IMF said, resulting in an expected pickup in growth in 2016. The IMF's 2016 growth forecast was unchanged at 3.8%.
Meanwhile, the euro zone's recovery "seems broadly on track," with a generally robust recovery in domestic demand and inflation beginning to increase, said the IMF.
"Growth projections have been revised upward for many euro area economies, but in Greece, unfolding developments are likely to take a much heavier toll on activity relative to earlier expectations," the IMF wrote.
The IMF continueds to believe that "the distribution of risks to global economic activity is still tilted to the downside."
"Near-term risks include increased financial market volatility and disruptive asset price shifts, while lower potential output growth remains an important medium-term risk in both advanced and emerging market economies," the IMF said. "Lower commodity prices also pose risks to the outlook in low-income developing economies after many years of strong growth."
Image: Thinkstock