CFOs in middle-market organizations are increasingly responsible for the IT function. In many companies, IT now reports directly to the CFO, while in others, the IT leader relies on the CFO to approve spending. However, as CFOs become more strategic, they must avoid getting into "technology debt," and failing to leverage innovation to improve processes and services as technology platforms evolve.
Technology debt is not necessarily a new term; typically, it refers to failures in building efficient software development projects. These deficits are frequently spawned by not considering the future time and effort that must be consumed if shortcuts missfire.
Financial executives must, however, look at technology debt and the factors that lead to inefficient use of technology differently than IT people do. The risks associated with a poorly run IT function might be the greatest threats to your organization, potentially costing millions if you fail to keep up or overlook key evolutions in your industry and damaging your company's reputation.
Technology Debt Examples
At a $200 million distributor, I saw the direct impact of technology debt, as operational inefficiency led to too many people supporting transaction processing. The root cause: three different enterprise resource planning (ERP) systems not communicating with each other and other disparate systems. These gaps cost the company nearly $300,000 annually in additional headcount alone.
IT leadership did not communicate the benefits of upgrading and consolidating the systems, and the organization had to spend $1.3 million on an ERP transformation before redeploying processing personnel.
Another example: a $1.3 billion construction company experienced technology debt that came to light when executives complained that technology systems were insufficient and trailed industry standards, thus potentially damaging the brand. The problem was the lack of a mechanism to ensure important business projects were prioritized, magnified by ineffective IT oversight and accountability.
After establishing an IT steering committee, implementing proper reporting and investing in a new IT leader, systems and processes were optimized, bringing the company up to par.
Elements of Technology Debt
The first component of technology debt is ineffective technology leadership. Typically, 30% of the overall debt load can be attributed to the factor of having the wrong IT leadership. In some cases, the CFO does not know the qualities an IT leader should possess. In the past, companies put employees with strong computer skills in charge of IT. But that isn't enough today. IT leaders must know how to implement and manage key applications, deliver important data, and develop the experience customers and employees desire. Ultimately, they must be key business leaders.
Closely related to IT leadership, the second factor is ineffective oversight, with 25% of technology debt typically stemming from deficiencies in discipline, reporting, and strategic focus. Outdated systems rank third in our composite picture, at 20% of the debt factor. Those systems could be anything from custom Excel and Access systems to pre-2005-era systems that don't easily integrate.
Misspending, the next largest component at 15%, can be caused by under-spending or over-spending, misallocating strategic spending (on new projects versus maintenance, for instance) or resource spending (on business analysts, for instance as opposed to technical specialists). You can establish spending benchmarks by researching similar-sized companies in your industry and analyzing competitors' capabilities.
The last typical component of technology, coming in at 10%, is process chaos. Many organizations possess incoherent, cross-functional processes, resulting in multiple, separate systems and incomplete or conflicting data.
Measuring Technology Debt
To calculate your technology debt level, develop a scorecard that assigns a numerical value to each of the five components of technology debt for your organization. Do not rely on your own perceptions; instead, ask other executives and leaders how they view technology in your company.
Score each debt component between 1 and 10 (10 = best), and multiply it by the appropriate debt load percentage for each area (for example, 25% for ineffective oversight). For every year you have had a debt component below 5, multiply the number of years by .25 and subtract from the debt load factor total. Add all five of these calculations to reach your technology debt score. If you score below 6.5, you are carrying high technology debt, putting your organization's efficiency and reputation at risk. Here's the template: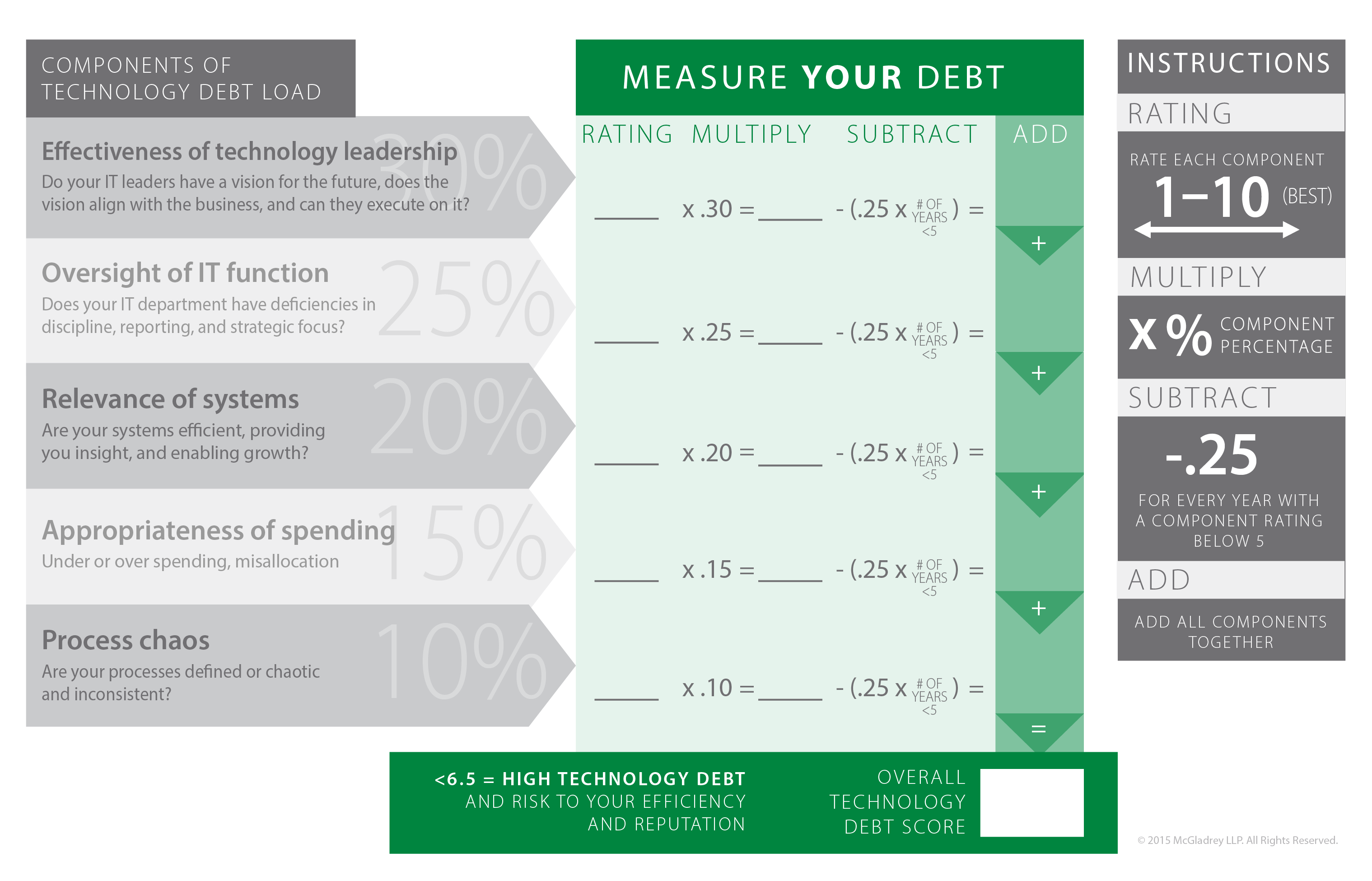 Getting out of Technology Debt
After assessing your level of technology debt, these steps can help you improve, and encourage greater innovation:
Assess your IT function. Take a detailed look at your IT department's resources, structure, systems, projects, and budget. Baseline your current state, including IT spending for keeping things running and new projects, current projects and how are they managed, and outsourcing initiatives. Prioritize where potential changes could have the most meaningful impact.
Institute standard reporting procedures. Month-end processes and standard IT reporting should highlight the current status and prioritization of IT initiatives, spending, key resource updates, environmental monitoring data, and key risk management issues. This information can help hold personnel accountable, while enabling management teams to understand the department's status at any time. It can also be used to make project and funding decisions.
Establish project governance. Adjust technology investments to align with your company's organizational strategy through project governance. Reviewing your project priority list regularly ensures alignment of IT projects with the business strategy. Forming an IT steering committee or incorporating related responsibilities into an existing management-level decision-making team should suffice.
Analyze and benchmark IT spend. Reductions in technology debt are often found by analyzing your existing IT spend. To help drive innovation and stay current, your spending model should at least equally allocate funds between the "keep it running" spending and new project-focused spending. An example of this shift is moving to an email provider rather than using a dedicated email server, then reallocating funds to a strategic project such as a mobile application.
Finally, determine if you're investing the right amount on technology, comparing current IT spend with peers through benchmarking. Evaluate many angles to gain proper perspective, including: financial, organizational, project, strategic alignment, and support desk. This data yields a baseline for investments, and helps make up for past under-spending or correct excessive spending.
Using these strategies can help reduce technology debt and get your organization moving in the right direction. If your company is suffering from technology debt and cannot innovate, you must take action to keep up with technology. Your company's future is at stake.
Bill Kracunas leads the technology consulting practice in the Northeast for McGladrey, a professional services firm.